30 Surprising Life Coaching Statistics 2023(Research-Backed)
The Coach Foundation forecast that the life coaching world is expected to be worth $2 billion by the Q4 of 2022. Epic, right?
Yes, the way and manner in which individual and business brands are demanding coaches can never be overemphasized.
These days, life coaching statistics are just incredible, and the industry will continue to grow and prosper year after year.
Therefore, if you are thinking about starting a career as a life coach, or you are a coach already, then there is no better time to be active in the industry than now.
Because the industry is growing fast, and the career opportunities for life coaches are booming at the speed of light.
As such, this publication will do well to introduce you to some trending life coaching statistics to get started on the life coaching journey.
What is Life Coaching?
Life coaching can be best described as a profession that helps individuals and businesses unleash their potential toward achieving personal and professional goals.
Like a lost child in need of a way home, a life coach will help you identify your potential and any opportunity that awaits you. Then, help devise a plan to achieve the goals.
What is the life coaching industry size?
With all the incredible growth the life coaching space has experienced in recent years, there's no sign of the industry slowing down.
As a matter of fact, Coaching Foundation has forecasted that the industry will be worth over $2 billion before the end of 2022.
While this is a piece of good news for the established life coaches, it equally gives hope to wannabe coaches who want to join the booming train that opportunities abound.
Now, talking about the size of the life coaching industry, you might be interested to know that there were 53,300 life coaches in 2018.
And as of Q1 of 2022, the industry recorded 71,000 life coaches in over 160 countries across the globe. Tremendous growth, isn't it?
According to Skyrocket Coach website statistics, the life coaching industry is ranked as the second-fastest-growing sector in the US.
Above all, the global revenue from the coaching industry in 2019 was estimated to be worth $2.849 billion.
While in the United States alone, the industry is said to be worth $1 billion in valuation in 2019 and expected to be worth 2$ billion in 2022.
The future of the life coaching industry: what do the statistics say?
Taking a look at the trends, rapid growth, and available statistics, one can boldly say that the future of the life coaching industry is bright.
In a recent report published by the International Coach Federation in 2020, the global coaching industry is expected to grow at 19% every year.
Since the life coaching market statistics are increasingly popular, there's no doubt about its future; the industry will only grow better.
The International Coach Federation conducted a survey recently, and it was found that people (43%) who have used a life coach in the past say they'll see one again.
And 22% of individuals who have not engaged the coach's service before said they'd likely use one in the nearest future.
With more people seeking out life coaching services, the market will definitely grow, and the future will be colorful.
Life coaching statistics for 2022
These coaching statistics to be discussed show how vital life coaching is as a profession and what the industry looks like today.
Now let's see the most important and influential life coaching statistics.
1. The physical coaching classes decreased by 74% after covid-19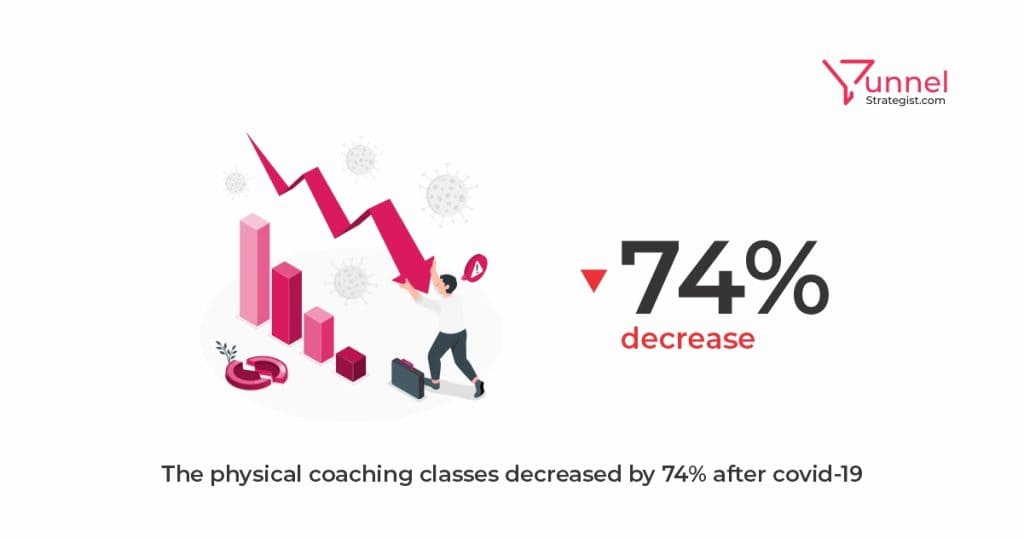 In 2020, the emergency of the coronavirus pandemic gave rise to online activities. Companies and businesses were run remotely.
While life coaching also follows this, online coaching has become more popular even after the pandemic.
The face-to-face or physical coaching witnessed a 74% decrease while online coaching increased by 57%.
2. Out of over 4 million coaches worldwide, the United States alone has 1.7 million.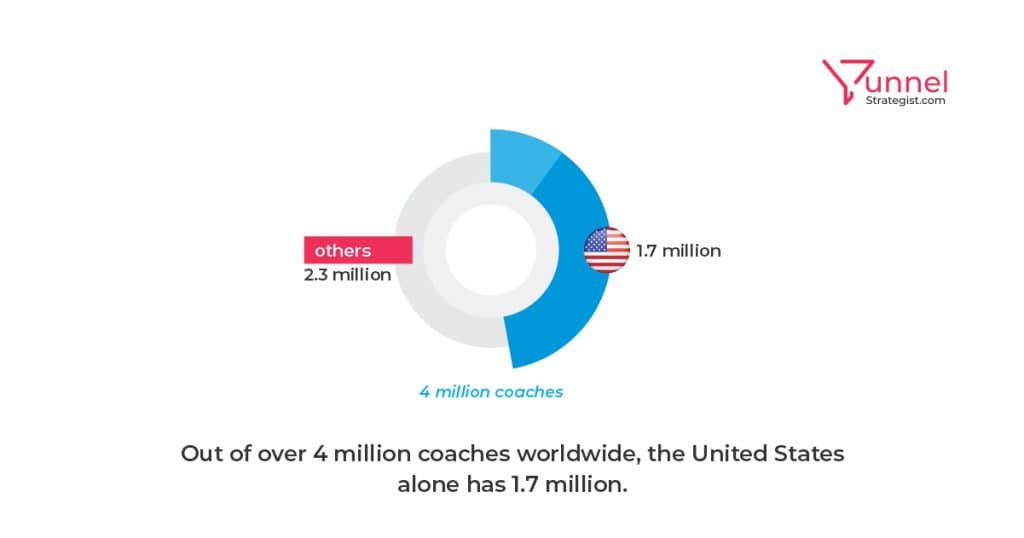 Skyrocket Coach website reported that the coaching industry is the second-fastest rising industry in the US.
There's no doubt about this. For example, a survey result published on LinkedIn by a professional coach says there are 4,380,000 coaches across the globe.
Out of these 4 million coaches, an estimated number of 1,790,000 coaches are in the United States. Huge?
3. Life coaching industry is predicted to be growing at a 5.4% rate.
The life coaches' demand is enormous, and the trend is growing day in, and day out; as such, the influx of new coaches is inevitable.
Premise on the above, the Blog Market Research website predicts the industry to keep growing at a 5.4% rate.
4. 99% of coaching clients are satisfied with their results
The International Coaching Federation conducted a global coaching client study, and it was found that most coaching clients are happy.
In 2009, the ICF reported its Global Coaching Study results, and it was found that 95% of coaching clients acknowledged their coaches as being "good" or "excellent."
The same survey was conducted in 2019, and 99% of coaching clients — individuals and companies — who engage the coach's service are satisfied or very satisfied.
5. 68% of clients (individuals only) who hired a life coach had a positive ROI
In the same vein, ICF revealed that 68% of people who hired life coaches made back the money they invested.
These coaching clients made a financial gain based on the coaching expected 3.44x of the amount spent on the coaching lesson.
6. 86% of businesses that hired a coach said they made back their investment capital.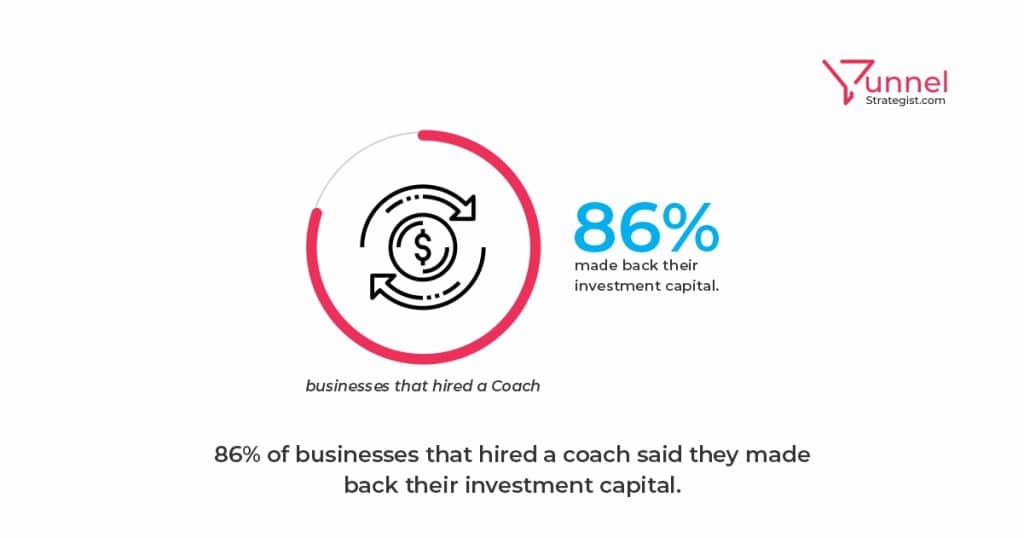 Still, on the Global Coaching Study survey report, 86% of business brands that could calculate their ROI said they made back their investment capital.
19% of them indicated a return of 50x the initial investment capital. 28% say they saw an ROI of 10 to 49 times the initial investment.
With the median return on investment being seven times the initial investment.
7. Life coaching as a career has 221% ROI.
The International Society for Performance Improvement carried out an intensive study on the life coaching market.
The study, however, revealed that the coaching career or profession has a massive 221% ROI.
8. Companies that inculcate a strong coaching tradition recorded higher revenue.
According to the Human Capital Institute, it was revealed that 51% of business organizations with a solid and efficient coaching culture have interesting financial records.
They report higher revenue income compared to what their peers — in the industry — who do not leverage on coaching earn.
9. 46% of coaching clients had about their coaches via word of mouth referral.
While it's a no-brainer that most coaching programs (73%), be it online or face-to-face last only for a year or less.
46% of clients heard, found, or met their coaches via the word of mouth referrals. A clear indication that referral is the king of all forms of marketing.
10. Life coaches earn an annual salary of $62,500 on average in the United States.
ICF revealed that the average annual income of a life coach in the US is $62,500. So that's a lot of money, right?
However, this figure is feasible only with coaches running 6-figure or multiple 6-figure coaching classes.
This is something that many life coaches do. It's not a big deal, after all.
11. 9% of millennial generation coaches say they couldn't make it in the life coaching market.
Additionally, the Coaching Federation blog published that 9% of the global millennial generation life coaches find the market too competitive.
These millennial coaches say it is daunting to make it real in the magnificent life coaching industry dominated by the older generation and GenX.
12. Women dominate 70% of the global coaching profession.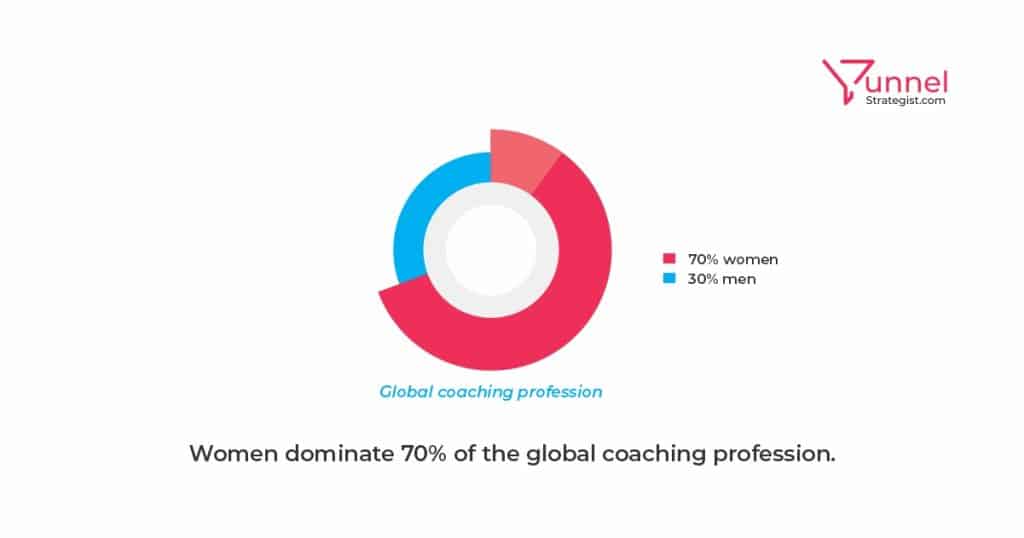 The Coaching Federation equally revealed that 70% of women made up the coaching professionals worldwide.
And in North America alone, 74% of all coaches in the continent are females. Dominance!
13. The global coaching industry recorded an estimated revenue worth 2.8 billion in 2019.
In 2020, the International Coaching Federation revealed that the estimated revenue generated by the global coaching industry was $2.849 billion.
Premise on this, the Global Coaching Study equally revealed that the United States life coaching market generated the most.
14. Between 2016 to 2020, there was a 3% rise in the female life coaching sector.
It's a no-brainer that the female folks are more steadily venturing into the life coaching industry than the male folks.
Hence, the Coaching Federation observed in one of its blog posts that female life coaches are increasing and gaining popularity steadily.
To back the claim up, the blog post revealed a 3% rise in female life coaches from 2016 to 2020.
That is to say, there were 67% female life coaches in 2016, and the number steadily increased to 70% in 2020.
However, these statistics and figures exclude the female life coaches in Africa and some countries in the Middle East.
15. The proportion of female life coaches in Asia grew by 7% in 4 years.
More so, the 2020 ICF Global Coaching Study executive summary shows that the proportion of qualified female coaches in Asia grew exponentially.
Backing this claim, the survey result shows there are 52% female life coaches in 2016 to 59% in 2020.
16. 74% of male life coaches have a niche or specific specialty.
Findings also show that 74% of male life coaches carved a specific niche or business specialty for themselves.
On the contrary, 61% of the female folks in the life coaching industry were more likely to have a specific niche ( ICF 2020 Executive Summary).
17. The second-fastest-growing sector in the world is the life coaching space.
The 2020 ICF Global Coaching Study survey revealed that life coaching is at the helm of affairs of most countries globally.
Meaning that the industry is the second-fastest rising industry in the whole world. Statistic-wise, life coaching is averaging 6.7% growth yearly.
What's more, there was a massive increase in the number of life coaches between 2016 to 2020, with the industry recording 33% growth. Class!
18. The Caribbean and Latin America have the most growth rate in the life coaching world.
The life coaching space has been predicted to be growing at the pace of 6.7% yearly (ICF 2020 Study Executive Summary).
Thus, Latin America and the great Caribbean region have the most growth rate. Thanks to their female folks.
These two regions recorded a 174% increase in life coaching practitioners while Eastern Europe grew second at 40%.
19. There was a 30% increase in the US coaching industry in five years.
The 2011 ICF Global Coaching Study result showed that the United States has a %707 million life coaching market value.
Fast forward to 2016, the industry worth has increased by 30%, and the value is estimated to be around USD 1.02 billion in 2016.
20. 63% of companies that leverage life coaching reported higher revenue.
During the cause of research, the Open Access Government website published that some companies hire life coaches for their employees.
Out of these business organizations, 63% of them who offered the coaches to their employees reported higher income and revenue growth than their competitors.
21. 90% of life coaches are currently hired.
Of all the life coaches surveyed by the ICF in 2020, 90% said they are hired and currently working with some clients.
22. Other than life coaching services, 94% of coaches engage in other activities.
According to the Coaching Federation life coaching survey, 94% of respondents (life coaches) said they offer training, consultation, or facilitation services too.
These services complement the coaching services, which is their primary profession.
23. The North American coaching industry is valued at $1.3 billion.
Recall that the global coaching economy is estimated to be worth $2.85 billion after witnessing a 21% increase in four years. ( Global Coaching Study, 2020)
However, the North American coaching economy alone has $1.3 billion. Gigantic, isn't it?
The North American coaching industry takes 45.5% of the world's coaching economy revenue. That is a 36% increase in four years.
24. 51% of the global life coaches are Gen X.
Coach Federation website revealed that 51% of the global life coaches are Gen X bracket, with Baby Boomer's ranking in second place with 38%.
Meanwhile, one in ten life coaches practitioners accounts for millennials globally, ranging from 5% in North America to 22% in Eastern Europe.
25. Baby boomers dominate the North American coaching market with 53%.
Compared to other continents, the majority (52%) of the life coaches in North America are Baby Boomers, with GenX in second place at 39%.
26. Even the life coaching industry was hit hard by the pandemic.
The coronavirus pandemic disrupts almost every sector forcing many businesses to start remote operations.
The life coaching market was also affected, as 49% of practitioners reported a revenue drop during the pandemic.
While the covid-19 was still serious, 51% of established life coaches say they experienced decreased client engagement, while 37% witnessed a reduction in work hours.
Looking at these statistics, the Coach Foundation says 65% of life coaching practitioners experienced a negative impact.
While 25% of them reported a positive impact or no impact on their business as a result of the ugly pandemic.
27. Majority of life coaches that reported positive impact during the covid-19 are a non-business specialty.
A substantial amount of life coaches with a specific niche or business specialty reported a negative impact on their business due to the coronavirus pandemic.
On the other hand, the non-business specialty life coaches say they had a positive impact on their business.
You must note that the covid-19's impact was felt in every single niche in the incredible and booming life coaching department.
The exception is that 22% of practitioners having a non-business specialty reported no impact compared to the 29% of coaches with a business specialty.
28. 71% of life coaches admitted that the practitioners need to leverage technology.
In a survey conducted by the Coach Foundation, it was revealed that 71% of coaching practitioners aligned their submission to the need for life coaches to invest in tech.
63% of the respondents (coach professionals) agreed that the coaching industry should not return to primitive pre-pandemic tactics once the pandemic is over.
29. 50% of life coach practitioners say social media is essential for the profession.
Square Space reported that social media is on the verge of becoming the most valuable asset for coach practitioners.
This fact was discovered during an interview session with some life coach practitioners in the United States in 2021.
30. Only 20% of life coaches further opened additional social media accounts.
Since it has been established that social media is on the journey of becoming the life coaching industry's most incredible tool, there's been some changes.
But despite all these changes, 50% of the professionals turned to their old or existing social media pages to stay connected with their existing client base.
On the contrary, 20% of the life coaches created new accounts on the various social media platforms to increase their reach.
Conclusion
Now you have it! The above trends and statistics are the top and most recent life coaching statistics you can ever imagine.
If you are venturing into the life coaching industry, be enlightened that the industry success rate is difficult to measure.
It depends — greatly — on the individual coach's goals and objectives.
Nonetheless, it's natural to mention at this juncture that only 10% of the practitioners are successful, and over 90% of new life coaches fail because they have no niche.
If you are establishing a reliable and profitable business venture for yourself as a life coach, then have a specialty or specific niche.
In any case, if there is a robust statistics that I missed, overlooked, or misinformed, do let me know. It happens sometimes!
Related Articles
How much do life coaches make?