Emil Pakarklis Review 2023 – Best Selling Photography Courses?
Emil Pakarklis might be a strange name if you are not into some form of photography.
But if you want to hone your photography skills and are looking for an online course to mentor you, Emil Pakarklis' classes will be among Google's first page suggestions.
And you should take that seriously if you are an iPhone user because (to quote Emil) "the best camera is the one that is always in your hand."
Emil promises to give you killer insights and strategies to take advantage of every feature in your iPhone camera to take the kind of photos and videos you see in magazines and on the screen.
In this review, we will explore who Emil really is and whether his claims are anything to go by.
Emil Pakarklis Bio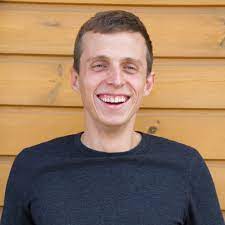 Emil is a Latvian blogger and YouTube content creator in the mobile photography space.
He developed an interest in photography when he was a kid but couldn't indulge his passion then.
Professional cameras were expensive (as is true today), so that wasn't a feasible option. However, luck smiled on him when he got his first iPhone, and he started exploring its photography chops.
He soon realized that his iPhone (iPhone 4s, to be precise) could replace a conventional camera without the stress of packing the components together when you are on the go.
Emil discovered for himself the tricks concealed in the iPhone, from the lenses to the camera app, and how to manipulate all the features to grab the perfect shot in any lighting condition.
And then, he started thinking of how to help others to recognize and utilize the potential of their iPhone cameras.
The foundation of iPhone Photography School was already set.
Overview of His iPhone Photography School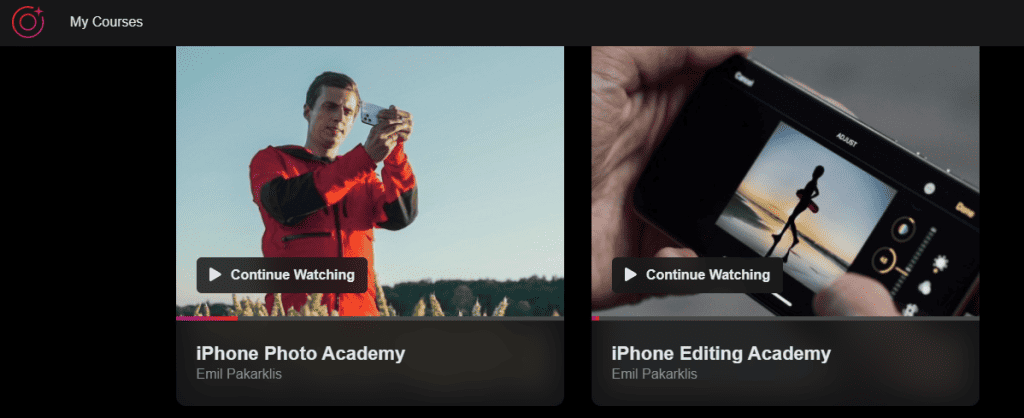 Emil created his iPhone Photography School in 2012. Since then, his courses have managed to become and remain global best-sellers.
There are about eight courses in the iPhone Photography School that are meant to show you how to use your iPhone to capture dazzling photos and videos in various situations.
Emil is the sole instructor in about two of the courses, while a team of iPhone photography experts handles the rest.
The iPhone Photography School is far more than just a theoretical show. During my time with the course, I discovered that the experts teaching you are actually on the field and implementing the exact steps they teach.
I expected to see lots of photos and beautiful video scenery showing off the prowess of the tutors, and what I saw defied my expectations and imagination.
Emil built his course for anyone who wants to learn better photography with their iPhones.
Content creators are a prime target. They may have started a channel but need to get by without more expensive vlogging gear. In that case, using their iPhone to start only makes sense.
But even if you are not a content creator, you will still find much value in the photography academy.
In fact, the vast majority of my fellow students in the course were regular people who just wanted to preserve their special moments like all of us would wish to do.
The support team is also made up of expert photographers and will quickly answer your queries.
No matter how technical it is, you will surely get a satisfactory answer.
To round up this overview, you get lifetime course access once you pay. That means you can always review the training at your convenience since the deal will never expire.
Of course, the main attraction of the iPhone Photography School is the courses. I will now go over each of them and let you know my thoughts about them.
Emil Pakarklis Course Review (His Courses)
Emil's photography school consists of nine online courses that I will talk about in the next minute.
iPhone Photo Academy
The iPhone Photo Academy is one of the two courses where Emil is the sole speaker.
In this course, he features a small business owner in her saloon and reminds us that even a small business could use some help creating video content with their iPhone cameras.
The course has five modules, with each having about five to six chapters.
The course modules are
The Essentials of the iPhone Camera
Additional iPhone Camera Features
The Principles of Great Photography
Creative iPhone Photography Techniques
Common iPhone Photography Scenarios
I like how Emil uses the video to go very practical, using his co-host (the small business owner) to demonstrate how to take beautiful promotional shots and videos of yourself and your products.
There are several bonuses towards the end of the course explaining additional strategies for capturing incredible portraits.
iPhone Editing Academy
This course encourages you to test your photo editing skills on your iPhone.
You will have to attempt editing assignments using the apps mentioned and then submit your work to the Facebook community to receive valuable feedback.
If you are not okay using Facebook, you will receive guidelines on what to do.
There are five modules here as well. Let me list them below:
Simple Techniques for Perfect Color and Exposure
Powerful Tools for Cleaning Up Your Photos
The hidden powers of Selective Photo Editing
Complete Workflows for High-Quality Editing
Using Layers to Create Stunning Digital Art.
This course also has tutorials to help you manage your photo library and increase your editing speed. You will get them in the bonus section of the course.
iPhone Landscape Mastery
The video courses here are packed full of quality training on how to capture excellent photos of natural environments and buildings even when the weather is not perfect.
The introductory lesson in this course talks about removing unwanted objects from a photo, and Clifford Pickett does a great job here.
Going deeper into the course, Clifford uses about seven modules to discuss how to use your iPhone camera to capture pictures of about seven natural and man-made features such as,
Fields
Villages
Mountains
Rivers and Waterfalls
Lakes
Forests
Sunsets
The bonus section covers two other natural scenery you might want to try: rocky beach and waterfall.
An iPhone Photography ebook comes as a bonus as well. I downloaded it and found it to contain useful insights.
Capture It All
There is a lot that goes into taking good pictures and capturing the scene in a way that you also preserve the mood.
The Capture It All course has several modules that are designed to give the analysis of various factors you should take into consideration to take a photo that has the aura of the moment itself.
You will get to learn about the elements of composition, the aspect of timing, and the element of light.
The course will also go in-depth into such less familiar terminology as motion, time-lapses, hyper-lapses, et cetera.
Here are three of the nine modules in the course:
How to Capture Everything Around You
Working the Scans for the Best Photo Possible
Mastering Photo Composition
Et cetera.
A fantastic bonus in the course is a tutorial on aerial photography and video with a drone. There is also an iPhone Photography ebook which is always great to have handy for extra tips and tricks.
iPhone Food Photography
Food is a unique photography niche, and what better place to capture food photos than in a market?
The module kicks off with an intro video filmed in a market setting.
The module talks about how to take photos of food and lifestyle scenarios in general.
Andrew Scrivanal is the host here, and he is so good at infecting you with his enthusiasm throughout the course.
This course has very few modules—just three. But they contain a lot. From the introduction, you get into
Food Photography Essentials
Implementing Your Food Photography
Bonuses
Read an in-depth iPhone Food Photography Course review here.
Urban iPhone Photography
Cities are bubbling with activity, and even if you are not an expert photographer, you can usually use your handheld device to capture all that motion in an exciting photo.
That's what the Urban iPhone Photography course will teach you.
You may not be familiar with such terms as long exposure, timelapse, blue hour, et cetera, but the course will show you how to manipulate all those elements to your advantage.
The modules here
Cityscapes
Architecture
Street scenes
Street photography
And more
After the main modules, you'll get access to an ebook on black-and-white iPhone photography.
Digital Camera Mastery
Mark Hemmings, another world-leading iPhone photographer, delivers this course.
Conventional digital cameras can be complex, but so is the one on your phone, and getting it right could be tricky, especially with so many buttons performing different roles.
This course takes you by the hand and shows you how to take sharp photos.
The course will acquaint you with all the camera settings on your phone and best practices to keep to ensure perfect shots.
You will learn, among other things, why cleaning your lenses (smartphone or conventional camera equipment) is very important and how you can do so effectively.
The modules here are
The essentials of your digital camera
Composing with your camera
Focusing technique
Camera exposure controls
And more.
Photo Shortcuts
As interesting as the previous modules are, you might be in haste to get copy and paste steps that you can quickly apply to take great photos.
That's what the Photo Shortcuts course is all about.
It goes into 50 practical formulas you can apply on the go in any situation to take excellent shots.
Here are the modules
Welcome to Photo Shortcuts
7 Stunning Shots That You Can Take Today
How to Use Light For Taking Extraordinary Shots
Creative Shortcuts to Unique Travel Photography
Landscape and Nature Photography
Bonuses
Lightroom Editing Mastery
There is hardly a great pic that hasn't paid a visit to Lightroom for even a little refinement.
In the Lightroom Editing Mastery, you will get expert insights into editing with Lightroom and turning photos from meh to wow.
It's no news that Lightroom can feel incredibly complex. You can feel lost when learning it by yourself, but with the Lightroom Editing Course by Mark Hemmings, you will master the photo editing and management platform in no time.
The modules are highlighted below:
Quick start guide to Lightroom
Simple Techniques For Perfect Color And Exposure
Powerful Techniques For Cleaning Up And Selectively Adjusting Your Photos
Advanced Controls For Fine-Tuning Color, Detail, And Composition
Efficient Workflow Techniques The Pros Can't Live Without
And much more.
Is iPhone Photo Academy Legit?
Yes. The iPhone Photo Academy does what it says. The depth of information Emil and his team give is way beyond common sense knowledge.
Since he started in 2012, Emil has gotten over 600,000 subscribers, which I know tells a lot about his authenticity. You can scam a few people, but your secret will leak out before you scam thousands more.
There is also a support team that is readily available when you have any issues. There's the Facebook community, where you get to interact with other course members and the team members themselves.
No scammer would devote that level of attention to his unlucky victims. They would just collect your money, behave genuinely for a while, and then ghost you completely.
But the most significant proof of iPhone Photo Academy is in the results you get and the feedback of other students in the course. When I was taking the course, I made sure that I copied what Emil taught to see if I would get the results pasted on the screen, and sure, I did.
Also, see what students of the course are saying about it:




Emil Pakarklis Net Worth
Emil's net worth is among the most frequently asked questions about this photography expert.
Nevertheless, not every entrepreneur fancies making a public statement of their finances (which is perfectly understandable), and at best, we can only take an educated guess.
Emil has multiple income streams, and his iPhone Photography Academy is just one of them.
We are evidently looking at eight figures in dollars here, even though the exact figure is uncertain.
Wrapping Up
If you want an iPhone Photography course that delivers, I strongly recommend Emil's Academy.
It doesn't matter where you are in your photography game. Whether you take pictures for fun or are a content creator, this course is a no-brainer.
That's all about this round-up of Emil's photography courses, and I'll see you in the next one.
FAQs
If you liked what you read or have something to say about the iPhone Photography Academy, don't hesitate to drop them in the comment box below.
In the meantime, here are answers to commonly asked questions about Emil and his photography academy.
Where is Emil Pakarklis from?
Emil Pakarklis hails from Latvia, but he is currently based in the US.
Who is the CEO of the iPhone photography school?
Right now, Emil Pakarklis is the CEO of the iPhone Photography School, but he has fellow instructors who take some of his courses.
Is the iPhone Photo Course Worth It?
The iPhone Photo Course is worth it. For me, it was an eye-opener to many features of my iPhone camera that were unclear to me. I also gained totally new insights about what goes into taking magazine-quality pictures and videos.