iPhone Food Photography Course Review – Insider Thoughts
This is an in-depth iPhone food photography course review.
I paid for the iPhone Food Photography Course to spy on it for you. 
The iPhone Food Photography Course is among the nine premium courses offered by the iPhone Photography School.
This is my comprehensive analysis of the course detailing everything you need to know about it before you jump in.
What is the course all about? Is the course instructor legit or self-proclaimed? Who is the course for?
All those questions and many more will have been laid to rest by the time you finish reading this review.
What is iPhone Food Photography All About?
The iPhone Food Photography is all about taking excellent photos of food and (drinks too).
These photos enhance the color and texture of the food specimen to give it an accurate and appealing presentation.
With the knowledge you get from the course, you should be able to use, manage, and manipulate natural light to make great food photography (quoting Andrew Scrivani).
Beyond the food and lighting tricks, Andrew also shares salient tips on maintaining proper etiquette as a food photographer when working in busy places like markets. There is no standalone module for that, so you must put your ear down for those points.
Course Instructor – Andrew Scrivani
Andrew Scrivani is a New Yorker and popular food and lifestyle photographer who starred in magazines like the New York Times.
He's also been a contract photographer for big-name companies like Apple and Adobe.
Many media outlets that are now household names have had Andrew playing various parts in their movies due to his exceptional photography and videography skills.
His courses are highly rated too. He partnered with Emil Pakarklis to create the iPhone Food Photography Course. Aside from that, Andrew has his own photography course platform, CreativeLive. 
Who Is The Course For?
You are a prime candidate for the Food Photography course if you enjoy food for its color rather than its taste alone.
More specifically, the Food Photography Course is for:
Lifestyle Photographers
As a lifestyle photographer, your calling is to capture photos of everyday scenarios that include people, events, and stuff.
More often than not, you will find many opportunities to take photos of food, both natural and man-made, in different places that you travel to.
Interestingly, Andrew filmed the introduction of his Food Photography Course in a market, and that's just one of many places to snap food shots.
Later on in the course, you will find modules that deal with the very art of lifestyle photography, so watch out.
Small Business Owners in the Food Niche
There are many ways to implement food photography in your food business.
You need appealing food images to post on your blog to excite visitors about your offering.
You can take photos that show the recipe and actual process of making a particular snack, for example.
Words can only go so far, but when you add pictures to the mix, you'll reap amazing results.
Social Media Freaks
Taking and posting food photos is a big-time hobby for many social media users.
If you want to join in on the fun and snap food photos that wow people, you can learn much from the Food Photography Course about creating special effects in your shots.
Any Smartphone User
It is true that the iPhone Food Photography Course is mainly for iPhone users but don't let that stop you from trying the same tricks with your Android or another non-iOS device.
Your smartphone, especially if it is a more recent version, probably has the equivalent features an iPhone camera has. Besides, many of the strategies taught have nothing to do with the camera itself but are know-how for every photographer.
And, while we are on the topic of using any smartphone, that includes your iPhone, even if it is one from five years ago. Yep, you don't need a thousand-dollar iPhone to replicate what you see in the Food Photography Course.
You can start with what you have. 
What Is In The Course?
Time for the real deal.
The Food Photography Course basically teaches you what elements to get in place when taking a food photo.
The course also includes practical suggestions on interacting with human subjects in your lifestyle photography.
To do all that, the Food Photography Course is packed with three modules that go from the essentials of food photography to the more advanced aspects.
Every video lesson in the module shows Andrew taking the relevant photos with his iPhone to demonstrate how to apply what he teaches you.
As with the other courses on iPhone Photography School (the host platform), there are assignments each student must attempt and submit to the Facebook community for vetting.
One feature I found very helpful is that for each video lesson, there are related videos you can watch to get a better understanding of specific techniques mentioned in the video
Now, on to the modules:
Module 1
Module 1 is a video intro to the rest of the course and shows Andrew taking a tour of a market with his co-host.
The video is a location set filmed in Sicily. As you will notice, lifestyle photography is rarely done in the comfort of your home or studio. You have to step outside and interact with your subjects.
Module 2: Food Photography Essentials
Module 2 starts with simple hacks for capturing food shots in natural lighting.
Eight other video lessons discuss styling, camera angles, props, subject isolation tricks, and more.
Many of these videos are filmed outdoors since that's where natural light shines best.
Module 3: Implementing Your Food Photography
This module contains Andrew's final lessons before you take off to the field.
The opening lesson shares simple tips for magazine-quality drink photography.
It is in this module that you will learn how to showcase your food photos on your Instagram and grow your social media profile.
Bonuses:
It is highly recommended to watch the bonus modules as they contain even more details on selling yourself as a food photography expert.
The first bonus module has the title "Going pro" and highlights practical tips on getting your client's requirements right and shooting to meet their taste precisely.
You will also join Andrew again as he explores his shooting techniques in more food-related scenarios.
The last two bonus modules conclude with one video tutorial each. One of them is on how to edit your iPhone food photos to look even better, and the other video tutorial talks about a low-light photography setup. 
What I like about iPhone Food Photography (Pros)
The iPhone Food Photography Course has a lot going for it. First, it's great to have a course in such a niche aspect of photography.
But that's only brushing the surface because, after all, there are many other food photography courses online.
The real attraction of the iPhone Food Photography is coded in the name itself. No fancy camera equipment, only your iPhone. That means you can start from where you are right away.
Here is a list of other lovable things about the iPhone Food Photography Course:
Location Sets
The iPhone Food Photography course was shot in different locations outdoors rather than in a studio.
You see Andrew visiting different restaurants and bars to interact with the owners and take beautiful shots of their products.
That alone means that the iPhone Food Photography Course beats most other photography courses in terms of the effort put into creating it.
Training on Proper Etiquette
Filming a course in different locations and inside different shops and bars teaches the importance of approaching your food or lifestyle photography in a way that doesn't embarrass people.
In every one of his tours, Andrew doesn't just enter a shop and start taking photos of their product. He interacts with the store owner and even includes them in his photo adventures.
Throughout the course, you will get practical tips for relating with people as your lifestyle photography will involve you moving a lot.
High-Quality Videos
All the videos in the iPhone Food Photography Course are shot in a crisp 1080p resolution.
Beyond that, the explanations are simple and very actionable.
Enthusiastic Style of Teaching
When watching the video course, Andrew's manner of delivery alone can pique your interest in food or lifestyle photography.
He puts a lot of energy and drama into his presentation. You won't get bored, I promise.
Price
The iPhone Food Photography course is currently going for a deal of $49, down from $495.
At a price below $100, you will hardly find a better deal elsewhere.
To make the deal even sweeter, you get a risk-free 30-day money-back guarantee if you are unimpressed by the course.
Community
The FB community is one of the major stars of the show.
The community gathers students of the iPhone Food Photography Course from around the world. They submit their work to the community for feedback, and you will also get to share your work with the community and get feedback too.
Lifetime Access
Lifetime access is a given when you pay for the iPhone Food Photography School.
Helpful Support
The support team is quick to respond to user queries, and they are expert photographers themselves. That helps them to give answers that completely satisfy users' queries.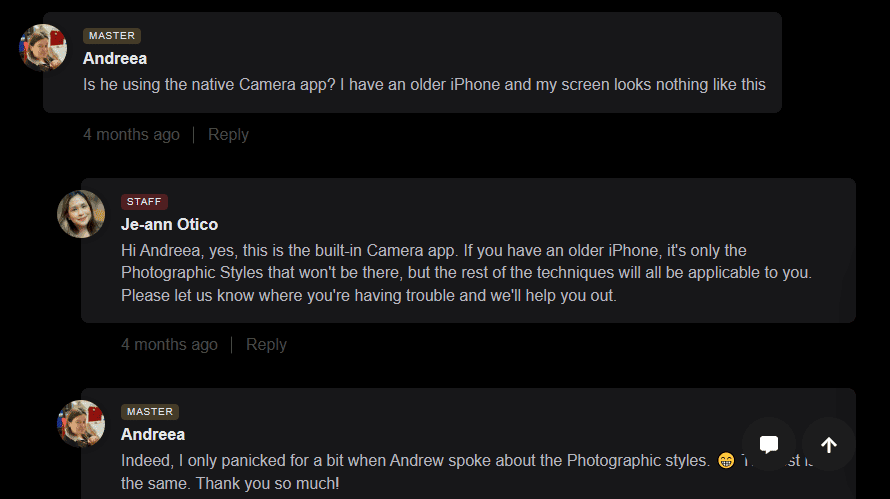 What I dislike about iPhone Food Photography (Cons)
I searched up and down for a serious downside of the course, but I couldn't find any. I do have to inform you though that the course is only available in English.
Keep that in mind if English isn't your first language.
I reached out to the support team about the language issue, and they got back to me within a few hours with this reply:
In short, even though the course is only in the English language, you can use the iPhone automatic translation to translate to your preferred language.
Reviews from Students
Check out what other students like myself are saying about the iPhone Food Photography Course.



Do I Recommend It?
I had a great experience with the iPhone Food Photography Course, and I'm confident you will too.
The course delivers tons of value for its price tag and should be among your top considerations when selecting a food photography course.
I encourage you to save time and stress hunting for a food photography course that delivers, as this one has it all.
At the same time, I will be waiting for your comments about the course when you do take it. Don't forget to share them!