13 Best Funnel Builders for WordPress for 2023
Do you want to build a funnel for your product and business using WordPress? Then you need a WordPress funnel builder – yes, they exist.
The best part is that they are affordable and less expensive than their competitors – ClickFunnels.
And if you already use WordPress for your site and are very familiar with it – you'll find it a far better option compared to expensive tools.
You can save thousands of dollars by using WordPress Funnel Builders.
It isn't like WordPress Funnel Builders are free but they are affordable like any other WordPress plugin you're familiar with.
And some of these plugins are part of your monthly subscription.
So without further ado, let's dive into the list of the best funnel builders for WordPress.
Hint – My friend cancelled his Clickfunnels subscription this year and is now rocking his WordPress.
Why use WordPress Funnel Builders?
There are several reasons to use a WordPress Funnel builder over standalone sales funnel builders like Clickfunnels, Groovefunnels, etc.
The most exciting reason is that it's very affordable when compared to standalone builders.
While some standalone builders might cost you $297 per month, WordPress Funnel Builders cost way less than that and some even offer a lifetime deal.
Another reason to consider WordPress Funnel Builders is the fact that you don't have to learn how to use a new interface.
Millions of sites are built on WordPress and it is an open-source platform, easy to use and build upon.
Not only is WordPress SEO-optimized, but it is also user-friendly and integrates with a wide range of software, plugins, and builders.
It's also easier to manage your WordPress site than other builders.
Lastly, you get almost the same functionality as the standalone funnel builders offer you.
So why not give a WordPress Funnel builder a shot?
Best WordPress Funnel Builders
The most interesting thing about WordPress is that there are always several options to select from when looking for a plugin or theme.
Out of the several plugins that can serve as funnel builders for WordPress, below is a list of tested and trusted funnel builders.
#1 Cartflows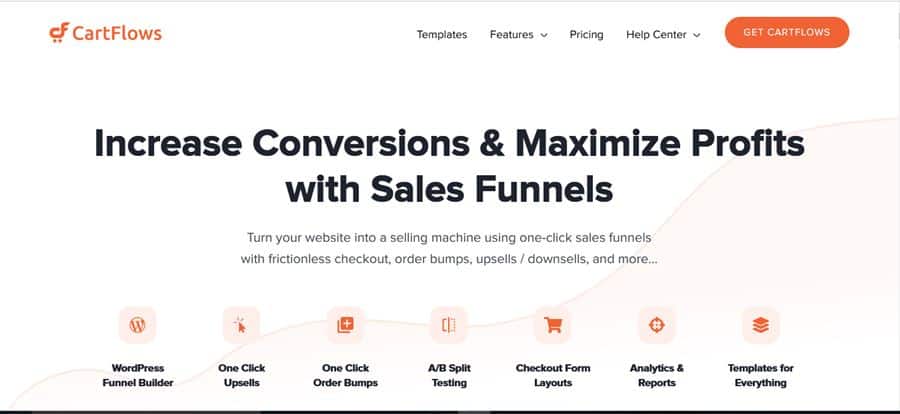 CartFlows is my #1 WordPress Funnel builder with lots of amazing features that make it a better replacement for standalone builders. 
It was founded in 2018 and started as a shopping cart software but now has more features that make it a full-fledged sales funnel builder.
Boasting over 82 features and 200k users worldwide, CartFlows has established itself as the best WordPress Funnel builder.
My favourite features of CartFlows include its funnel templates and easy interface.
The funnel templates enable you to set up a sales funnel real quick on your site without starting from scratch.
Another amazing thing is that it is constantly updated to make the experience better and that sometimes comes with new feature updates.
Features
I mentioned some features of CartFlows above but it doesn't represent the vast number of features offered by CartFlows.
It'll be a discredit to mention just a few of the amazing features CartFlows offers.
Here's a breakdown of the features you get:
One-click upsells (this is one of the most important parts of the funnel)
Customizable funnel templates
One-click order bump
A/B split testing
Checkout form layouts
Analytics and reports
Pre-checkout offer
Cart abandonment
Webhooks support
Pricing
CartFlows offers two pricing plans – its annual plan and lifetime deal. 
The annual plan costs $239 per year while the lifetime deal costs $999 you can split the payment into four months making it easier to pay up.
In comparison with the big guys, you're actually saving over a thousand dollars. The least expensive tool costs $99 per month and that's over $1k dollars per year multiplied by how many years you'll stay with them.
So CartFlow's lifetime plan isn't a bad deal or you go with their annual plan.
Pros
Affordable and has a lifetime plan
Templates for nearly everything
Integrates with popular page builders
It is compatible with WooCommerce plugins and features.
Created specifically for WordPress
Cons
As good as CartFlows sounds, it isn't without glitches.
Below are some conspicuous downsides to using CartFlows.
#2 Thrive Architect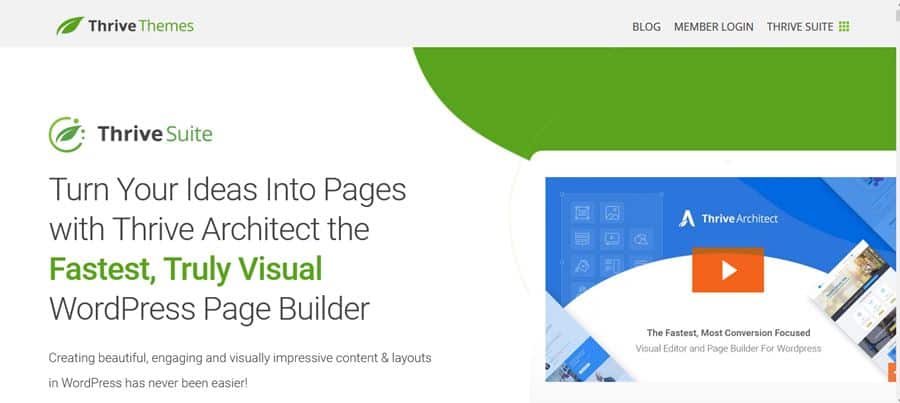 Thrive Architect is a popular WordPress page builder that has been in existence for quite some time.
Thrive Architect is known for its lightweight and ease of designing pages once you get familiar with its dashboard.
While Thrive Architect isn't a full-fledged funnel builder, its features make it possible to build your funnel from scratch.
It has templates for building pages On WordPress and building blocks for the essential parts of a funnel.
It is a plugin developed by Shane Melaugh who has been in the marketing industry for a very long time.
Worth mentioning is the fact THAT ThriveArchitect belongs to the Thrive Themes family, so purchasing the Thrive Suite gives you access to all Thrive products including Thrive Automator, Thrive Comments, Thrive Quiz Builder, etc.
Features
Given that Thrive Architect wasn't outright built as a funnel builder, it has continuously been updated to fit the demands of its users and which makes it a fit for the task.
Here are some of the amazing features you'll find:
Landing page templates
A/B split testing
Webinar and Sales Pages templates are available
Thrive leads (a lead page builder)
Thrive Ultimatum (countdown campaigns)
Pricing
Thrive Architect offers two pricing plans; the annual and quarterly plans.
The annual plan costs $228 per year (which breaks down to $19 per month).
While the Quarterly plan costs $90 (which breaks down to $30/month).
Obviously, the annual plan seems to be the better package.
Pros
It's an all-around page builder that can build nearly all pages
It is affordable
You get access to all Thrive products
Thrive Architect is a lightweight product which will not slow down your site
Cons
It lacks one-click upsells and order-bumps templates.
Thrive Architect lacks automation and it serves as just a builder.
It lacks a monthly plan and a lifetime plan.
#3 OptimizePress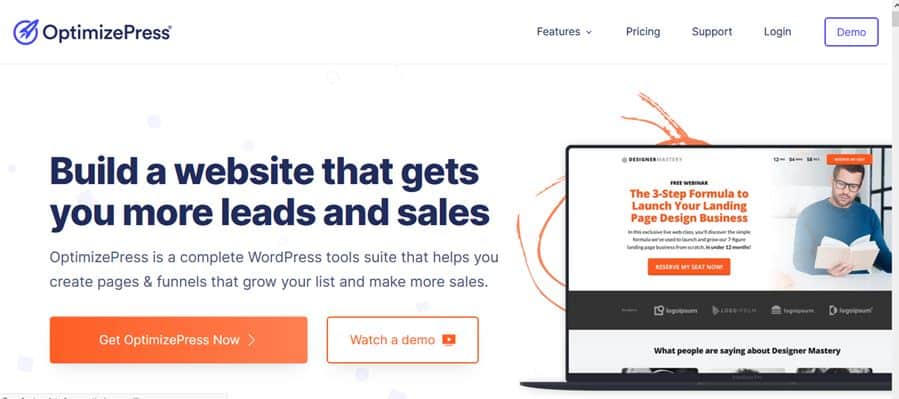 OptimizePress is a landing page and Funnel builder for WordPress.
Over the years, OptimizePress has undergone several updates to make it one of the leading funnel builders for WordPress.
Rather than just being a landing page builder, it has added to its list of features, the essential building blocks for funnels.
Compared to ThriveArchitect, OptimizePress has order bumps, upsells and down sells, checkout pages, and lots of amazing funnel elements.
Speaking of its consistent updates, OptimizePress has a page that lists its updates for the past few years and it's really a long list.
Its last update was in December 2021 and at the moment, they are working on two new updates (the funnel visualizer and Optimize Leads integration update).
Features
OptimizePress is a feature-packed funnel builder that has the capability of competing with the leaders in the funnel industry like Clickfunnels.
And this is pretty visible when looking at the long list of features it possesses.
For starters, it has over 250 customizable page templates to select from.
It provides easy opt-in forms and allows you to build two-step option forms.
For funnel-specific features, OptimizePress offers a countdown timer, progress bar, launch funnels, list-building funnels, sales funnels, webinar funnels, etc.
You get to choose the type of funnel you want to build which comes with pre-built designs to select from. You can fully customize your funnels to fit your branding.
Here's a breakdown of its features:
Templates for different kinds of funnels and landing pages
All templates are fully customizable
Countdown timer, progress bar, and essential funnel elements
Upsells and downsells
Order bumps
And lots of page-building features
Pricing
OptimizePress offers three pricing plans – Essential, Suite, and Agency Standard.
The Essential plan costs $99/year and allows you to use OptimizePress on only one site. It also comes with limited features.
The Suite Plan costs $199/month and comes with all the features, allowing you to use OptimizePress on 20 sites.
Finally, the Agency Standard plan costs $399 per year and allows you to build funnels for clients. You'll be able to build funnels on your client sites.
If you're thinking of which plan to go for, OptimizePress has all you need to build funnels for your personal sites. It is also affordable compared to other builders.
Pros
OptimizePress is a full-fledged funnel builder for WordPress
It offers lots of mouth-watering features
It has templates for nearly all niches and types of funnels.
It supports upsells, downsells, and order bumps.
It is affordable
OptimizePress is updated regularly
Cons
The least plan is too limited.
#4 LeadPages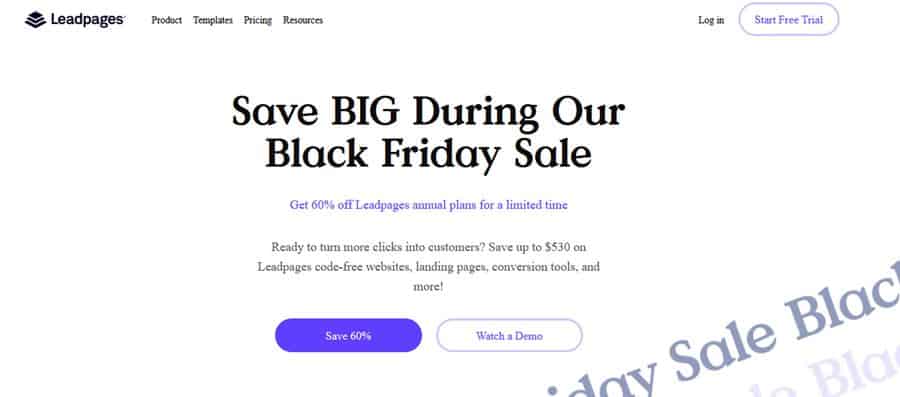 LeadPages is a landing page builder that allows you to build sales pages and landing pages for your products or to convert visitors to leads.
It's a standalone builder that also has the ability to host your pages for you on their server and doesn't require you to have a WordPress site.
However, it makes it to this list thanks to the availability of the WordPress plugin for WordPress users.
LeadPages plugin allows you to do almost the same thing you can do on its standalone builder.
The plugin allows you to build landing pages and add pop-ups to your WordPress site.
The major downside to LeadPages is that it doesn't have pre-built templates for checkout pages, upsells, downsells, and order bumps.
Its area of specialty is in building landing pages and pop-ups.
In other words, a one-click upsell is not achievable with LeadPages.
For some of the features it lacks, it compensates by allowing third-party integrations.
That said, let's get into the list of features it offers.
Features
Here's a breakdown of the features offered by LeadPages:
Lead Gen form builder
Landing page templates
Lead routing
Exit-intent pop-ups
A/B Split testing
Countdown timer
Thank you and confirmation pages
Third-party integrations
Pricing
LeadPages offers two plans which are billed both monthly and annually.
The Standard plan costs $49/month when billed monthly and $15/month when billed annually. This plan lacks some features like this A/B split testing.
The Pro plan costs $99/month when billed monthly and $30/month when billed annually.
This plan gives you access to all the features.
Pros
It's a combination of a standalone page builder and a WordPress builder.
It offers customizable templates
It allows integrations with several tools and software products
It offers some level of automation.
Cons
It lacks some essential funnel building features like upsells and downsells.
It is quite expensive when billed monthly.
#5 WpFunnels
WPFunnels is a relatively new sales funnel builder developed solely for WordPress.
From its name, it is clear it was outright built for WordPress and meant to serve as a funnel builder.
What makes WpFunnels different from the majority is that it has all the necessary features needed to build a converting sales funnel – and this includes the one-click upsells, downsells, order bumps, to mention a few.
It also brings creativity to the industry by providing a visual interface for creators to build an eye-catching sales funnel.
Needless to say, it is a drag-and-drop funnel builder.
In terms of WordPress Funnel Builders, WPFunnels is ahead of a lot of builders and it is worth going for if you're looking for an interactive builder with all the necessary features.
Speaking of features, below is a list of the key features.
Features
Some of the features you'll find on WpFunnels include:
Drag and drop canvas
Order bump offers
Upsells and downsells offers
Pre-made templates
Conditional steps control (controlled structure for funnels)
Detailed analytics and report
Checkout funnel
Lead generation funnel
WooCommerce integration
Pricing
Here comes the best part of WpFunnels – it offers three pricing plans (small, medium, and large).
The small plan costs $38.8 annually and $94.8 for the lifetime plan.
The Medium plan costs $58.8 when billed annually and $139 for the lifetime deal.
Finally, the Large plan costs $94.8 annually and $189 for the lifetime offer.
Absolutely, the lifetime plan is the best offer to go for and I recommend going for the Large plan as it offers the full features and provides a license for unlimited sites.
Pros
It is very affordable and offers lifetime deals.
WpFunnels is built specifically for WordPress and offers all necessary sales funnel features and elements.
It is updated regularly and compatible with nearly all themes.
It offers licenses for unlimited sites.
100% money guarantee
Cons
Haven't thought of any yet!
#6 Divi Builder
Divi Builder is a popular WordPress page builder that provides a drag-and-drop interface to build and design landing pages.
It offers a set of landing page templates for you to select from and each page template includes the home page, landing page, contact page, about, and service page.
Divi isn't actually a funnel builder but rather a page builder.
In other words, it lacks the basic things like upsells, down sells, order bumps, that a sales funnel should have.
However, as a page builder, you can build these pages with them including your checkout page.
But it would lack the automation and coordination that a funnel should have.
In short, I would rather think of it as a landing page builder.
But does it mean it isn't worth it?
Well, it is as it can build your sales pages for you. It can build thank you pages, and lots more.
Coupled with marketing automation software, you can build a responsive and automated sales funnel builder.
Another way to use Divi Builder as a funnel builder is to use it alongside CartFlows which is the first tool we mentioned.
Elegant Themes (creator of Divi) also endorse CartFlows as their preferred builder to use alongside with Divi.
Given that both tools have a lifetime deal, securing their lifetime deals will make the tools less expensive in the long run.
That said, below is a list of features Divi offers you.
Features
Drag and drop page builder
Landing page templates
Get access to divi themes
Visual interface
Pricing
Divi Builder offers two plans – yearly access and lifetime access.
The yearly access costs $89 per year while the lifetime access costs a one-time fee of $249.
Pros
It offers a lifetime deal
It has an extensive library of templates and themes
Cons
It is quite heavy and can slow down your site a bit.
It requires a third-party software to build automated funnels (CartFlows) which can lead to additional expenses.
#7 Optinmonster
Optinmonster is a WordPress plugin developed by Syed Balkhi, the founder of WP Beginner and the CEO of Awesome motive.
He is known for developing lots of plugins in the WordPress space and he's a force to reckon with in the industry.
Speaking of Optinmonster, it is one of his biggest SaaS companies.
Optinmonster is a lead generation software that helps businesses and site owners generate more leads and improve their conversion rate.
Its major features include exit-intent pop-ups, cart abandonment reminders, countdown timer, content locker, etc.
As a funnel builder, Optinmonster is still lacking in major features but can be used to complement a page builder.
It is best as a conversion optimization plugin. In case you want to improve the conversion rate of your pages, Optinmonster will be of great help.
In other words, it does not build landing pages or sales pages. Instead, only attends to the aspect of creating pop-ups and automated opt-in campaigns.
Features
Drag and drop builders – this allows you to create optin forms, lead Gen pop-ups, etc.
Exit-intent pop-ups – the most enticing feature on Optinmonster
Scroll trigger
Campaign scheduling
Advanced campaign targeting features – geolocation targeting, page level targeting, cookie retargeting, adblock detection, device-based targeting, etc
Pricing
Optinmonster offers four pricing packages to select from.
It pricing starts at $9 per month for the Basic plan.
Then moves to $19/month for the Plus plan when billed annually, $29/month for the Pro plan, and $49/month for the Growth plan when billed annually.
The differences in the plans are in the number of sites' licenses and features.
The Basic plan offers only a one-site license. The Plus offers 2 sites licenses. The Pro offers 3, and the Growth offers 5 licenses.
The rest of the differences lies in the plan.
For starters, it's best you go for the Plus plan except you have more than 2 sites.
Pros
It helps boost your conversion rate using targeted pop-ups.
It has simple and cost-effective pricing plans.
It offers a free trial.
Offers advanced campaigns targeting
Cons
It lacks page building capabilities
It lacks the essential elements of a funnel builder and requires you to use it alongside a page builder.
#8 Getresponse
Launched in 1998, Getresponse is probably one of the oldest software on this list.
It started as an autoresponder but has undergone several updates, changes, and rebranding to get to where it is now.
What started as an email automation software for creating email marketing campaigns, capturing, and converting leads has now expanded into an all in one marketing software to carry out and manage nearly all marketing activities.
Together with being an email automation software, Getresponse now supports funnel building, webinar hosting and webinar funnel building, and lots more.
It is now more than an email automation software but a full-fledged marketing automation software.
Getresponse is headed by Simon Grabowski who is also the founder of this awesome software serving over 350,000 customers worldwide.
As a funnel builder, Getresponse offers advanced automation to sync your pages together and also improve your sales.
Given that Getresponse is more of an email automation software, the major part of the funnels focuses on follow-up email funnels.
So Getresponse only works on your page to get leads and then the internal funnel on Getresponse will follow up with the leads to convert them to sales.
So you'll have more email sequences.
Features
Having mentioned that Getresponse is an all-in-one solution, this reflects in its features.
However, for the purpose of this article, I listed the features pertaining to funnels only.
Simple optin funnels
Lead magnet funnels
Webinar funnels
Sales funnels
Drag and drop builder for landing pages
Exit-intent pop-ups
Automated email campaigns
Abandoned order emails
One-click upsell pages
Payment processors
Ecommerce integrations
Pre-designed scenarios
Pricing
For starters, Getresponse offers a free plan which doesn't require your credit card to sign up.
Its paid plans are split into three tiers. The first tier is the Basic plan which costs $12.30 per month, the second tier costs $40.18 per month, and the last plan costs $81.18 per month.
You can sign up for the free plan using this link.
Pros
It is an all-in-one marketing solution software
It offers several funnel scenarios that serve as a building block.
Offers advanced marketing automation.
Integrates with several other platforms besides WordPress.
It has a free plan and its paid plan is also affordable.
Advanced segmentation and extensive integrations.
Cons
Getting familiar with the dashboard can take some time. (in other words, its dashboard isn't that intuitive).
#9 Elementor Pro
Elementor Pro is one of the popular WordPress page builders.
It belongs in the same category as Divi Builder and Thrive Architect.
Elementor Pro is widely known for its drag and drop user interface and its extensive library of page templates.
While Elementor Pro is awesome, I dislike it for its heavy size which makes it slow down my site.
I deactivated and deleted it on my site when Google launched its Core Web Vitals.
But that isn't a big catch because Divi Builder is almost the same size and also slows down sites.
Besides all these other plugins will also have an influence on your speed.
It isn't a thing of concern if you're using premium web hosting services like WPX hosting.
It only becomes a problem if you're hosting your site on shared hosting or hosting with average performance.
That aside, similar to Divi, Elementor isn't exactly a funnel builder but just a page builder.
You'll need to integrate or use automation software or a funnel builder like CartFlows.
And this further shows why CartFlows own the #1 position on the list.
Well, another builder you can use it with is the WPFunnels.
With that said, let's get into the list of features Elementor Pro itself offers.
Features
Drag and drop page builder
Popup builder
Sticky elements
Evergreen countdown
Lead generation forms, sign up forms, etc
Extensive integration with third-party apps
Pricing
Elementor Pro offers several pricing plans based on the site license.
Its pricing starts at $49/year. You can get started with it right away.
Pros
Best landing page builder with several templates
It offers a Popup builder
It offers wide integrations
It is affordable
Cons
It slows down websites
It lacks essential sales funnel elements and features.
It still requires integration with other software to function as a funnel builder.
#10 Landingi
Landingi is a landing page builder that allows building and publishing landing pages.
In other words, it is a standalone landing page builder like LeadPages and even allows you to connect your custom domain to it.
But it goes further than that, Landingi allows you to use its tools on WordPress.
That is, you can create and publish landing pages on wordpress by using their custom plugin.
As a funnel builder, Landingi provides flexible automation to link the pages in a funnel together.
For instance, you can direct visitors to your thank you page after collecting their emails.
Or you can direct them to the order page after submitting their details.
There's a fair share of flexibility offered by Landingi.
With Landingi, you can create marketing funnels, conversion funnels, and sales funnels.
But it lacks some features that I expected it to have like the one-click upsells, downsells, and order bumps feature.
Although you can come up with something close to them using the *Next Action* feature that allows you to enter the url of the page to direct visitors to after performing an action.
But it wouldn't be as synchronized as you have it on tools with templates for it.
Features
Drag and drop editor
Popup builder
Templates library
Funnel automation
Funnel templates
Landing page optimization
Pricing
Landingi offers four pricing plans which start from $29 /month (when billed annually) for their Core plan, $65/month for the Create plan, $89/month for the Automate plan, and $109/month for the Agency plan.
Each of the plans are limited. For instance, The Agency plan only supports 50K unique visits per month and if your need is more than that, you'll need to buy their add-ons.
For $5/month, you can add an extra 5000 unique visits per month to your plan.
The good thing about this is that you can go for the least plan which allows 1000 monthly unique visits and add an add-on to it, to increase the monthly visit limit.
What's worth mentioning is that, if you're using Landingi with a WordPress site, you are not affected by the limit as you're not hosting your landing pages with them except you redirect visitors to a landing page hosted with Landingi.
Pros
Extensive templates library
Easy to use and understand
Offers funnel automations and can also serve as a standalone builder.
Cons
Landingi is quite expensive – no need to mince words.
It lacks some funnel functionalities like upsells and downsells.
Its least plan is too limited compared to what others offer at that rate.
#11 Beaver Builder
Just like Divi and Elementor, Beaver Builder is another member of the family of WordPress page builders we have.
Beaver Builder is also a popular page builder although not as popular as Divi and Elementor.
However, it does offer similar features and page building capabilities as they also do.
Beaver Builder happens to be the only builder I haven't tried among the trio, maybe I have but can't remember doing so.
However, based on others' experience and my review of sites using Beaver, it is quite good and maybe even better than Divi and Elementor in terms of speed.
The page templates offered by Beaver Builder are lightweight and load faster compared to Divi and Elementor.
In fact, it doesn't slow down your WordPress admin interface as Divi does.
Well the reasons for this aren't far-fetched, Beaver Builder has lesser clutter compared to its major competitors and that is why most of its templates are clean and simple.
In terms of templates, Divi and Elementor do better because their templates are heavily designed with lots of features and hence the reason for the slow load time.
That aside, Beaver Builder as a funnel builder is also the same thing as Divi as a funnel builder.
In other words, Beaver Builder lacks funnel building capabilities and would have to rely on automation software like Getresponse. Mail Chimp, or funnel builder LIKE CartFlows.
Features
Beaver landing page plugin
Beaver Builder theme – templates
Drag and drop interface
Unlimited sites license (this makes it unique from others)
Pricing
Beaver Builder starts at $99/year and offers license to unlimited sites. Its Pro plan costs $199/year and includes Beaver Builder theme which is lacking on the Standard plan.
The Agency plan costs $399/year and offers white labeling to its list of features.
Pros
Its a lightweight page builder
It is easy to use and offers an intuitive interface
It is affordable and offers unlimited sites license even on the lowest plan.
Cons
It lacks some funnel building capabilities.
It requires integrating with third-party apps to build funnels
#12 ActiveCampaign
ActiveCampaign is an email automation software that allows you to build and nurture your email list.
Similar to Getresponse, ActiveCampaign started as an email service provider before expanding into what it is now.
Now, ActiveCampaign is more than an email marketing software. It offers more features than that.
At the surface, it offers an inbuilt CRM for engaging and nurturing leads.
But much more than that, ActiveCampaign offers advanced marketing automation.
It also provides pre-developed automations for various industries and purposes. These are known as automation recipes.
As a funnel builder, ActiveCampaign offers lots of watery features but is also lacking in some funnel building capabilities.
For instance, it lacks upsells and downsells.
Also, the major part of its funnels is on email automation – consider it a tool for building email marketing funnels.
Features
All-in-one marketing automation software
Advanced automation tools
Offers a CRM
Offers automation recipes for easy building of email funnels
Pricing
ActiveCampaign offers a flexible pricing structure that varies based on the number of subscribers you.
The least plan starts from $22 per month when billed annually while the most popular plan costs $112 (professional plan).
If you don't know which plan is best for you, I recommend starting with their free trial.
Pros
It offers advanced automation features.
Provides templates for automations
Cons
Its pricing plan is too complex
Its user interface is sophisticated and not user-friendly.
Lacks essential funnel building features.
#13 WooFunnels
WooFunnels is a funnel builder built specially for WordPress.
It serves as a good affordable replacement to Thrivecart and Clickfunnels.
WooFunnels provides you with the tools and automation necessary to build converting sales funnels.
WooFunnels works with all WordPress themes and it's compatible with all plugins.
The best part is that it offers lifetime deals that makes it much more affordable in the long run.
What's worth mentioning is that WooFunnels comes with the expected features from a funnel builder.
In comparison to Clickfunnels and ThriveCart, WooFunnels performs well and offers most of the features these tools have.
It also allows you to import funnels into the editor and modify to fit your brand.
Features
Drag and. Drop editor
Customizable funnel templates
Customizable checkout form
One-click upsells and downsells
Add order bumps (allows multiple bumps)
Coupons to URL tool
Pricing
WooFunnels offers two pricing plans for both the Solopreneur and Agency.
For the Solopreneur, it starts at $179 per year.
The Agency plan starts at $254 / year.
The best part is that WooFunnels offers lifetime deals for both the Solopreneur and Agency.
The lifetime deals are in four packages and the Solopreneur plan costs a one time fee of $599. While the Agency plan costs $899.
Pros
It offers lifetime deals
It provides amazing funnel building features like upsells and order bumps.
It is easy to use and created specially for WordPress
Cons
It offers too many pricing plans and that can be confusing.
Which is the Best Funnel Builder?
Here comes the question of the day. The best funnel builder is dependent on several things which includes your budget, your funnel needs, the type of business you run, and several others.
So to decide on the best funnel builder, below is my pick based on several factors.
Budget – Affordable FUNNEL builder
Based on budget, I recommend WpFunnels.
It costs just $139 for its lifetime deal which is even lower than the cost of the annual plans for many of these funnel builders.
Also, WpFunnels is built specially for WordPress and is a relatively new tool with promising features.
It is worth trying out.
Best Plan for Agency
If you run an agency or have multiple sites you operate and need funnels for, then some of the tools here might be too expensive for you.
Some tools only offer a single site license and that means you'll need to purchase the plan for as many sites you have.
Although they also offer multiple site plans, it might just be over the budget.
So my recommendation for agencies and businesses with multiple sites is CartFlows.
CartFlows offers lots of amazing features and at the same time provides access to use on up to 30 sites.
I also recommend WpFunnels in this area too as it offers unlimited site license which happens to be the best offer so far.
Wrapping Up
Selecting the best funnel builder for wordpress shouldn't be a problem.
With any of these funnel builders, you can create converting funnels for your products.
If you have any experience using any of the above builders, please leave a comment below and tell me about your experience.
Related