35 Product Marketing Statistics That are Relevant in 2023
You'll agree that the product marketing world is not a static space, it's dynamic, and things change quickly over time.
A product that is effective today may not be valuable and potent tomorrow. That's life; that's how the market operates.
On this note, professionals from all spheres of life must stay up-to-date on the latest product marketing statistics.
After the COVID-19 pandemic, most industries and top companies decided to remotely continue some of their operations.
Hence, the world of product marketing had to do the same and adapt to the numerous technology trends capable of boosting brand exposure.
In this publication, we have compiled the latest, most relevant, and trending Product Marketing Statistics that you need to know in 2023.
Our in-depth report and reliable statistics on product marketing for small and large business organizations should introduce you to new and better ideas.
These better and newer ideas will expose you to more effective and efficient marketing strategies you can leverage on your brand.
What is Product Marketing?
Product marketing is the propelling force that drives newly launched products to market and, at the same time, keeps them there.
Product marketers are the voices of the company's target audience, enablers of sales, masterminds of messaging, and expeditors of adoption.
It's important to state that many specialists have tried to define the concept of product marketing in precision to no avail.
Being a prominent and must-have department in B2B and B2C business organizations, it's pretty challenging to find a universal definition of it — not even on Google.
That being said, Product Marketing Managers (PMM) are saddled with the responsibility of varieties of deliverables; they are very crucial to the company's product lifecycle.
They're responsible for giving products all the necessary features to make them appeal to the eyes and senses via the instrumentality of email marketing, videos, webinars, etc.
Without further ado, product marketers are part of the world's most fulfilled plate-spinners, performing an essential role in ensuring that the products are appealing to the organization's target audience.
Product marketing statistics
I don't mean to be harsh, and I'm not saying this to scare you, so I'll be blunt. AcuPoll revealed that 95% of newly launched products failed yearly.
That is to say, it's prevalent to see newly launched products fail, sometimes, even before they take off to the market.
Thus, the above perturbing and worrisome statistics include that of existing and newly established companies. Disturbing, right?
The causes of this failure include the following:
Improper and poor launch timing;
Poor coordination and processing;
Inaccurate messaging, etc.
While it's apparent that a product launch is a crucial aspect of a company's success, especially if the organization wants to expand its reach, get new clients, and increase revenue.
Without further ado, the following are the jaw-dropping statistics that will help you visualize your next product marketing strategy.
But before then, be enlightened that these 35 trends to be discussed are not where it ends. Product marketing professionals have so much to offer.
Let's get going…
1. 1 out of 5 product marketers don't liaise with their target audience.
Findings show that 21% (1 in 5) of product marketers have never liaised or communicated with their prospects or target audience.
They instead get and accumulate all the necessary feedback5and reviews from other members or departments in their organization.
2.  21% of product marketers work solo.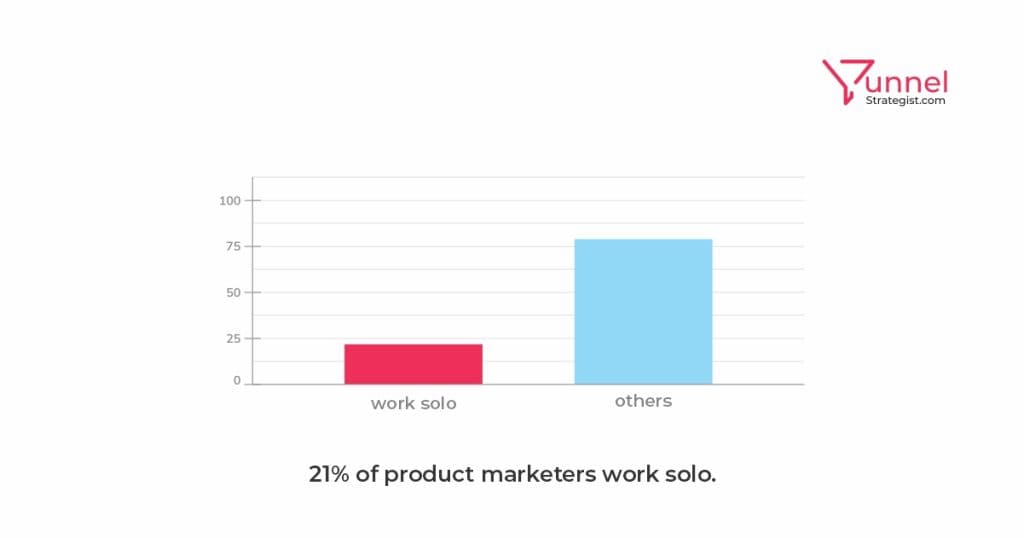 According to Product Marketing Alliance blog statistics, 1 in 5 (21%) product marketers work solo and, as such, operate a one-person band.
As the company's sizes increases, the team sizes also get more extensive, with the PMM teams at late startups having the largest (9)
3. 88.3% of product marketers spend their time collaborating.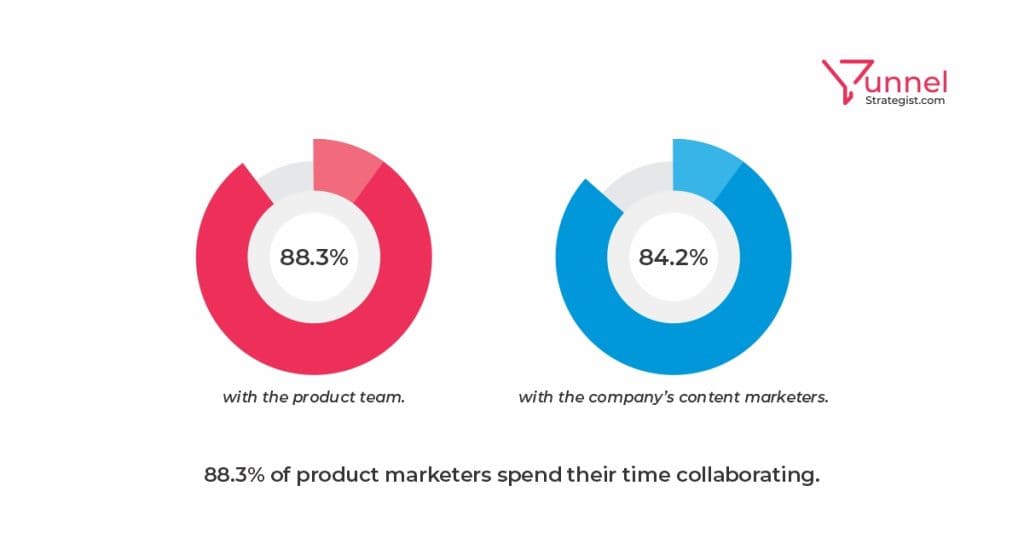 Almost all the product marketers (88.3%) spend a substantial amount of their time collaborating and working side by side with the product team.
And 84.2% of them enjoy collaborating and sharing ideas with the company's content marketers.
4. More than 30,000 products are launched yearly.
In a research work published by Harvard Business School, Professor Clayton Christensen opined that over 30,000 consumer products are launched yearly.
Out of these 30,000 new products, 95% of them fail woefully without having any significant impact on the market. Pity!
5. Customer case studies remain an effective sales enablement property.
In an article published by the Product Marketing Alliance (PMA), more than 78% of product marketers considered customer case studies the most effective and efficient sales enablement asset.
6. Friends and family form part of new product awareness.
More than half of the target audience knows about the existence of a new product through their friends or family.
According to a global survey conducted by Nielsen, 56% of the respondents cited friends and family referrals and recommendations as their sources of new consumer product awareness.
7. I in 5 consumer buys new products immediately after they are launched
In a survey conducted by Lab42, 21% of the respondents buy new consumer products immediately after they are available.
63% of the survey respondents prefer to buy new products when they have been launched for a while.
In the same survey, 65% of the final consumers who buy products immediately after launch and are available in the market are men.
And 59% of the consumers who prefer to buy a product after they must have been launched for a while are women.
8. From 2020 to 2030, employment opportunities to grow in the marketing industry by 10%.
In 2021, the Bureau of Labour Statistics revealed in their latest marketing stat that job opportunities in the world of marketing would grow by 10%.
That is to say, there will be an influx in the content marketing sector, product marketing sector, social media marketing sector, and the like.
9. Industry makes a huge difference in product marketer's earning
Most product marketers plying their trade in Network Security and Computer industry are achieving a ballpark figure compared to their counterparts in other sectors.
10. In the product marketing space, it's not always about the money; it's the value!
PMA revealed in its blog post that 54% of product marketers (more than half) believe that their salary reflects their role and value within an organization.
11. Even in 2021, Playbook was a misconception.
Research shows that as widely as playbooks are seen as a highly effective tool, most product marketers (55%) are yet to try one.
12. 56.3% of C-suiters acknowledged the importance of product marketers.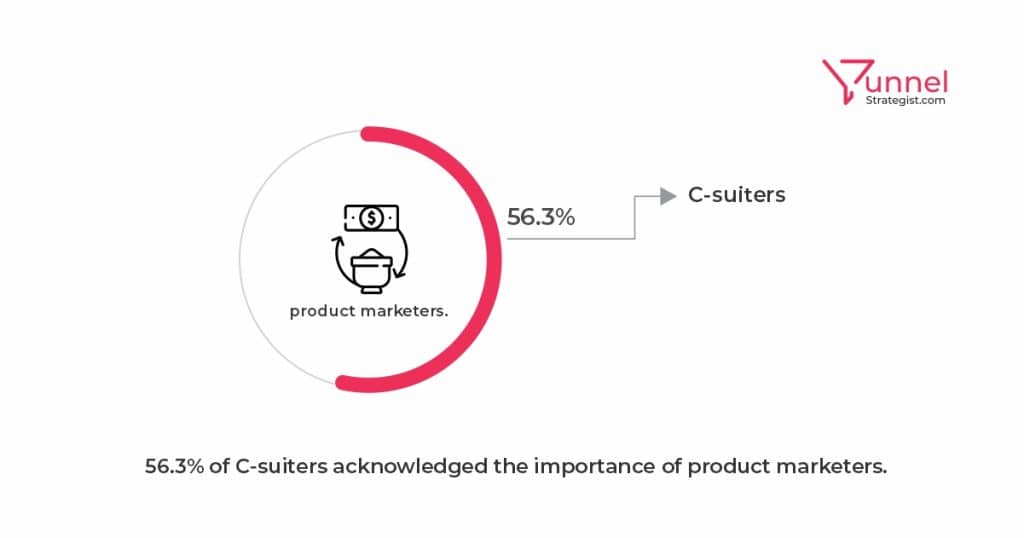 Amazingly, over half (56%) of C-suiters were reported to have recognized the multivarious input of the product marketers.
According to the PMA survey, these C-suiters acknowledge that the PMMs are the authentic voice of the company's customers, and without them, customer experience cannot be personalized.
What's more, they also confirmed that the product marketers are responsible for equipping the sales reps with the relevant assets, and their role in generating revenue can never be overemphasized.
13. 66.5% of product marketing managers work on content creation.
In the Q4 of 2020, PMA revealed that 66.5% of the PMMs working in the industry are content curators.
Although they are interested in advancing their careers to the next phase of product marketing leadership.
14. More than 30% of PMMs plan to start their own business in the US.
The rate at which PMMs are going solo is alarming. A recent survey conducted by PMA showed that the self-employment rate among PMMs is increasing.
In the United States alone, 30% of certified product marketers are starting to lay the foundations for their private business brands.
15. Strong communication skill is the core value of the product marketers.
Not all product marketers understand the core values surrounding the role. As a result, communication takes greater significance in the product marketing realm.
The Product Marketing Alliance statistics unveiled that more than half of product marketers (79.8%) identified effective communication as the significant skill needed to become a certified product marketer.
16. Only 29.9% of the company's budget is spent on video marketing.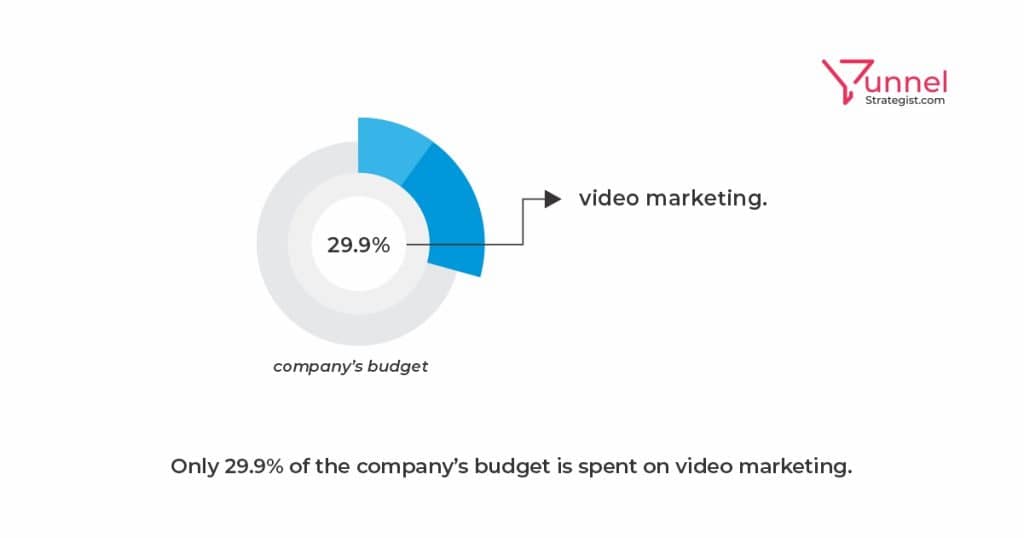 PMA also revealed that 33.2% of the organizations' product marketing budgets (highest) are leveraged on marketing tools and software.
While 29.2% (second on the list) of the company's budget is usually invested in video creation, editing, and marketing.
17. In 196 days, new consumer products reach their highest distribution metric.
According to the Catalina report, it takes only 28 weeks (on average) for a newly launched product to reach 75% (being the highest) of its distribution metrics.
18. In 2022, 28% of manufacturing companies in the US will launch a new products
In one of the Thomas Net Business publications, it was revealed that 28% of manufacturing companies based in the United States are planning to launch products or services.
19. Female folks dominate the product marketing space.
Yes, 53% of female product marketers are more than their male counterparts (43%) in the product marketing world.
However, the male folks earn $653 (on average) more than the female product marketers per month.
However, the exception to this can be found in the Middle East and Asia. Classic, right?
20. In the product marketing space, job title influences earning potential.
According to findings, job titles play many roles in the product marketing world as far as salary packages are concerned.
Each time a Product Marketing Manager is promoted, his average salary and other packages increase.
In such a case, the most significant increment often comes when product marketers metamorphosis from PMM to Senior Product Marketer.
21. Product marketing role is abstract
In a survey conducted by Product Marketing Alliance, 5.1% of the respondents (who are product marketers) believe that the stakeholders in their company understand their roles thoroughly.
While others said that their roles are abstract and not even other team or the stakeholders can fully understand their roles
22. The influence of product marketers on the company's goals outweighs their impact on products.
Findings show that product marketers believe that their influence on the company's goals and tactics outweighs their impact on the products.
They believe that their influence level is 6.3 on the company's goals, and their influence on products is rated 5.9 on a scale of 1-10.
23. 67% of C-suiters see product marketing as a strategic position.
PMA disclosed that most of the C-suiters (67%) consider the role of product marketers to be strategic.
While 27% of the C-suiters consider their role to be tactical, 2% say Product Marketing Managers play a supporting role.
24. 61% of B2B marketers leverage videos and webinars.
According to the Casted blog post, 61% (more than half) of B2B marketers publish and leverage video content and webinars.
47% of them also create whitepapers marketing and 32% of the cash on podcasts in 2022.
25. The core value of product marketing is messaging and positioning.
In 2021, the majority of the C-suiters and PMMs agreed that product marketers' primary responsibility is product messaging and product positioning.
26. PMMs created sales content in 2021
More than half of the Product Marketing Managers (93.7%) stated that they were responsible for generating sales content for their company.
This is regardless of the fact that the marketing units often own the company's sales enablement.
27. 60% of newly developed products don't make it to the market
A research work published by Marketing Research Association revealed that only 40% of newly developed products make their way to the market.
Out of that 40%, 60% don't and won't generate any sales or revenue at all. Sordid?
28. 2021 witnessed an increase in business digital transformation
In a survey conducted by Criteo, 1 in 3 product marketers say the covid-19 pandemic birthed a rapid digital change in business processes.
29. Quality content is the cornerstone of the product marketing strategy
77% of buyers demand different content to be available at each stage of product research processes.
That is to say, content is the cornerstone of contemporary product marketing. Without quality content, the product won't fly.
Gone are the days when sales sheets and pitch decks are used in supporting products launch.
In fact, Upland Software reports that 60% of buyers are inspired to patronize a product after reading the content that talks about it.
While 70% of consumers say they would instead learn more about a product or brand through articles than ads.
30. 55% of C-suiters say they communicate with product marketers every day
The more an executive discusses with the product marketers, the more support they render to their PMMs.
As such, 55% of C-suiters opined that they interact with their company's product marketing teams every day.
31. The grocery store is the wrong place to launch new products
In a study carried out by the University of Toronto, it was discovered that 70-80% of newly developed products launched in the grocery sector failed.
32. In 2022, marketing certification plays a role in product marketers earning
PMA revealed that product marketers with the latest product marketing certifications earned more than their counterparts who didn't.
33. Product marketer's pay progression depends on the geographical location
The pay progression of product marketers varies as it depends significantly on the geographical location.
In a survey conducted by PMA, it was reported that product marketers who reside in South America, Central America, and the Middle East were still on the same salary structure for the last few years.
On the contrary, North American Product Marketing Managers have received 10% (three to four raises) more than they were earning three years back.
34. 47.9% of product marketers lack a professional sales enablement team.
It was revealed through a survey conducted by PMA that 47.9% of product marketers don't have a professional sales enablement team.
Additionally, none of the respondents (certified product marketers) are planning on getting one anytime soon. Lackadaisical!
35. Product that solves customer problems are more likely to last in the market.
In a research work published by CBInsights, it was disclosed that 42% of shutdown business ventures that launched a new product failed to solve any good customer problem.
Conclusion
The above 35 statistics peek into the noisy space of product marketing, but notwithstanding, you must note that these stats are not set in stone.
The product marketing world will continue to evolve, and the likelihood of these trends being relevant three years down the line is not guaranteed.
But the responsibilities of the product marketers will never fade. For example, 93% of their role covers messaging and positioning, 85% covers product launching, 60% is on storytelling, etc.
While these product marketing statistics are very relevant in 2023, we're eager to see how the next couple of years will pan out.
Developing and launching products that skyrocket into a massive success is not easy. Take your time on market research, plan accordingly, know your audience, and the rest will fall in place.
Related
Upselling and cross selling statistics