Peeksta Review – is this winning product tool worth it?
Peeksta is an eCommerce tool for finding hot products to dropship. While there are already many solutions like this in the market, Peeksta is rising as one of the best.

What I love about Peeksta is that newer products are added on a daily basis which you can access. And these products are unique and profitable.

The best part is that you can try it out before subscribing to any of the plans.

Use the button below or this link to try Peeksta out.
Is Peeksta the product research tool you badly need for your new dropshipping store?
Dropshipping is an oversaturated business space, but it is possible to make headways in it—through product research tools like Peeksta that basically spy on what your successful competitors are doing right.
Nevertheless, it is also possible to be stampeded into using a platform that promises everything but turns out to be a waste of time and money.
Why? Because it is only normal to want your dropshipping store to start giving you meaningful returns as soon as possible.
You'd be better off not relying on all the charming talk on the platform's website—after all, who would not hype his own product?
Only a comprehensive, unbiased review of Peeksta by a non-affiliate can help you decide whether to welcome the platform to your side.
Here's just a peek at what you can expect from this review:
Overview of Peeksta
Features
Pricing
Pros and Cons
Alternatives
Is It Recommended?
Alright, without much fuss, let's tour Peeksta and get used to the platform without having to pay for the experience.
Overview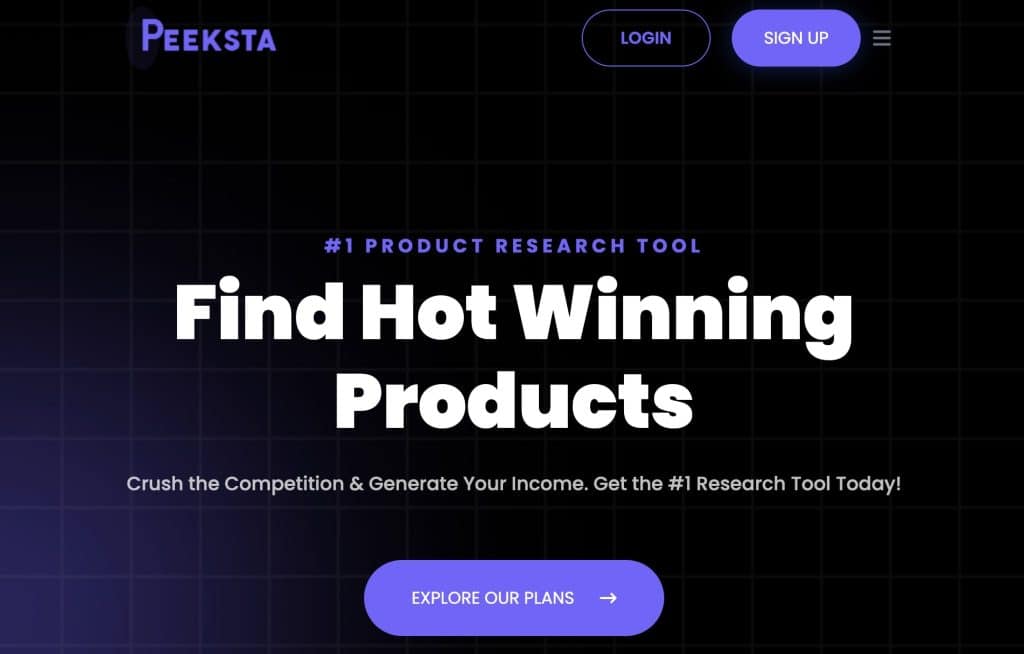 Peeksta is a product research tool and video ad generator. It claims to be the leading tool for revolutionizing your e-commerce strategy.
That's quite a bold claim considering that Peeksta is not the only product research tool out there. There are literally dozens of them.
Nevertheless, the brain behind Peeksta is an authority in the e-commerce industry and a prolific digital marketer. He is none other than Kamil Sattar.
Kamil has helped several businesses rack in six-figure revenues and, as of today, has been featured on multiple authority sites, including but not limited to Business Insider and Oberlo.
Peeksta mainly targets small to medium-scale startups that need to develop an effective product research strategy or refine their existing one.
The web-based platform has several tools that enable businesses to spy on their competitors' hot-selling products and identify critical metrics.
Peeksta also gives video ads a lot of attention, thus empowering entrepreneurs to utilize data-driven insights to create engaging ads that ultimately get more people to buy their products.
And that's just scratching the surface of everything there is to know about Peeksta.
Let's aggressively explore the platform and see if it brings enough killer features to the show.
Peeksta Features
This is a comprehensive walkthrough of all the features Peeksta has. You might find some of these features (or their equivalents) on other product research platforms, so this section will also review how well Peeksta executes them.
Dashboard
The dashboard is your window to everything you can do on the platform. It displays a lot of information at a glance and is where you will access all the platform's features.
From your dashboard, you can view stats such as which product is currently trending, the top-performing ads on select social media platforms, overall best-selling ads, top stores, etc.
Track Stores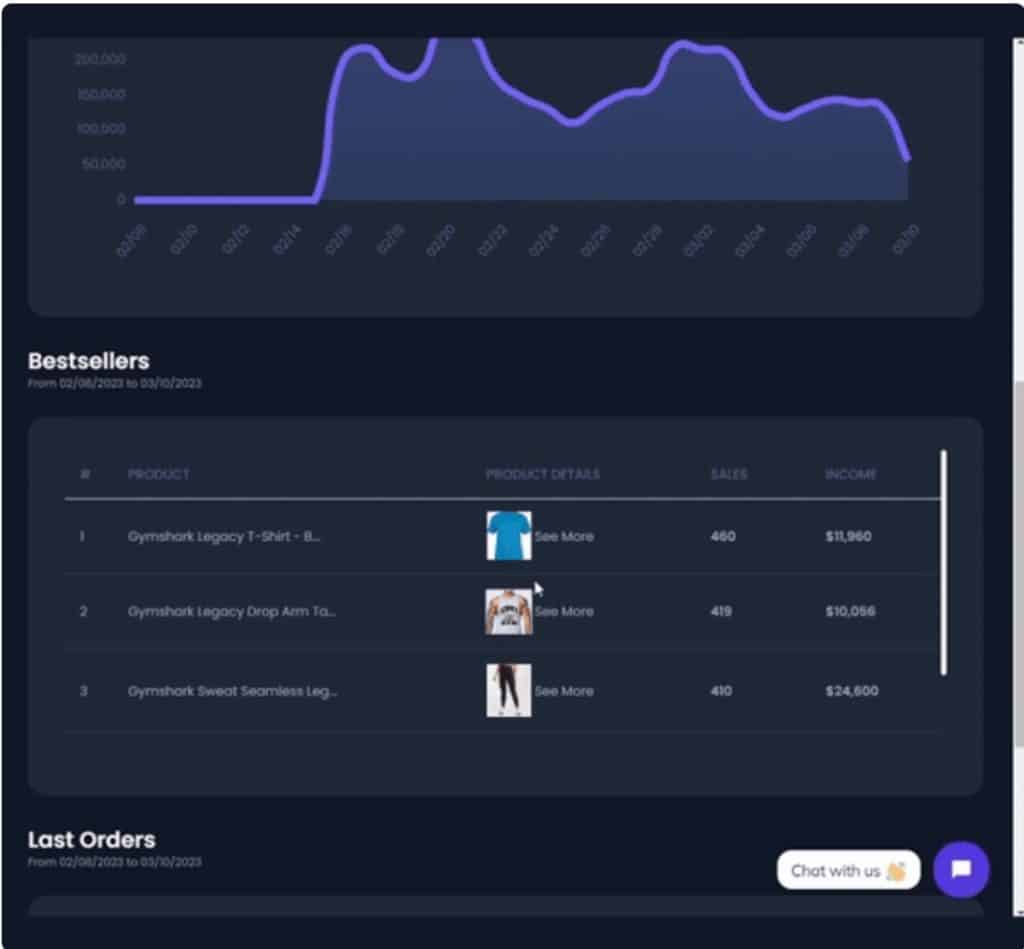 Peeksta is basically about giving you a "peek" into what other people are doing to make good sales, and the track store function exemplifies that.
It is now possible to, from the comfort of your home or office, track the number of dropshipping stores and see how they are doing in real-time. By default, you can track up to five stores at a time, and you can't go beyond that.
Unlike most other tools on the platform, the functionality is quite limited. You can only view the income of the store for the day, the store's monthly income, and its status
The number of stores you can have at a time is, in my opinion, quite limited, although that way, it is easier not to lose track of them. However, if you need to track a large number of stores for comparison purposes, you will be forced to do so in batches and keep notes somewhere, which might not be very convenient for you.
AI Content Generator
This feature allows you to enlist the help of artificial intelligence to complement your creativity. The AI tool can generate human-like content based on the template you select.
Currently, the tool can brainstorm ideas in any of the following templates; product description, Facebook ad copy, and Tiktok ad copy. It will also draft catchy product titles and descriptions once you supply your keywords
Your options are pretty limited here, and it would be nice to have support for more templates, such as Instagram ad copy and Youtube ad copy. Nevertheless, the provisions here are better than nothing.
Facebook Ads
The Facebooks ads tool shows you hot-selling Facebook ads you can use as templates for your product ads.
Within this tab, you can filter ads by country, language, keyword, amount of views, number of comments, and so on. The filters are exhaustive, which is a good thing if you want to cast your net wide with your ads.
TikTok Spy
This works exactly like the Facebook ads tool.
Product Explorer
Product Explorer works just like the naming suggests. It displays a list of products based on the filters you select, and you can see the link to the store right beside the product name.
Some stats you will see include sales, price, and income. The store explorer works hand in hand with the track store feature. From the product explorer page, you can get a list of stores to track.
With the product explorer feature, you can get inspiration for your subsequent product launches by tapping fresh ideas from successful stores.
Store Explorer
The store explorer gives you even more info on different stores. You can view the products they sell, monitor their traffic, and even see how many orders they get in a day on average.
Video Ad Generator
The video maker on Peeksta is one of the AI-powered features of the platform. With video maker, all you have to do is supply the images you want to use, select from the list of royalty-free music, and click generate video.
You'll instantly get a video ad that you can save, embed on your product page, or upload to any social media platform.
Thumbnail Maker
Thumbnails are as easy to generate as videos. You only have to upload your images and select the style, and the AI will do the rest.
Facebook Audience Builder
The audience builder comes to your rescue when you have a product in mind but don't know your exact audience. It takes only a keyword search using the product name, and the platform will generate the audience for that product.
Suppliers
Peeksta not only helps you discover hot products but also makes it easy to get suppliers for your goods and fulfill customers' orders. The suppliers feature flags various suppliers you can beckon on when you need to ship your items to your buyers.
Winners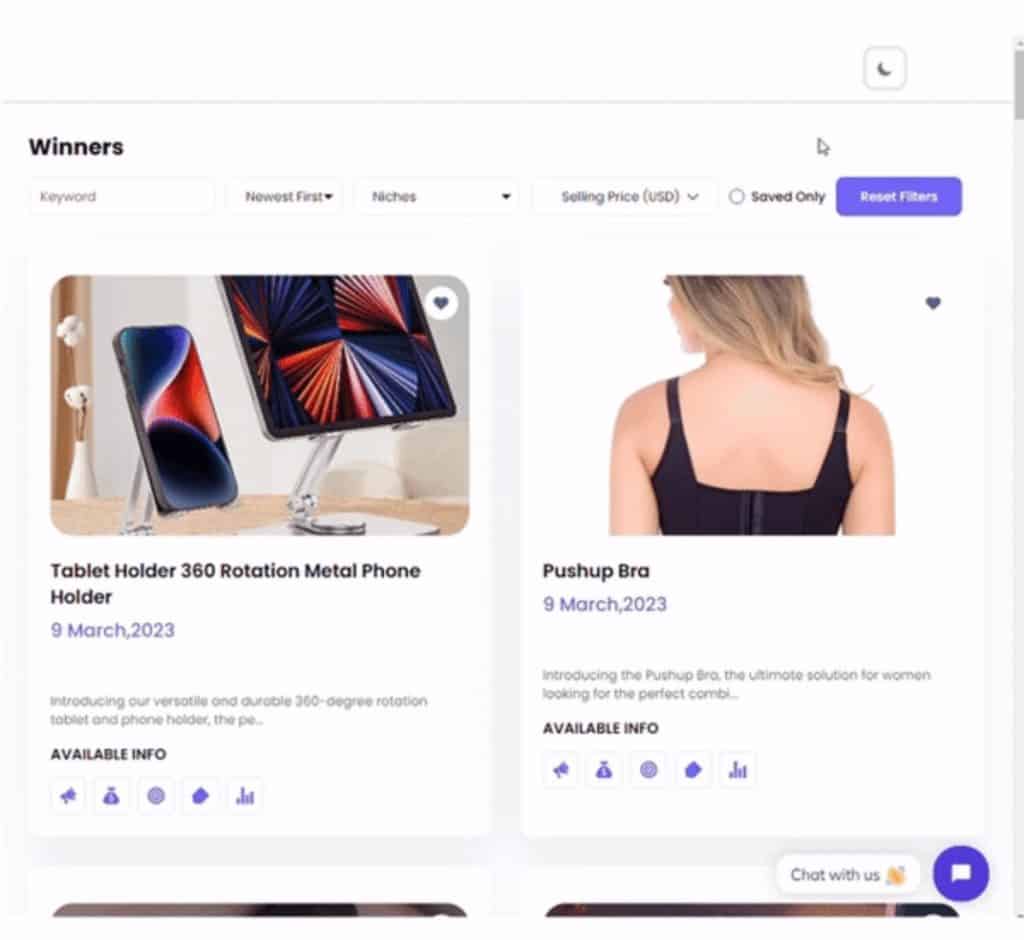 This tab assists in selecting what product you should start selling. You can filter the recommendations by niche, order volume, market age (how long the product has been selling), and selling price range.
Clicking on a product will give you insights like, product description, demographics, profit margin, and target audience. Every product page, it seems, also has a link that will take you to the product page on Aliexpress.
The Winners tab, in my observation, provides rich and helpful information, and the layout is okay.
Best Seller
The best seller icon will display a grid of numerous best-selling products in various niches, and then you can select a supplier that can deliver that product.
With this feature, you can avoid wasting money on underperforming products and invest in products with a high likelihood of success.
Peeksta Pricing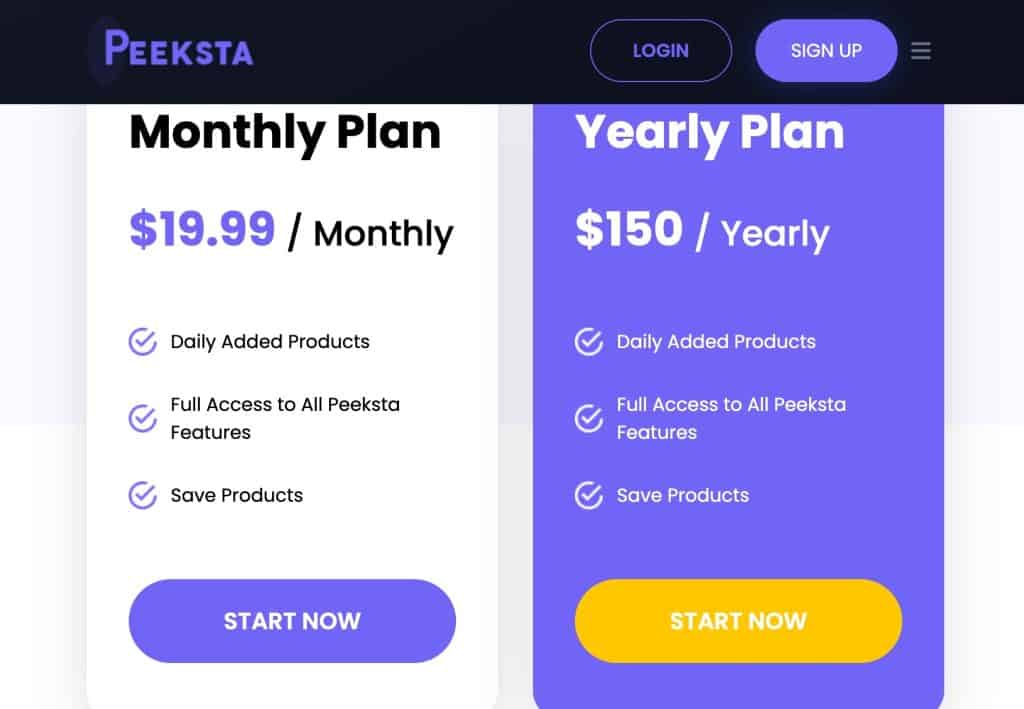 Peeksta's pricing is pretty straightforward. It's either a monthly plan or a yearly plan.
The monthly plan costs $20, while the yearly plan is billed at $150.
There is a video ad service that Peeksta offers, which is entirely different from the standard Peeksta offering.
You can hire Peeksta video ad service to create custom video ads for your products. You only need to send your requirements, and the Peeksta team will get it to you in three days max.
The billing for the service is determined by the number of videos you need. Currently, Peeksta charges $31, $150, and $290 for 1 video ad, 5 video ads, and 10 video ads, respectively.
Peeksta Discount
Currently, there are no available discounts for Peeksta. Any information you find about a discount is most likely not giving any special discount. You can get a discount by getting the annual plan for Peeksta. Aside from that, there are no other discounts.
Peeksta Pros
Here are some of the pros of using Peeksta.
Plenty Functionalities
Whether it's generating video ads for your social media campaigns or finding trending products, Peeksta has a tool (or tools) for almost every element of successful marketing.
As such, it is an excellent way to start for someone new to marketing.
Helpful Store Explorer
The Store Explorer feature, together with the Track Store, provides really helpful insights into what successful stores are doing right.
For a newbie entrepreneur, it's almost like having role models and not having to brainstorm everything yourself.
Inexpensive
With an entry price of $20 monthly, Peeksta may be the first product research tool when you are just starting and don't have much to spend on product research.
Beginner-friendly
Peeksta is beginner-friendly in more ways than one. The UI has a simple layout, is easy to navigate, and the features are easy to understand.
In short, Peeksta doesn't have a steep learning curve. When using it, it is unnecessary to spend days or weeks getting the hang of it. Instead, users can start implementing its features right away.
Peeksta Cons
No Free Version or Free Trial
Though inexpensive, a free version or free trial of Peeksta won't hurt. Unfortunately, none of those are available, which means you can't get a taste of the features before you decide to commit.
No Mobile App
That's right. Peeksta has only a web-based platform.
While that can be an advantage for those who don't like apps using up their device's resources, it's a limitation of choice for those who would instead use an app than go on the web.
Some Features Repeat Each Other
I noticed that. Take the bestselling and winning product categories, for instance. There's really not much difference between them.
They could have been combined into one category rather than separating them to give the impression of a robust spec sheet simply.
Also, Facebook Ads and TikTok Ads do basically the same thing, and the only difference is in the naming.
Customer Support Can Be Slow
I didn't have any cause to contact customer support, but other users have been less than pleased with the quality, especially regarding response times.
Questionable Research Features
At a glance, Peeksta research features look great, but they can be deceiving.
There are no live updates, live reporting, or trend research systems. What they provide doesn't look like it portrays what's really happening but rather their own estimate of what's working.
Another example of a feature that might be little more than a decoy is the store locator. You can track and monitor stores, but they are usually the same and are rarely, if ever, updated. This might imply that these stores are owned by or affiliated with Peeksta.
Peeksta Alternatives
Peeksta seems to pack many features, but some of them turn out to be gimmicky.
Their implementation leaves much to be desired and doesn't convey that sense of authenticity.
Besides, many crucial components of an effective product research platform are missing. Talk about things like product analytics, tutorials for beginners, et cetera.
Thankfully, there are several other options that fill all of those gaps and even have free versions.
EcomHunt
EcomHunt is a product and market research tool that specializes in curating winning products for you daily.
EcomHunt spies and displays trending products from various stores such as Amazon, eBay, Shopify, AliExpress, etc.
You can be sure of getting quality product updates from EcomHunt. The platform has a team of product research experts that manually handpick the products that are new and have the highest social media engagements.
Of course, flagging these hot-selling products for you is not enough. You need a lot of information about them to be able to plan your marketing strategies. EcomHunt knows that too.
Facebook Ad information, product images, links, and, very importantly, analytics, et cetera, are just some of the metrics you will gain access to.
But EcomHunt does much more than just curate winning products for you. Take a look at some of the other functionalities of the platform:
• In-depth Product Explorer
• Links to Suppliers & Existing Selling Stores
• Currently Trending Products
• Product Performance Tracker
• Virtual Assistant for AliExpress Product Research
• Training Webinars for Dropshipping Newbies
• Facebook Ads & Targeting
And so on.
In addition to packing more genuine features than Peeksta, EcomHunt comes with a forever-free plan.
The free plan does have severe limitations, though. For example, it only gives you limited access to EcomHunt's winning product data. And you can only have three product tracker sessions.
Nevertheless, the free plan is an excellent way to test if EcomHunt will be a good fit for you without making any financial commitment.
And if you do decide to hop on the paid plans, they are between $29 to $89 monthly.
Niche Scraper
Niche Scraper is another worthy alternative to Peeksta.
Niche Scraper works similarly to EcomHunt, except the former mainly sources products from AliExpress and Shopify.
Niche Scraper can also make video ads for you, a feature absent in EcomHunt.
You can search through the millions of products available by applying various filters, or you can take it easy and go through their daily handpicked products.
Some filters you can use include store popularity, growth rate, competition, et cetera.
Niche Scraper is very beginner-friendly as it has a simple layout for its tools and even has tutorial videos for getting around on the platform.
In addition, the platform has dozens of video tutorials on dropshipping topics, market trends, and even SEO. You will readily find them on Niche Scraper's YouTube channel.
Let me highlight Niche Scraper's most popular features below:
• Product Research
• Market Research
• Video Ad Maker
• Hand-picked Winning Products
• Store Analysis
Like EcomHunt, Niche Scraper has a free membership plan which is quite limited, again like in EcomHunt.
My major gripe with Niche Scraper is that you have to contact the sales team to make payments through debit cards. Otherwise, you can use PayPal.
The paid plans are in two categories; monthly ($60) and yearly ($199).
Is It Recommended?
Update: Yes. I now recommend Peeksta. There have been recent updates to Peeksta's features which makes it a better tool for dropshipping.
And for a beginner, I can't overstate the importance of using a platform that shows you exactly how to make your store stand out from the sea of competitors. Peeksta now does that.
Recommended
Best WordPress Funnel Builders