Passion.io vs. Podia – Which is Better for Creators?
Everyone is talking about the creators' economy and how fast it is booming. There are several tools for creators of which Passion.io and Podia are part.
This comparison will shine more light on their differences, similarities, pricing, cons, and who they are meant for.
Both Podia and Passion.io help creators and coaches create, host, and sell their products and services online.

However, both tools offer this service in different and unique ways.

For instance, Passion.io allows creators and coaches to create a white-label app for the product and service.

On the other hand, Podia allows creators and coaches to host their products on a web-based platform (website).

Well, that doesn't outrightly declare Passion.io as the winner of this comparison because both tools are excellent in what they do.

My Recommendation

Choose Passion.io if you want to create a white-labelled mobile app for your coaching program and course. Use this link to get a free account.

Choose Podia if you want a web-based platform and looking a budget friendly platform. Here is a link to grab a free account.

Overview of Passion.io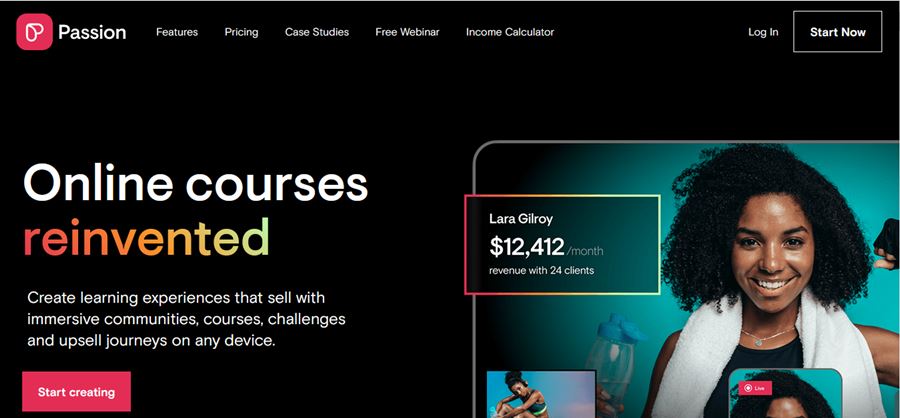 Passion.io is a no-code app builder for creators and coaches, helping you host and sell your course via a custom white label app.
In other words, your course will be hosted on your app and students that sign up for your course or coaching service will digest it via your app.
The app is equipped with the necessary tools you need as a course creator to engage your students and also sell them high ticket offers.
In addition, you can engage your students via the app using the engagement tools like push notifications, chats, etc.
Dan Harvey is the name of the guy behind this no-code software. Dan is a 7 figure entrepreneur who has great support for the passion economy (creators).
One key mention is that Passion.io is being run by Dan and his remote team. Also, PassionApp and Passion.io is the same thing. Both names are used interchangeably for the Passion.io software.
Quite interesting that the users of this software are called PassionFighters. You are also a PassionFighter when you sign up for their 14-day free trial.
Who is PassionApp For?
Passion.io is best for coaches looking to engage better with their clients (students) and creators who need a custom app to host their courses.
We recommend Passion.io for creators and coaches who sell high-ticket programs and need white-label software that allows for better engagement with their clients.
Overview of Podia
On the other hand, Podia is an online course platform that is built specially for creators.
Since I have used the word creators a lot of times, let's define what I mean by creators.
The term "creators" is not limited to courses alone. It include membership programs, masterminds, etc.
So in other words, both Podia and Passion.io can be used to create membership programs, masterminds, etc.
Podia was launched in 2014 and is currently being run by over a team of 30+ remote employees working from around the globe.
One major feature of Podia is that it is creator-friendly. It allows creators to sell various types of products and services including digital downloads, membership subscriptions, etc.
Who is Podia For?
Podia is best for course creators and coaches who want an all-in-one platform for hosting and selling their digital products and services.
Now, let the show begin.
Passion.io vs. Podia – Features
In this section, I'll compare Podia and Passion.io based on the basic features a course hosting and community-building platform should have.
Let's dive in.
Interface and Dashboard (Students and Creators)
When you sign up for each platform, what should you expect?
How do both platforms render their content to users?
What is the overall user experience on Passion.io and Podia?
Let's find out.
Passion.io Interface and Dashboard
Given that Passion is
Drip content
Offline sync
Course Hosting on Passion.io vs. Podia
This is where both platforms differ – their main difference is their hosting platform.
Podia offers a website builder that allows users to access your courses and programs via browser (in other words, Podia is browser-based).
On the other hand, Passion.io is an app builder (so allows users to access your content via a downloadable app). In other words, it is app-based.
Let's dive deeper into what they offer whether as a website builder or an app builder.
Podia Website builder
Podia allows you to host your course on their website. All content is hosted on their site.
Your course hosting address takes the format of a subdomain on podia. For instance, it could be guruscoach.podia.com.
It offers a website builder that allows you to build landing pages, sales pages, and other essential pages as you deem fit.
If you are on the paid plan, you can link a custom domain name to your website. Podia integrates with Godaddy. So you can buy your domain name from Godaddy and link it.
Students that purchase your course can access it based on your unique website address. Also, you can customize the course interface to brand it for your business.
Passion.io App builder
In contrast to Podia, Passion.io offers you a whitelabel app builder for your course. It allows you to host your course on a custom labelled app.
Students can download and install your app to access your course content. From the app, they can engage with other students and with the instructors.
You can brand the app with your name, brand colors, logos, etc. You can also customize the interface of your Passionapp.
The app allows you to host video, audio, and text content. And the video quality is legendary and doesn't really diminish when you upload to Passionapp.
Similar to Podia, Passion.io allows you to create a website (storefront) for your course to serve as a landing page and sales page.
However, I wouldn't recommend you use their website builder for your landing page because it is quack. It lacks essential features and design options are limited.
What I recommend creators and coaches to do is to use Passion.io to create a custom app for their course but use WordPress or any cheaper option for their landing page and sales page.
WordPress and Passion.io is a good duo. You can sell students on the website but provide services and course content on Passion.io.
Thoughts on Both
If you are looking for a custom app builder, then you consider Passion.io. With it you can create your fitness app, nutrition app, etc. So students will be able to access your content on mobile.
If you prefer web-based content hosting, then consider Podia. It also allows you to create a top notch landing page and sales page for your course.
Any Email Marketing Service?
We can both agree that every creator needs email marketing software to engage their audience.
Here is where Podia gets an edge over Passion.io. Here is what I mean.
Podia offers an inbuilt email marketing feature
With Podia, you get an inbuilt email marketing software that allows you to build a list and engage them all on the same platform.
Podia email feature allows you to send broadcast emails, send automated emails, build email funnels, etc. It offers features specific to creators.
In others words, you don't have to spend extra dollars on email marketing software. You also save time juggling with several platforms just to serve your audience well.
So, I give it up to Podia on this one. That is a quality service.
Passion.io lets you integrate
Sadly, Passion.io doesn't have email marketing software. You will have to integrate your third-party email marketing software with Passion.io to make it work.
But on that note, it allows you to integrate with over 3000 software. You can integrate with Mailchimp, Activecampaign, and several other email software.
Its integration with Zapier opens up several other integration opportunities for you as a business owner.
What Does their Community Look Like?
Creators are all about their community. Like what is the creator economy without a community?
Let's see how both software compares on this feature.
Heads up: Both tools perform well with their community feature, however, they do it differently. You be the judge.
Passion.io is best for communities
Yes, it is true that both software performs better. But from experience, I think Passion.io performs better. You can disagree after trying both out. But hear me out first.
Passion.io offers advanced engagement features like live-streaming and chats makes it easy to build an healthy community for students.
You can always send them native notification about your upcoming content. Given that it is a mobile app, you can get consistent engagement with students and it is easier for them.
Podia also offers communities
Podia also offers a community feature that allows you to post content while your members can engage with it.
Your members (students and clients) can also post while you and others can engage with it.
You can engage by commenting and liking the posts. The community feature of Podia is a similar experience with what you get on Facebook groups.
However, Podia lacks the live-streaming feature that Passion.io offers. For you to go live on Podia, you will have to integrate with third-party software like Youtube Live and Zoom.
That means students will have to leave your dashboard to use third-party software to attend your live stream.
Engagement Features (Options Available)
Along the line, we have already mentioned some of the engagement features that both software offers. In this section, we'll take a deeper dive into their engagement features.
Passion.io offers
Passion.io offers advanced engagement features compared to Podia. Basically, it offers:
Push notification
Live stream
Chats
The Push notification allows you to send notifications to your students and they'll get it like every other mobile app notification they get on their mobile phones.
This is why fitness and nutrition coaches find Passion.io helpful. With it, for instance, you can remind your clients about their morning exercise.
The live stream feature allows you to have a video chat with your audience and get to discuss just anything.
For instance, you can use the live stream feature to see the progress of your clients and how they are performing. You can live stream your gym workout with clients to follow along.
Finally, you can have a text and audio chat with your students and clients.
Podia offers
Podia's engagement feature is the same as its community feature.
In other words:
If we are being realistic, that is not as enticing as I expected. Well, it has a chat feature that allows you to chat with your students.
But it is missing the push notification that Passion.io offers. Since Podia doesn't provide a custom app, so push notification isn't possible.
The live-streaming feature too is missing.
Gamification
Gamification makes a course interesting. It pushes your students and clients to stay true to the very end of the program.
Let's see how both tools are fair in this section.
Passion has:
Quizzes and calculators
Goal tracking
Interactive exercises
Automated challenges
Podia offers
Certificate of completion
Content Types (Use Cases)
Passion.io offers:
Audio content (best for podcasting)
Video content
Live stream content
Text-based content
Podia supports:
Video content
Text content
Podia vs. Passion.io – Pricing
Having compared both software based on their features, let's compare them based on their pricing.
Podia Pricing
Podia offers three plans, Mover, Shaker, and Earthquaker. The Mover plan is the least plan and it costs $33/month when billed annually.
The Shaker plan costs $75/month when billed annually. The Earthquaker plan costs $166/month when billed annually.
You get access to all features on the Shaker plan which makes it the best plan to option for if you are considering Podia.
Passion.io Pricing
Passion.io offers two pricing tiers, the Pro and Ultimate. The Pro plan costs $79/month when billed annually. While the Ultimate plan costs $239/month when billed annually.
Actually, there is a third plan which is the custom plan. It requires you to reach out to the team to build a custom app for you from ground zero.
Podia vs Passion.io – Pros and Cons
Podia Pros
Good website builder
Brandable course hosting platform
Affordable
Offers an inbuilt email marketing software
Podia Cons
Lacks a mobile app
Poor gamification features
Lacks inbuilt live streaming feature
Passion.io Pros
Offers a whitelabel app builder
Affordable compared to alternatives
Live stream
Interesting gamification features
Push notifications
Passion.io Cons
Lacks an email marketing software
Poor website builder
The Decision is Yours
I have done my best to review the essential features offered by both software to help you make the right decision for your course and service.
Which one will you be going for? Passion.io or Podia? You can also start by trying both tools out for free.
Related Articles