Passion.io vs Mighty Networks – Which is Mightier?
Since hearing of Passion.io, I have been bullish about it. Not only because it offers an easy solution to building apps but also because it helps you take your online course and program to the next level.
That said, this is an unbiased comparison between Passion.io and Mighty Networks.
I'll go over their:
Main features
Pros and cons
How they compare
Price comparisons
Let's get into it.
What is Mighty Networks?
Mighty Networks is a website builder, online course platform, and membership site builder that allows you to launch and manage your online businesses (courses, etc.) 
Founded in 2017 by Gina Bianchini, Tim Herby, and Thomas Aaron with the aim of making it possible for creators to build their community on their own "custom" branded app.
The logic is to make it possible for people to own the platform they use for business rather than keeping their community on Facebook.
While Mighty Networks serve as a website builder, it's widely known as an online course platform and a membership site builder.
And it does excel in these areas. Below is a quick overview of what Mighty Networks is:
Website builder
Online course platform
Custom app builder
Membership and subscription
Some of its key features include:
Live streaming
Chat and messaging
Live cohort course creation
Custom app with listing on app stores
Branded app notifications
What is Passion.io?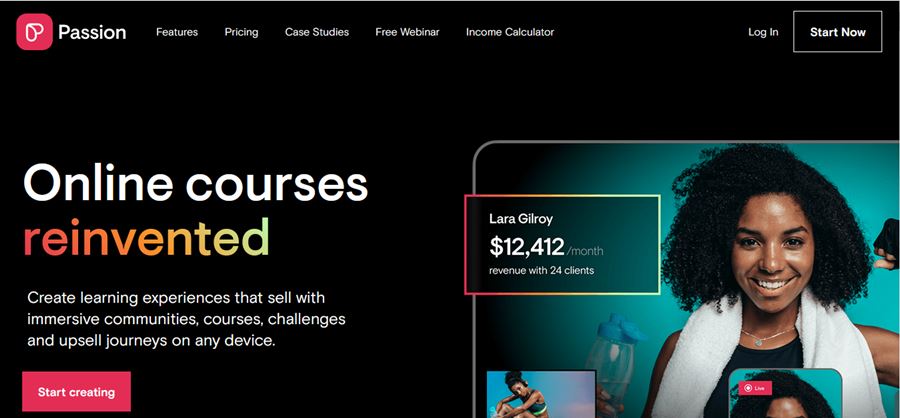 Passion.io on the other hand is a relatively new platform that was launched in 2020.
Since its launch, Passion.io has steadily grown month-over-month and it's still growing.
It has built a customer base of over 10,000 creators using the platform to host digital products.
In terms of their offerings, Passion.io and Mighty Networks are very much similar to one another.
Passion.io is a platform specially built to enable creators to build their own custom app for their students and clients (and not rely on others' apps or Facebook to host their community).
And that's where Passion.io and Mighty Networks both agree strongly on.
These platforms are built to enable creators to move their community from Facebook or other third-party apps where their students get lots of distractions.
Also, having an app will enable you to notify and engage better with your students. Hence, the creation of these no-code apps and course hosting platforms. 
Speaking of Passion.io, here's a quick overview of its key features:
Custom app
Drip-content
Push notifications
Upsells and downsells
Quizzes and assessments
On this note, let's dive into the comparison.
Passion.io vs Mighty Networks Differences
#1 Custom App
The main thing both tools have in common is the custom app solution they offer.
Many course creators are starting to see the reason why they need to build their own apps and engage better with their students. 
But the problem is that it costs over a thousand dollars to hire a developer to build a custom app.
Hence, this is why both Mighty Networks and Passion.io enjoyed lots of love from creators when they launched.
Passion.io Mobile Solution
This is where the strength of Passion.io lies. It's an app creator that offers a drag-and-drop interface to design and develop apps for your course.
Passion.io allows you to create mobile apps for both Android and iOS devices.
In addition to creating mobile apps, you can also create web apps for tablets, desktops, and other devices. 
As this is its main feature, you get access to this even with the least plan.
PassionApp is capable of adding upsells and order bumps to its apps.
You can also offer your course in drip style. 
Other in-app features you can include are:
Live streaming
Push notifications
Mighty Networks Mobile App
The first thing worth mentioning is that you don't get access to the Mobile app solution on the basic plan.
To be able to create a custom app with Mighty Networks, you need to be on the Mighty Pro plan (premium plan).
With that said, let's talk about what you get on Mighty Networks as pertaining to custom apps.
Mighty Pro offers you a mobile app that fits your brand and includes all the features they offer.
This includes live streaming, community features, etc.
To get access to Mighty Pro, you'll have to book a call with them. And the team will be the ones to set up the app for you and also list it for you on app stores.
But you'll retain access and control over what you want to include or remove from the app. You also own the app and can do as you like with it.
Given that you'll have to reach out and book a call with the Mighty Networks team, there's no price tag on this plan.
The price would vary depending on your needs.
And that's another way to say it's expensive and not a good option for beginners.
Try Passion.io Today and Claim Huge Discount
#2 Engagement Features and Tools
Passion.io and Mighty Networks offer a set of engagement tools that helps revive your community and improve engagement.
These tools ranges from live streaming to chat, push notifications, etc.
Mighty Networks Engagement Tools
Mighty Networks offer live streaming that allows you to set up live streams with your community and get to answer their questions lives or rather get to know them better.
This offer is offered both on the web app and mobile app.
In addition to this, there's a chat section on Mighty Networks that allows the community to chat with one another and engage themselves.
Also, you can add polls and questions into the mix to make learning fun.
Poll your students to know how well they're paying attentions to the lessons.
Passion.io Engagement Tools
Similar to Mighty Networks, Passion.io offers live streaming which helps you engage your audience.
In addition to this, it also comes with the chat section for you and your students to engage with one another.
Polls and questions are not missing on Passion.io. You can add polls to the mix and provide a good and conducive environment for learning.
Passion.io takes it a step further by allowing you to create challenges for your students.
Finally, Passion.io allows you to add push notifications to your app which takes engagement to the next level.
So in terms of engagement, both Mighty Networks and Passion.io perform well.
#3 Sales Funnels Features
Passion.io has some funnel-building features like upsells and order bumps that help you convert more prospects better and improve your conversion rate.
Let's see how Mighty Networks compare to Passion.io in this aspect.
Passion.io Sales Funnel features
Passion.io offers some basic funnel features which include:
Passion.io offers some lead gen funnels templates that allow you to collect leads using free trials and demos.
It also offers an effective upsell that allows you to sell your customers on high-ticket offers.
On the app, you can offer free downloads, free trials, special offers, upsell, coaching, etc.
You can upsell students from your online course to a high-ticket coaching program.
Mighty Networks Funnels
Mighty Networks doesn't offer a funnel feature that allows you to outrightly build a funnel around your digital product.
However, its flexible pricing plans give room to adding upsells.
It also allows integration with Clickfunnels (which is the popular sales funnel builder).
However, it requires having a Clickfunnels account besides your Mighty Networks subscription.
And Clickfunnels is known for being expensive (costs about $99-$297/month).
However, if you have the budget for this or already a paid user of Clickfunnels, then you'll enjoy this integration.
With clickfunnels, you'll build your funnel and that's where you'll direct your traffic and prospects to.
Whenever someone purchases one of your funnels' offer, Mighty Networks will automatically send them an invite to access to the product. It's a no-brainer. But not everyone would be able to afford this.
#4 Membership Sites and Programs
Selling a course isn't any much different from selling a membership program except that membership programs are mostly billed monthly.
Both Passion.io and Mighty Networks offer this feature but in their unique ways.
Passion.io Membership Program
There's no much difference in running a course and a membership program on Passion.io.
It's the same thing except for the billing structure. Passion.io allows you to add recurring billing and subscription model.
The rest of the features like chat, live streaming, quizzes, worksheets, push notifications, are the same features to harness for your membership program.
Passion.io has provided all the tools you need, it's up to you to decide what you want to build or the type of products you want to sell with the infrastructure already made available.
Mighty Networks Membership Program
As its name implies, Mighty Networks is built specially for membership programs and communities.
Similar with Passion.io, the features are already made available. It's up to you to decide what product you want to host and run on the platform.
You get access to notifications, chats, live streaming, and every other feature on the platform.
However, from my perspective, I prefer Mighty Networks if your aim is to build a membership site and community.
Mighty Networks is more suitable for membership sites than Passion.io (while I'll choose Passion.io over Mighty Networks for online courses and membership programs to be run on apps).
In other words, Passion.io would be your favorite app if you're looking to build a membership program on mobile apps and desktop apps.
Passion.io vs Mighty Networks Pricing Plans
Having gone through the core features that both platforms offer, your budget might be the major deciding factor. Let's get into their pricing plans and how they differ.
Mighty Network Pricing Plans
Mighty Network has three pricing plans; The Community plan, the Business plan, and Mighty Pro.
The Community plan costs $33/month and offers native live streaming & video, chat & messaging, events & zoom integration, paid memberships feature, plus a website.
The Business plan costs $99 per month and offers all the features in the Community plan plus:
Online courses
Live cohort course creation
Analytics & member data
Zapier APIs & workflow
Finally, the Might Pro plan offers you everything in the Business plan alongside the custom app building feature, branded app notifications, account management & strategy support.
Passion.io Pricing Plans
Passion.io offers two pricing plans; Pro and Ultimate plans.
The Pro costs $79/month when billed annually and it offers iOS app, android app, progressive web app, and desktop app feature.
It also offers in-app & web purchases, free trials, one-time purchases, live streaming, and passion payments.
The Ultimate plan offers everything included in the Pro plan plus external checkouts, custom branding, drip content, and community.
For a better breakdown on what each pricing plan on Passion.io offers, check out this Passion.io Pricing article.
Which is Affordable?
In terms of features, Passion.io is much more affordable because you can build a custom app even on the Pro plan which costs $79/month.
On the other hand, you can't even build an on the Mighty Networks Business plan that costs $99/month – you'll have to subscribe to their exclusive custom plan that is anything but affordable.
Passion.io vs Mighty Networks Pros and Cons
Mighty Pro Benefits
Overall, it offers more features
It is a good fit to create membership programs.
It is budget-friendly
Mighty Pro Downsides
Its custom app feature is limited to the custom plan which is quite expensive.
Its lower plans lack essential features.
It isn't user friendly (among several other things)
Passion.io Benefits
It is cost-effective
You can build a custom app even on the least plan
It offers a drag and drop interface for designing
Comes with templates
Supports upsells
Passion.io Downsides
Limitation on the number of subscribers on the lower plan.
It is also expensive.
Mighty Networks vs Passion.io – Wrapping Up
Finally, both Passion.io and Mighty Networks offer amazing features for product creators and make it easy to build a community and engage better with your students.
The differences lie in their devices-focus and main priority. Mighty Network's main priority is to help you build membership sites (build a community). And its main focus is to help you do it via membership websites.
On the other hand, Passion.io's main priority is to help you build and sell online courses and membership programs.
Its main focus is to help you do it via your own custom apps and that is why it allows you to create iOS apps, android apps, desktop apps, and web-based apps.
In the end, it is a battle on which device you want to focus more on.
I recommend Passion.io over Mighty Networks because it allows you to build apps faster and better. The average internet user makes use of their mobile devices to surf the internet and that implies that you can generate better engagement by creating mobile apps.
Also, if you're also interested in building a membership site, you can always use WordPress which is cheaper and affordable.
Related articles