Circle.so Reviews (2023) – Time to Own Your Membership Community?
Creators often look for a robust online community platform where they can gather members around all their products, services or content, make them take part in discussions, and convert them into paying members.
While numerous online community platforms are worth considering, Circle.so has several features that distinguish it from other of its alternatives.
However, it is not the perfect online community platform, it has its downsides you should beware of, but the pros outweigh the cons.
With Circle.so, creators can build an organized and easy-to-navigate platform that will be fun for members to use.
In this article, we will bring all you need to know about Circle.so before building a community platform in it.
And in case you feel that it is not the best place for you to build your online community platform, you do not need to despair. We will also point you to some other good competitors and alternatives to Circle.
Overview of Circle.so
Circle.so is an all-in-one community management platform that gives anyone access to creating or building their personal free or paid online communities from the start.
This platform can organize a fully developed course and is a good option compared to other costly alternatives such as Teachable, Kajabi or Thinkific.
The essentials of Circle include creating coaching communities, gathering and engaging members of a community for discussion, and several others.
The Circle.so has a professional interface with branding that focuses entirely on your program and not on Circle. With Circle, it will seem as though the website is yours.
Also, the method of learning in Circle.so is minimal, enhancing effective learning among community members.
However, this is due to the Circle for Circle creators community, which gives creators sufficient knowledge of how the platform works and allows them to use the demo tool.
Some of the exciting parts of Circle are that they are always shipping in new features and always supporting their community members.
The Circle.so is a community that can be beneficial to any person who earns money simply by maintaining a community.
However, you would want to look at some disadvantages and other options.
This article brings to you all you will need to know about Circle.
Who is Circle.so Meant For?
Specifically, Circle can serve as an alternative option or an addition to any actively existing virtual communities.
It can complement or serve as a replacement to a Facebook group or any community on a social media platform. Circle.so is a community that can benefit any event seeking to bring people together online.
You can use Circle if you are considering creating any of this;
Coaching communities
Online courses
Premium masterminds
Paid newsletters
Conference communities
Try Circle.so Today
What We Like About Circle.so Membership Platform
Though it is not up to half a decade since this platform was launched, however, it has proven to be one of the most preferred by users.
You'd be wondering why almost everyone loves Circle and why it has become a platform that is standing out amongst other of its competitive alternatives.
Here are some of the reasons why our members like this online community management platform.
Fantastic interface with different settings for unlimited customization.
With Circle.so, you get access to what all other alternatives don't have, and that is a fantastic interface with different settings for unlimited customization.
Circle.so helps creators customize their brand's look and give it a desired beauty even if they haven't touched anything about design. It helps your brand look unique by putting up your brand at the front and center.
Circle doesn't congest the design of your brand with their branding and self-promoting ads.
Another exciting thing about Circle is that it gives creators access to integrate the interface with a custom domain and website if they desire not to use the Circle.so reference in their membership URL.
The mobile app is world-class
Our members have expressed their satisfaction with the mobile app. Circle's mobile app gives them the flexibility they want.
They can move from one module, read discussions, listen to audio, view videos, and read PDFs without stress.
The only disadvantage is that the app is only available on iOS. Although, Android is currently working on having and supporting the mobile app.
Integrates easily with my favourite 3rd party tools
Another interesting thing our members have expressed their satisfaction with when using it is that it can integrate easily with a third-party tool.
Using Circle enables you to connect easily with a payment processor and email marketing software.
Other loveable things about Circle by our members include;
Boosts engagement among community members and is distraction-free
Great analytics
Easily add multiple community managers as your support team
Private community demos functionality and teaches how to use it
Excellent customer support (quality and response time)
Single sign-on feature provides an elegant login experience
Hosts videos for you (replaces Vimeo or other similar platforms)
Create private spaces that restrict access to certain members (which facilitates upsells)
What We Don't Like About Circle.so
No doubt Circle is a great platform; however, it is not perfect yet. There are still some downsides to it.
Here are some downsides to this platform
Relatively Expensive Compared to its Alternative
When we compare the price of Circle to some other alternatives, it is quite expensive, especially when you don't have a community that makes you money.
For example, Facebook groups and Reddit, alternatives to Circle, are free.
However, what Circle offers is much better than what the cheaper ones can give you.
It lacks some functionality if your goal is to make a course
One of the downsides that I have observed about Circle is that it lacks some functionality if your goal is to create a course.
Circle's aim is not primarily to host courses. Although it can host classes, it seems not to be as proficient as other software that only focuses on hosting courses.
Long load time on video uploads
Another thing I don't like about Circle is that It takes long hours to upload videos.
This can be so tiring at times, and one sad part of this is that there hasn't been any way to fix this issue perfectly.
No "native" option for live streams (although it's supposedly coming soon)
You can't live stream with Circle unless you embed a link from another program.
Circle has no native options for live streams. One downside I have expressed my dissatisfaction about.
Although they are working on it, they will definitely have it with time. Also, Circle doesn't have enough presets and it can take a bit to get started
Circle.so Alternatives
There are quite a lot of membership alternatives if you don't want to go with Circle.
Depending on what you are looking for, there are free membership alternatives to Circle, such as Facebook groups.
However, Facebook groups have many disadvantages compared to other paid memberships. For example, with a Facebook group, you are likely to have some restrictions and numerous distractions when you are active on Facebook, among several other disadvantages.
If you are looking for a paid membership with better features when compared to the free membership and you don't want to go with Circle, I suggest you check out Passion.io and Mighty Network.
Here are some features about both of them if you want to consider using any of them.
I will advise that you stay with one and be patient with it. Making a membership group work is not an easy task.
Mighty Network
If you are considering an alternative to Circle, then Mighty Network is an option you can give a try.
Mighty Network helps creators build a community, sell membership and increase course sales.
The Business plan costs $99 per month with no credit card required. You can also get a two-month free trial if you consider trying it out before purchasing it.
The features of this plan include;
All features in the community plans
Online courses
Live cohort course creation
Analytic and Member Data.
Zapiers APIs and workflow.
Mighty Network is a very good alternative to Circle.so. Its features are great. You can check here for more. 
Passion.io
Another alternative to Circle.so is passion.io. Like Circle, it is a large app that gives creators access to building their standard app even without any knowledge or coding skills.
It is a membership platform that gives users access to great features that can be handy for online tutors and creators of mobile apps.
Also, it gives creators the ability to sell their online courses and build an interactive community that will enhance the mutual relationship between creators and the users of their app.
It is user-friendly to begin with, and within a few seconds, you will undoubtedly get your app created and running.
Passion.io is an app created with high compatibility for any devices such as laptops, tablets, TVs, desktops, smartphones, and several others.
It has over 4500 entrepreneurs and over 4500000 users in it.
Some of the features of passion.io include;
Create the ultimate learning experience
On-Demand& live streaming
Communities
Automated challenges
Interactive experiences
Drip content
Push notifications
Passion.io have two plans, and they are the Pro and Ultimate.
The pro plan costs $79 per month with about a hundred subscribers, a hundred videos and a thousand push notifications.
The ultimate plan costs $279 per month with access to unlimited subscribers, videos, and other extras.
Passion.io is a good option we recommend if you do not want to go with Circle.
Circle.so Reviews
There are many reasons why you should choose Circle especially when you get to hear or read about cases of our members when using it.
Case 1
If you are having any doubt about the Circle.so platform, reading the review of Tessa Kriesel will give you the assurance you need to go all out in choosing it. Tessa, a user of Circle, has a lot to say about this product.
Case 2
Ryan Hunter is a huge fan of Circle.so, and here is his comment about Circle.so.
Case 3
Kevin Fremon, one of the users of Circle.so recommended this product. Here is what he has to say about Circle.so
Circle.so Pricing – How Much Does It Cost?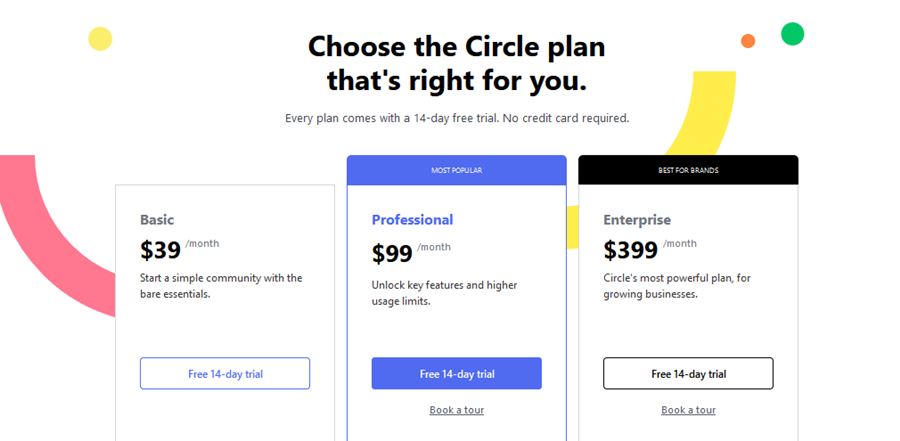 There are currently three plans in Circle pricing. :
Basic Plan
This is the cheapest plan in a Circle.so, which allows a creator to build a simple community with the bare essentials.
Some of the key features include:
Group chats and private messaging
Engaging discussions
Rich member profile
Unlimited event
Moderation
iOS app
Accept payments with Paywalls
Custom domain
Access to Circle's own private customer community, workshops, and training.
The price for this plan is $39 per month, and it comes with a 14-day trial with no credit card required.
Professional plan
Next to the Basic is the professional plan.
It is the most popular plan and it has a higher usage limit and gives users access to more important features.
Some of the features include:
Every feature of basic
Live streams & video
Remove Circle branding
Advanced analytics
API Access
Custom Single Sign-on available
CSS customization
The price for this plan is $99 per month, and it comes with a 14 days trial with no credit card required.
Enterprise plan
The highest plan in the Circle is the Enterprise. It is the most potent Plan in Circle and the best for brands and growing businesses.
Some of the key features include:
Everything features in Professional
Custom Single Sign-on (SSO)
Concierge onboarding
Priority email support
Email white-labeling
30-minute strategy kickoff call
The dedicated customer success manager
The price for this plan is $399 per month, and like basic and professional, it also comes with a 14 days trial with no credit card required.
Presently, Circle offers a 20% discount for early birds in their pro plan.
Wrapping Up – Do We Recommend It?
There are many alternatives out there when you are looking out for an online community management platform to help you build your online paid or free communities.
However, our first recommendation goes with Circle.so.
Absolutely, Yes. We highly recommend Circle.so for creators who want to establish their paid or free online community.
The benefits of using Circle are limitless. Despite that it has not been so long since it was launched, it is an upgrade to many other alternatives.
FAQs About Circle.so
One of the crucial things about Circle is that they host a live weekly question and answer, which allows its members to express their satisfaction and dissatisfaction.
Here are some of the frequently asked questions about Circle.so.
Is Circle a good platform?
Assuredly, Yes. It is an excellent platform when compared to other of its competitors. It has excellent and outstanding features and is also shipping in new features.
Can you live stream in Circle.so?
Yes you can live streams in Circle.so. It supports live videos and allows you to interact with about ten co-hosts and over five hundred participants on the web and Circle's iOS app.
Who created Circle.so?
Sid Yadav is the founder and CEO of Circle.so. He was formerly a VP of product at teachable.
Does Circle integrate with Kajabi?
Yes. Circle integrates with Kajabi. You can check here to find out more about it.
Can you host courses on Circle?
It is difficult for creators of a community in Circle to make money through their online communities because Circle.so doesn't give community creators the ability to host courses inside of them directly.