Passion.io vs Kajabi – Which is Better for Hosting Courses?
Want to compare Passion io with Kajabi to see which would be fit for your digital product?
Passion.io entered into the online course platform industry in styles offering creators the opportunity to turn their course into an app for students to be able to access easily on their mobile devices. 
This is just exactly what the industry needs at the moment.
Not only that, but Passion.io also allows the instructors to engage students on the apps. So students don't need their big laptop screens or desktop computer to access your course.
They can enjoy the course, engage with other students, and you can build a community using the app.
While this sounds awesome, Kajabi used to be the only software that allows creators to take their course off just browsers and use their mobile apps.
So the million-dollar question is this – which offers a better solution between Kajabi and Passion.io?
In this article, I did a deep dive into Passion.io and Kajabi comparing their features, pricing plans, pros, and cons to help you make a decision.
In a nutshell, we'll cover:
Overview of both Kajabi and Passion.io
Differences between both platforms
Similarities of both platforms
Pros and Cons
FAQs on both platforms
Without further ado, let's dive into the article.
TLDR; Passion.io vs Kajabi
Passion.io and Kajabi have their pros and cons. However, since there must be a winner, Passion.io is the better choice for coaches who need their own app.

Compared to Kajabi which provides a general app for all creators on their platform, Passion.io allows all coaches to own and customize their app.

So it also offers features like push notifications, quizzes, polls, live streams, etc.

However, Kajabi takes the lead if you need a web-based platform for your digital products and the app only comes as an option.

Also, Kajabi is an all-in-one platform, so it comes with advanced email marketing software and a lot more.

But overall, if your goal is to build an app for your digital product and service, Passion.io is your go-to platform. If that isn't a priority, then Kajabi will be a fit.

Overview of Kajabi?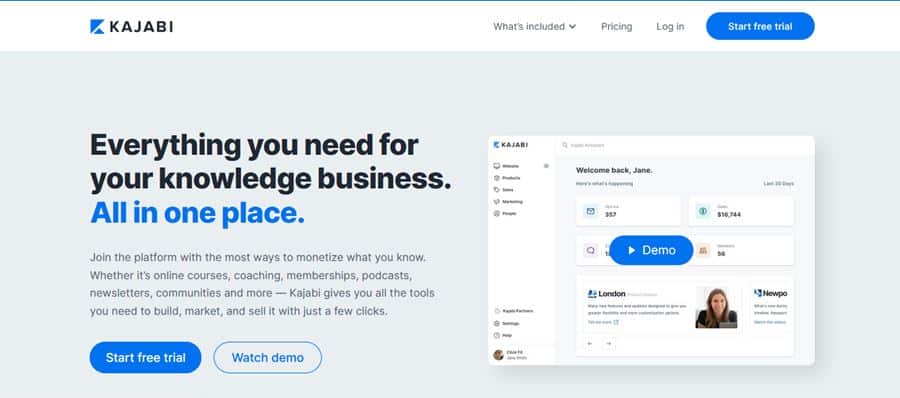 Kajabi is an online course-hosting platform that was launched in 2010 by a group of entrepreneurs.
It is an all-in-one solution to launch and manage your online course.
Kajabi has already become a household name in the industry and is giving other builders like Teachable and Thinkific a run for their money.
A breakdown of its features includes:
Website builder – set up a fully integrated website on YouTube
Advanced payment solutions – supports one-time payment, subscriptions, etc. It Integrates with PayPal and stripe.
Email marketing service
Landing page builder
Pipelines
Analytics
Mobile app solution
Passion.io Overview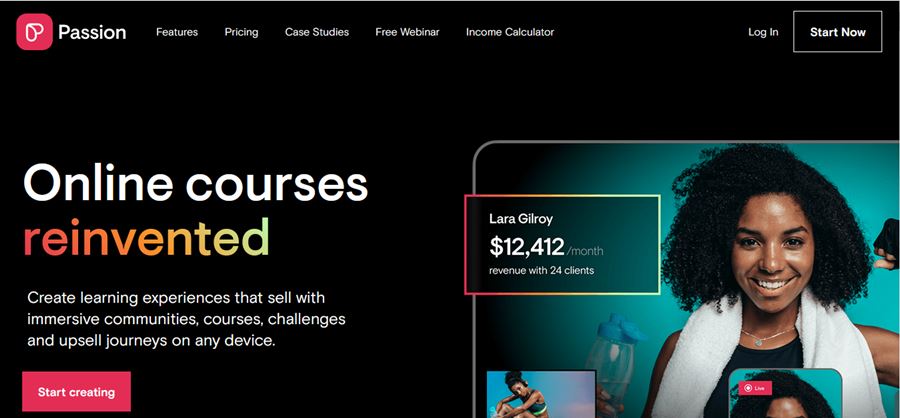 Passion.io is a relatively new online course platform in the industry.
And it is more than just an online course platform, it offers membership site solutions and many more to course creators.
Passion.io is not only new but also comes with a unique solution for course creators.
It allows creators to launch their courses on its platform and also build a white-label mobile app to ease the learning experience for students.
So let's see how it compares to Kajabi.
Kajabi vs Passion io – Differences
#1) Mobile App Solution
The major thing that both Kajabi and Passion.io have in common is that both platforms allow their users to offer their courses via mobile apps.
So in this section, let's get into how their mobile app solutions differ and what is in it for you.
Kajabi Mobile App Solution
Kajabi provides a mobile that you can download and install for free.
Once you log in to the app with your email, it'll preload the courses you bought with the email.
The app allows students to track the progress of their course and how far they have gone.
Also, you can connect with other members of the community.
The interface is similar to that of YouTube. It displays the video courses in a similar format.
In general, it is user-friendly and has an intuitive interface.
Besides the fact that the app is named Kajabi, there's no other Kajabi branding label on the interface.
So for course creators, this means that even if Kajabi doesn't allow you to brand the mobile app (i.e Whitelabel), it doesn't litter the interface with its brand props.
The downside to this for creators is that you are sharing the same hub or platform with other course creators.
That is if your student has bought different courses launched on the Kajabi platform, they will have access to all the courses via that same Kajabi app.
So the Kajabi app is Kajabi's tool and possession and not yours.
This is a downside as it doesn't give you the flexibility of owning an app for your course or program.
You can't brand the app at all as you don't have any access to tweak the app. All you have to do is to launch your course and your students will be able to access it on the Kajabi Mobile App.
Passion.io Mobile App Solution
This is where it gets interesting for Passion.io as this is its selling feature.
Passion.io offers a drag-and-drop interface that allows you to build a mobile app for your course or program.
In other words, Passion.io allows you to build and customize your app which will be branded as opposed to Kajabi.
With the app, students can log in and access your course.
They can track their progress. Students can also engage with one another on the app.
You as an instructor can engage with your students, monitor their progress, add quizzes and tests, and make the course as interactive as possible.
You don't have to compete with other course creators for your students' attention as you have your own branded app (your property).
Passion.io also allows you to offer your course in the drip style to ensure students go through all the course content and not skip any.
The drip content will only allow students to move to the next chapter if they have finished the current one.
What about the added push notification feature it offers?
Just like you get email notifications on your phone, you can set up notifications for your app so that your students get notifications on their mobile phones.
You can advantage of the push notifications to engage your students and ensure they pay attention to the course and do not lag behind.
So when you compare the mobile app solution offered byPassion.io to that of Kajabi, you'll see how Passion.io exceeds expectations by far.
The best part is that there are many more features available on Passion io.
Try Passion.io Free for 14 Days
#2) Sales Funnels
Both Kajabi and Passion.io offer to funnel solutions and features to help you boost your revenue and convert students better.
However, they provide this solution in a different way.
Let's get into their differences.
Kajabi Sales Funnel
Kajabi offers funnel builders that allow you to add upsells and downsells to your course. Given that Kajabi is more browser-based than app-based, its funnel is focused on landing pages.
Kajabi funnels are meant to convert you to the course landing page and via email marketing.
The mobile app is meant strictly for students to go through the course.
Passion.io Funnel Builder
Compared to Kajabi, Passion.io Funnel builder is created for the mobile app.
In other words, Passion.io Funnel features are mostly applicable on the mobile app.
It allows you to add upsells within the mobile app for your course.
You can create your complete funnel for your mobile app that allows you to take students from free trial to your most expensive offer.
Below is a typical example of the mobile funnel on Passion io:
Free > Free trial > special offer > upsells > coaching.
Compared to Kajabi, the Passion app has literally no funnel for the browser-based landing page.
In a quote, both of them are lacking on either of the platforms (whether mobile or desktop).
Passion.io features are based on its mobile apps while Kajabi features is on its browser-based dashboard.
So it is up to you to choose which platform you're willing to bet on.
#3) Landing Page Builder
Here's where Kajabi shines. Kajabi offers a landing page builder that allows you to create attractive and responsive landing pages for your course.
Kajabi offers a drag-and-drop interface with options and building blocks to build a perfect landing page.
When compared to Passion.io, it sure is way better than Passionapp.
Passion.io lacks a landing page builder like that of Kajabi.
It seems to have paid more attention to mobile apps than it did to its web pages.
This is a major drawback to Passion.io as whenever you're running ads, your landing page is most times the first contact your prospects have with your product.
So if your landing page is poorly designed and you have a good mobile app experience, it's nearly useless.
Well, there's a walk-around for it, and that would be using a third-party website builder like WordPress to create your landing page then linking it to the Passion.io app.
But anyway, it is something you want to consider before fully weighing in on Passion.io.
#4) Membership Program
If your goal is to build a membership program, then Kajabi and Passion.io can serve this purpose.
Kajabi has a special feature called membership but it is pretty much similar to its online course solution.
Besides, when we talk about membership programs, it is all about billing in a subscription model and allowing students to log in and have access to premium content.
So it is doable with Kajabi.
For Passion.io, it is also easy to do as your app can serve as your membership platform.
You can couple that with a subscription billing model and you have a membership program up and running.
Once again, both platforms offer this feature. One is web-based (Kajabi), and the other is app-based (Passion.io).
Choose your favorite.
#5) Engagement and Interactive Tools
Without engagement, it is impossible to encourage students to take action and produce tangible results.
Passion App Engagement Tools
Let's start with Passion io this time around. Passion.io offers awesome engagement tools bound to make your course interactive.
To start with, it allows you to add a quiz to your course.
You can also include calculators and other things.
The best part is that it allows you to live stream with your students.
You can notify students whenever you are hosting a live stream.
A live stream can help you engage your customers and also find out about how they are faring as pertaining to your course.
The Passion.io app also allows you to create worksheets for your students. The possibilities are endless.
Kajabi Engagement Tools
Similar to Passion.io, Kajabi offers quizzes and surveys to engage your students.
You can host webinars and events on Kajabi which is similar to the live stream on Passion io.
Kajabi vs Passion.io – Pricing Packages
Kajabi Pricing Plan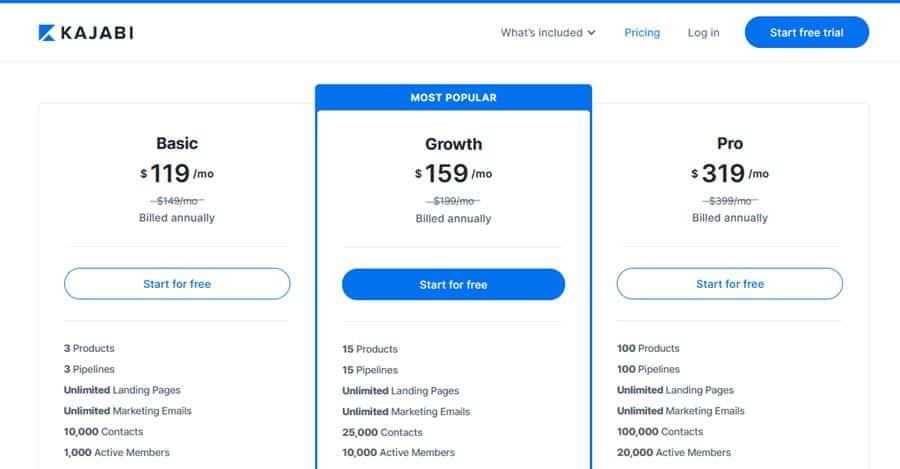 Kajabi offers three pricing plans – Basic, Growth, and Pro plan. The Basic plan costs $119/month when billed annually.
The growth plan costs $159/month when billed annually. And finally, the Pro plan costs $319/month when billed annually.
Their pricing become more expensive when billed monthly and that's why the annual plan is your best bet.
Passion.io Pricing Plan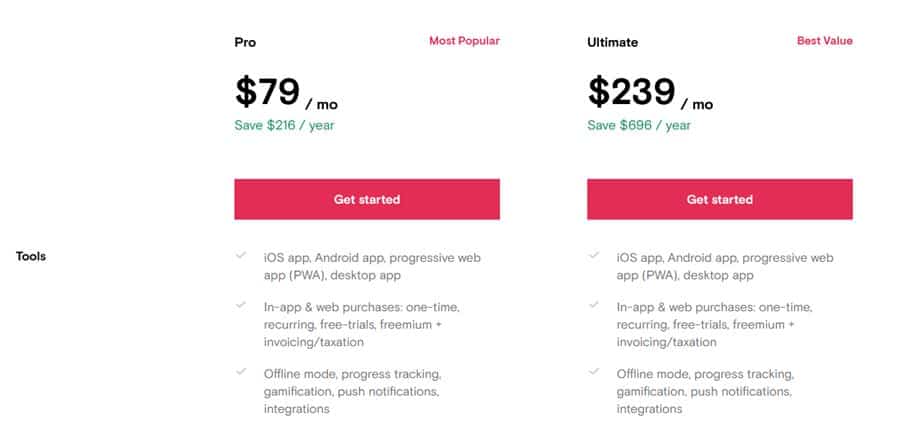 Passion.io offers two pricing plans – Pro and Ultimate.
The Pro plan costs $79/month when billed annually.
On the other hand, the Ultimate plan costs $239/month when billed annually.
The major difference is that the Pro plan allows up to 100 subscribers while the Ultimate allows an unlimited number of subscribers.
So in the long run, the Ultimate plan is your best bet as a course creator with lots of students.
Passion.io vs Kajabi – Pros and Cons
Kajabi Pros and Cons
Pros
It is an all-in-one solution for course creators.
Offers awesome landing page templates and features.
It allows you to build an affiliate program for your course
It offers email marketing automation
Awesome funnel-building features
Cons
Does not allow you to create and white-label a mobile app
Its mobile app lacks advanced features for engaging students.
Its features are more web-based and not app-based.
Passion.io Pros and Cons
Pros
Allows you to build and Whitelabel your mobile app for your course.
Its mobile app is packed with lots of amazing engagement and interactive tools.
It allows you to add push notifications to the mobile app.
Cons
Poor landing page builder (its landing pages are not attractive)
Its features are mobile-app based and not web-based (you'll be lacking lots of features if you decide to browse a course on the web browser).
You can't build an affiliate program on Passion.io (you'll need third-party software for that).
Wrapping Up
Kajabi and Passion.io serve the same audience and purpose but in a different styles.
While Kajabi serves course creators allowing them to build an amazing web-based environment for their course, Passion.io allows you to build a wonderful mobile-based app for your course.
Even though Kajabi offers a mobile app, the best of its features is in its web-based solution.
Same with Passion.io, the best of its features is in its mobile app solution.
It is now up to you to decide which you're willing to go for.
Passion.io is relatively new and the use of mobile devices over desktops is on the rise hence, a reason to consider Passion.io.
Well, the ball is in your court now.
Related Articles: