GoHighLevel Alternatives 2023 – Competitors to Check Out!
GoHighLevel is a hulk of a sales, sorry, sales and marketing automation software and CRM platform.
Put simply; it is an all-in-one platform for online entrepreneurs.
As such, it is a good fit for agencies and small businesses with countless needs.
GoHighLevel has many limbs and shoulders to handle all of that with its assembly of tools and features.
Check out some of the features below.
CRM for managing leads.
Drag-and-drop landing page and sales funnel builder.
Quiz and survey builder
Reputation Management Software
The white-labeling feature allows you to sell the entire software, keep all of the profit, and redesign it to fit your brand.
Appointment scheduling software.
With that bulky feature set (and there are many more features), why the need for a GoHighLevel alternative? Good question.
First, all-in-one doesn't mean GoHighLevel has all the features. As we will see further down, other platforms have certain nifty features that are absent in GoHighLevel.
And then, the abundance of features on GoHighLevel can make beginners pass through a steep learning curve.
And it is more expensive than any platform we will review here.
Make no mistake. GoHighLevel is excellent, and many companies and businesses that have made a name today might not have been where they are now without it.
But when you consider the price, your interest, and the learning curve, you might want to look elsewhere.
So let's begin, shall we?
1. Systeme.io (Freemium alternative)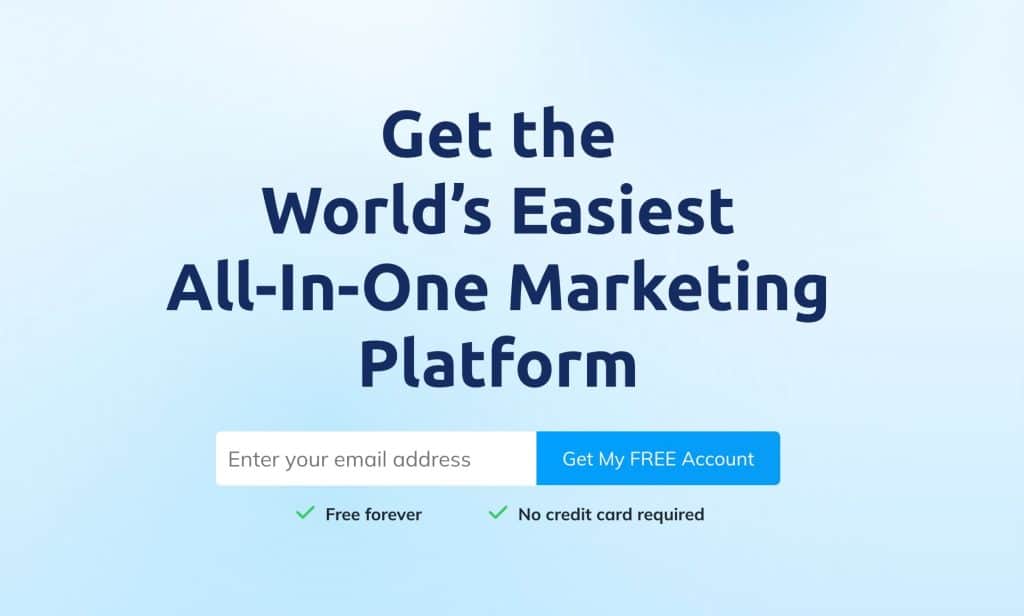 Systeme.io was launched by an online entrepreneur, Aurelian Amacker in 2018.
Systems.io is the best viable GoHighLevel alternative that we will be reviewing in this article.
And it's an alternative for a good reason—it is also an all-in-one sales and marketing automation platform for online business owners.
It also comes with its own CRM.
Systems.io has features that make it useful for those who sell products online or offer online training services.
It doesn't matter whether it's a physical product or an e-product.
Let's examine these features one after the other.
Key Features
Systeme.io has a suite of features that users can rely on to track their sales and marketing processes.
The CRM is also on par with what we find on other CRMs like GoHighLevel or HubSpot.
#1 Sales Funnel
Building a sales funnel doesn't need to be an ordeal.
With Systems.io sales funnel builder, you can set up a sales funnel that converts in a few minutes.
You will enjoy these benefits from using the sales funnel builder:
• Easy-to-use editor
• Templates
• Email list, membership site, and payment system integration
• Sequence automation
#2 Email Marketing
System.io allows fast growth of email lists. But that's just the beginning
Having a huge sum of contacts wouldn't be of much help without proper organization.
The platform allows the categorization of email lists and gives users the ability to tailor their emails to specific groups.
And, of course, you don't want to be sending emails to your contacts one by one. You can set up automated email sequences.
#3 Online Course Builder
Course creation no longer has to be exclusive to coders.
Systeme.io brings with it an editor for creating courses.
You also don't need a developer to integrate your course site with third-party payment systems. You can make everything happen on the platform.
#4 Website Builder
Website building on Systeme.io follows the usual drag-and-drop format that every other platform is boasting about.
It comes with an additional benefit, integration. And I mean, integration with your email lists, payment systems, and online courses.
#5 Marketing Automation
The marketing automation on Systems.io is what we've come to expect on any marketing platform that touts it.
To go straight to the point, it comprises the following:
Use of integrated funnels and emailing to capture leads
Repetitive actions automation
Automated rules for any element of your website and funnel.
Email and course access triggers.
#6 Affiliate Program Management
Affiliate program management is not hard to do when using Systeme.io.
Among other things, the platform helps with managing affiliate commissions and payouts in one place.
You can also publish your offers on the Systems.io marketplace for thousands to see.
Pricing
Depending on your budget, you can enjoy Systems.io with one of four plans.
The free plan and then the startup, webinar, and enterprise plans.
If you are interested in purchasing the platform, the pricing is given below:
$27 per annum for the startup and $47 and $97 for the webinar and enterprise plans.
2. Clickfunnels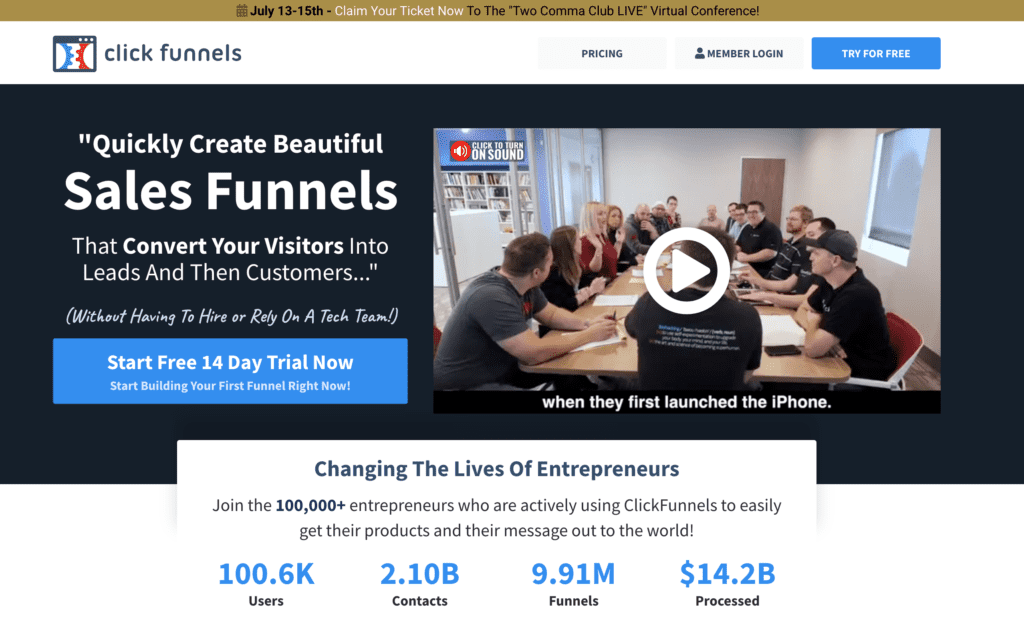 Clickfunnels is a popular sales funnel builder exclusively for building sales funnels.
It simplifies the complex process of converting a lead to a customer.
The software is preloaded with various templates that you can customize to your taste.
Russell Brunson, the founder, is credited with making the sales funnel concept as popular as it is now.
Today, millions of businesses owe their success to prolific sales funnels, and you can thank Clickfunnels in part for that.
Nevertheless, compared to GoHighLevel, it has a relatively limited feature set.
That's not hard to understand. It is just for building sales funnels. Nothing more. No CRM like you'd expect in GoHighLevel.
Key Features
Being the sales funnel builder that it is, ClickFunnels comes with the features needed to optimize your landing pages and increase productivity profits.
Here are its key features.
Drag and Drop Page Builder
A/B Split Testing
Opt-in Forms
Lots of Templates
Affiliate Management
Integration
Pricing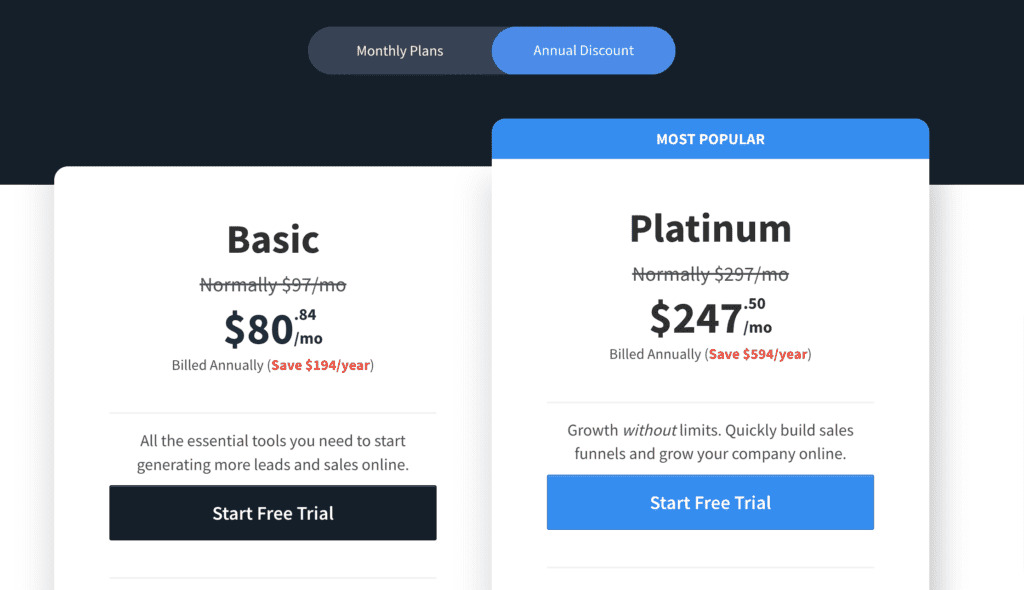 Clickfunnels' pricing is somewhat expensive. Keep that in mind if you want to make it your go-to sales funnel builder.
The pricing is in three segments: basic and platinum.
The former is billed at $97, and the latter goes for $297.
However, annual billing will fetch you savings of $194 and $594, respectively, for both plans.
3. GrooveFunnels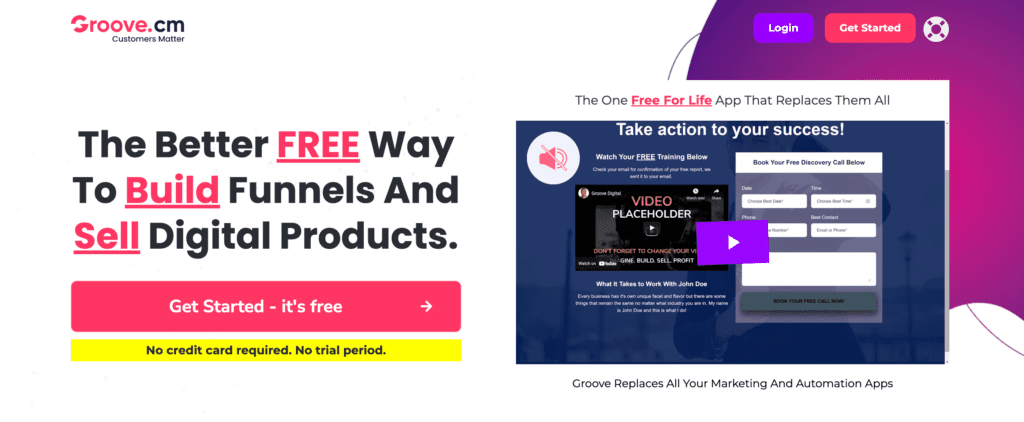 GrooveFunnels is among the latecomers in the list of sales and market platforms available today.
It is also cheap and rapidly advancing.
Mike Filsaime, the founder, was the second marketer to hit $1 million in a single launch back in 2006.
GrooveFunnels is a popular CRM and marketing software that brings many tools into one package.
That means you can design pages, schedule appointments, create affiliate programs and do much more with the relevant tools it contains.
We'll see more about that in the features section below
Key Features
GrooveFunnels is loaded with features that eliminate the need to go outside for another tool to fill a particular function.
For example, we have,
GroovePages – a website builder
GrooveMail – an email automation software
GrooveCart – a shopping cart software
GrooveAffiliate – an affiliate management software
GrooveMember – a membership software
GrooveBlog – a blogging software
These are all packed together into the GrooveFunnels.
Pricing
GrooveFunnels pricing comes in three stages viz, Free, Starter, and Pro.
The free plan is free forever, while the Starter Plan goes for $79 monthly.
The Pro plan, which offers the most perks, is billed at $239 per annum.
4. Hubspot CRM
HubSpot is a massive CRM and marketing automation platform.
Launched in 2004 by Brian and Dharmesh, to help businesses satisfy their customers more by creating valuable content and experiences tailored to them.
The idea is, that the happier your customers are with your system, the more likely they will recommend other people to your business.
If this cycle is repeated, that business can gain momentum.
This marketing method is the inbound methodology whereby your customers push the growth.
To achieve that objective, HubSpot is built with tools to cover the critical aspects of CRM and marketing automation.
Let's talk about them below:
Key Features
HubSpot comes equipped with features that help you keep a constant eye on your leads and know how your customers are interacting with your content and services on multiple channels.
Here they are in no particular order:
#1 Marketing Hub – marketing automation
#2 Sales Hub – sales software
#3 Service Hub
#4 CMS Hub
#5 Operations Hub
Pricing
HubSpot's pricing is not exactly an easy one.
That's usually the case with software that goes beyond the basics in its niche(s) to offer an advanced experience.
But there can still be room for a better balance, at least.
HubSpot CRM is free. You can access all of its basic features no matter the size of your business.
However, there is every possibility that you'll need its more advanced services like the marketing hub, sales hub, service hub, CMS hub, and Operations hub.
In that case, each package, except for the CMS hub, is billed at $45 for the starter plan, $450 for the professional program, and $1200 for the enterprise plan.
The CMS hub alone, the most robust CRM tool on the planet, is sold for $300 every month.
So, on to the next tool on the list, Kartra.
5. Kartra
Kartra is more or less a duct tape of different business solutions. Genesis Digital LLC created it.
All its different sections integrate seamlessly without any need for third-party integrations.
Kartra is designed to meet the needs of beginners and experts alike.
To cut out steep learning curves and the need for professional coding, page building has been simplified to drag and drop.
The platform also provides a vast selection of templates if you don't want to build from scratch.
With Kartra pages, there is no need for a separate website and page builder.
No coding is required. No myriads of plugins are required. You can even tweak your pages to display content relevant to your customers.
Kartra checkout does what shopping cart platforms like Shopify and WooCommerce do.
Right inside the platform, you can fill in checkout forms, and your payment will be processed directly by your chosen payment gateway.
Kartra funnels help you build an entire sales funnel from scratch upwards.
The good thing is that these sales funnels can have the capabilities of those built elsewhere.
That includes the ability to automate a whole sequence of triggers and actions.
Users can also track where leads are in the sales funnel sequence and profile them based on how far they've gone.
That's just scratching the surface. Read on for more features.
Key Features
Kartra features everything that makes it an all-in-one sales and marketing automation platform.
This it does through its different arms to replace additional software you would have purchased elsewhere…
And would still need to integrate with each other. What are we talking about?
Kartra Checkout
Kartra Pages – page-building software
Kartra Leads
Kartra Funnels & Campaigns – funnel building software
Kartra Email – email automation software
Kartra Memberships – membership software
Pricing
Kartra's pricing is cheaper than what platforms like GoHighLevel offer.
That's despite the army of features it offers.
The pricing comes in four plans: starter, silver, gold, and platinum.
The prices are $99, $199, $299, and $499.
6. Zoho CRM
Zoho CRM is another sales and marketing automation software in the league of GoHighLevel alternatives.
It sports an easy-to-use interface, which makes it great for small businesses and startups.
Another pro is how it allows users to customize virtually everything about the user interface to key in with their taste.
That means you can rearrange the elements in your dashboard if you don't like the default design.
Zoho presents a pretty simple way of managing workflows and everyday tasks.
Lead management is okay for software of its class. The only con here is that there is no way to manage individual leads.
And there is no mass emailing provisions.
Nevertheless, until you're ready to stretch your budget for something higher, its feature set will not disappoint.
Key Features
Zoho CRM features most of what you'd expect from leads and sales management software.
It also has many tools for gathering data about your leads and contacts and organizing them in one place.
#1 Predictive Sales and Intelligence
Zoho CRM has an AI feature known as Zia assistant that helps manage CRM data.
With Zia, you don't have to put your hand in everything before they run.
Zia can dredge up information that would take you a whole day to locate and even predict the future of a sale.
And then, the assistant can also let you know when there is anything unusual about how your sales process runs.
#2 Lead Management
Lead management has to do with all the things that have to do with capturing leads and monitoring their progress in your sales funnel.
That will help you know the next step to take,e such as sending a follow-up email.
#3 Deal Management
The deal management service takes on much of the work handling your deals.
Work such as knowing which deals have the highest chances of success and analyzing past deal activities and opportunities.
#4 Macro Suggestions
Macro suggestions are one feature that Zia assistant makes possible.
The AI suggests automation for tasks based on patterns observed from your day-to-day sales activities.
The assistant can even help you avoid mistakes,s, e.g. sending duplicate emails to the same user.
#5 Customization
Customization is a feature that describes Zoho CRM well.
It has a simple drag-and-drop editor called Canvas.
With this tool, you can make your Zoho CRM tool look uniquely yours either by building from scratch or using a wide range of templates.
#6 Views and Filters
It can be challenging to start navigating miles through your CRM searching for vital data.
Views and filters on the CRM eliminate that hassle. You can now filter your searches based on the hottest prospects or the most important deals.
And for even more specific results, you can set search criteria to take you exactly where you want.
Pricing
Zoho offers a free CRM meant just for home businesses and startups.
One commendable feature of even this free offering is supporting up to three users.
The paid versions come in two plans, standard and enterprise.
The former is billed at $12 per user billed monthly and the latter at $35 per user billed annually.
7. Builderall
Builderall, like GoHighLevel, is an all-in-one digital marketing platform.
But it beats GoHighLevel blue with its entourage of features.
Builderall has 1000+ features, a count that even the most prominent companies would have trouble binging on.
Then there are numerous marketing tools (up to 50) that do everything from website building to video hosting.
These tools are accessible from the dashboard instead of scattered throughout the platform. Rather nice.
Other must-haves are the CRM and the Funnel Club.
The latter is a massive collection of websites, sales funnel templates, and chatbox templates.
Key Features
Builderall has featured numerous enough to give a small child some trouble counting.
But many are not as advanced as you'd find in GoHighLevel.
That said, they are still worthy of our attention so let's take a peek.
#1 Funnel Builder
Builderall's funnel builder is called cheetah funnel builder.
The tag cheetah attests to the speed of conversion that properly built funnels can afford.
You get a library of templates if you don't want to build your funnels from scratch.
#2 Chatbox
The chatbox feature enables businesses to create Facebook messenger and SMS chat boxes for live chat support.
#3 Membership Site Builder
If your business is about courses and online training, you can't do without membership sites.
The site builder is a full-fledged one so that you can build online courses with structured formats, modules, and much more.
#4 Scheduling
Builderall helps you schedule your tasks and appointments.
You can schedule emails, online classes, and much more.
#5 Webinars and Podcasts
Builderall added support for webinars and Podcasts in the 3.0 update.
The support for webinars and podcasts is helpful if your business involves broadcasting a webinar or a podcast.
You can make your webinars to be interactive or pre-recorded. And if you like, you can stream them on other platforms as well.
#6 Website builder
Builderall integrates website building with its main niche, internet marketing.
The website builder has three types: responsive builder, pixel-perfect builder, and mobile-first builder.
All types of website builders follow the drag and drop methodology.
The three types of website builders are related to the kind of devices they fit.
The pixel-perfect builder is for when you want to build a website for desktop, mobile, and tablet devices.
The responsive builder saves you the work of the pixel-perfect builder. You can build just one version of a site, let's say desktop style.
Builderall will automatically adjust the website to fit well on whatever device is used to view it.
Finally, the mobile-first site builder reveals itself—it's just for mobile view.
Pricing
Builderall is among the cheapest alternatives to GoHighLevel though it's a feature monster.
There's a 30-day free trial if you want to try out the platform before delving into it.
All features are open to you in this free trial that costs just $1.
You can cancel paid billing when your trial is over. If you like what you see and wish to continue, then you have four plans to choose from viz:
#1 Cheetah: $14.90
#2 Marketer: $69.90
#3 Premium:$79.90
#4 Funnel Club:$99.90+$199.90 one-time payment.
8. Close.com
Close.com is a marketing management software that focuses on the part of CRM that deals with outreach, collecting leads, and managing them.
It's good for those who only need features like getting leads, setting up email sequences, viewing voice calls, SMS, reporting, email marketing, and video calls.
So whether it's just you trying to expand your contacts list or your sales team trying to sell to more people, Close.com might be the CRM of choice.
The only drawback is that you might find importing bulk CSV files rather daunting as it can lead to duplicate leads and require manual clean-up.
But let's look at the feature set more closely.
Key Features
#1 Calling
Close.com has software for calls that enables users to make a large volume of calls in a shorter time.
Also known as a power dialer, you can make calls that breeze through your leads list.
Once someone picks up the call, the predictive dialer automatically connects the person with an available sales rep.
The calling software supports up to 200 countries.
#2 Emailing
The email platform is built specifically for sales sequences, templates, and follow-ups.
You will also experience good integration with other email providers, e.g. Google, Yahoo, Microsoft, e.t.c when you choose Close.
Aside from that, there are other advanced features for personalizing your emails to your recipients.
#3 SMS
Close.com's SMS feature makes it possible for all your SMS actions to happen in one place: your inbox.
You can reach more contacts faster with Close and respond to all messages from the inbox.
Then there is the API that helps automate bulk SMS(s) for broader and faster reach
#4 Video
Video selling is very popular these days, and thankfully, support is here.
Close.com's video software integrates well with zoom so that you can sell there as well.
Once you connect your zoom accounts, all your previous cloud recordings will sync with your CRM.
You can host meetings on Zoom with your leads and even send them the recorded sessions.
#5 Reporting
The reporting features of Close.com are all about prioritizing leads and boosting revenues.
One way is through the smart view through which you can focus your email and marketing workflows around your high-priority leads.
There are also smart view filters to segment your database in a visual editor. No code is required.
#6 Integrations
Close.com supports integrations with many third-party CRM and email providers.
These integrations include Gmail, SavvyCal, Stitch, ActionDesk, and many more.
The list becomes almost endless when you add the platform's integration with Zapier.
Pricing
Close.com's pricing is in four tiers. They are a starter, basic, professional, and business.
Starting with the first tier, the billing is $29, $69, $99, and $149, respectively.
9. Agile CRM
Agile CRM is a marketing management and CRM platform that allows you to manage your customers from outreach to customer support.
Agile CRM is relatively new in the game, but it's not lagging behind in too many areas.
The software was developed by Manohar Chapalamadugu and his team when other CRMs failed them.
Agile CRM has many modern features that today's businesses cannot do without.
One workflow management feature that Agile CRM introduced is the gamification feature.
It motivates employees to be more efficient by creating a game-like environment that rewards workers for completing tasks.
Aside from that, it has many other features which we will take a closer look at.
Key Features
Agile CRM has several nifty features which are categorized into either sales or marketing.
#1 Contact Management
Contact management is a must for every business.
Agile CRM goes beyond just organizing your contacts. (which is a big deal in itself)
It also helps you build lasting relationships with your customers by allowing you to store their basic data.
You can also tag customers with information about their interests and how they interact with your brand.
#2 Project Management
Agile CRM helps you to get your marketing and sales teams to work with less friction by providing several project management tools which prevent miscommunication.
#3 Deals
Agile CRM can, through its deals management feature, predict future revenues for your sales team.
They can create milestones and automate follow-ups.
#4 Telephony
Telephone communication is a crucial part of every business process.
It allows you to make and receive calls and record calls and take notes.
You can even identify unknown numbers with the Caller ID feature.
#5 Social CRM
Agile CRM also comes with a social CRM to help marketing teams reach out to customers and prospects.
Social CRM enjoys integration with Twitter and other social media platforms.
#6 Online Appointment Scheduling
Agile has a relatively intuitive scheduling system interface.
To start with, you need to get your calendar link for your prospects.
Next, you select business hours by dates and times.
The next step is to add a name and choose the slot. Finally, you will be asked to add a buffer time to avoid unexpected-scheduled appointments.
Agile integrates with Google Calendar, Outlook and Office 365 for ease of controlling your schedule.
Pricing
Agile CRM has a free-forever plan. Surprisingly, it allows support for up to ten users. Needless to say, the experience wouldn't be as complete as on the paid plans.
For the paid plans, there are three versions, starter, regular, and enterprise.
They are billed at $14.9, $49.99, and $79.99 every month.
10. PipeDrive
PipeDrive is a user-friendly CRM for small businesses that offers a limited set of features for a low price tag.
It's easy to redesign as it has a lot of customization. It also offers a lot of workflow automation options.
Creating sales pipelines with PipeDrive is easy. All you just do is drag and drop.
A nifty feature PipeDrive has is the sales assistant. It gives actionable performance tips, and leeway to recommended features and enables app integrations.
As a matter of fact, PipeDrive is ideal for small businesses—those that are not ready to scale up.
You can see that from the limited email marketing it offers and the lack of project management tools.
Key Features
I don't need to repeat that PipeDrive has a limited feature set.
A deeper examination tells us that the reason is that the platform is mainly devoted to managing several aspects of the sales process.
#1 End-to-End Campaign Management
With PipeDrive, it is easy to generate and manage leads.
During a campaign, there is a lot of information you need to keep track of for further use.
PipeDrive Lead Inbox helps you take on that task. It gives you all the necessary statistics for the moment.
For better lead capturing, PipeDrive enables the use of web forms, live chat widgets, and chat boxes.
#2 Contact Data Management
One of the most important things in CRM is knowing much about your contacts.
But you can't force it from them. And requesting it from them one by one is not the definition of productivity.
But that work becomes almost ABC because PipeDrive has a smart contacts data feature that follows all the data your contacts drop online.
It only needs their email address to function and it works like magic.
#3 Scheduling
Does that remind you of a calendar?
Yeah, PipeDrive has an in-house calendar for assigning dates and scheduling appointments.
And it is good to know that PipeDrive calendar supports automatic two-way sync with Google Calendar and Microsoft Outlook.
#4 Workflow Automations
The list of all the things the average businessman does (or should do) every day is miles long.
PipeDrive's automations come to the rescue for that.
There are up to 30 automation templates for creating if-this-what-next automations.
You can for instance, automatically move deals through your pipeline through these automations.
#5 Sales Dashboard
The sales dashboard is where you can view all your sales data at a glance.
And it is not static. The dashboard constantly updates your sales data and helps you know where more work needs to be done.
The sales dashboard is one area where PipeDrive's emphasis on customization comes into clear focus.
A nice treat this sales dashboard offers as well is that they are shareable.
#6 Reporting
PipeDrive gives a lot of statistics on users' sales processes from deal tracking to revenue forecasts.
PipeDrive also allows you to choose how you want to use your reports.
At your bidding, all the reports can give you a general overview of your deals interests.
Or the reports can highlight metrics specific to your business.
Pricing
PipeDrive has four plans: essential, advanced, professional, and enterprise.
The pricing of each plan starting from the first are $12.50, $24.90, $49.90, and $99.90 respectively.
11. Vendasta
Vendasta is a full-fledged all-in-one marketing and sales automation platform like GoHighLevel.
The platform is mainly meant for companies providing software solutions to clients
Users can purchase software solutions from the marketplace at wholesale prices and sell them to others at retail prices.
On signing up with the platform you will be immediately presented with two dashboards.
One of them is called a Business app and the other is, Partner center.
The former is where you manage your customers' digital strategy and help them grow their business.
While the Partner Center is where you manage your own business.
So you can easily switch your attention from your business to that of your customers and vice versa.
Key Features
Vendasta is an all-in-one GoHighLevel alternative and as expected, it is teeming with a lot of features.
#1 Project Management Solutions
Some project management solutions that you can get on Vendasta include:
• Advertising intelligence
• SEO tools
• Customer Voice
• Google Workspace
• And many others
#2 White label Marketing
One way Vendasta sets itself apart from the crowd is its white label service.
It allows you to sell software solutions that are not your own.
That means you can apply your own logo and branding to the apps and then sell them as if they were originally yours.
#3 Marketing Automation
To lighten the load of sales teams, Vendasta comes with marketing automation tools.
So while the sales team are doing their own job, the messaging part will be handled by the marketing tools.
#4 Sales and CRM
Vendasta's sales and CRM features help you know the software needs of each customer.
They can even generate customised content for each customer with only a few clicks.
Speaking of invoices for each sale, the automated features can also take of them. Invoices are automatically generated with each renewal for products with paid subscriptions
#5 Leaderboards
Leaderboards help you keep track of how productive your sales tactics are.
You'll have stats such as total revenue from your sales, probable sales, outbound calls, inbound calls and lots more.
Pricing
Vendasta features monthly billing with three types of plans namely,
Start-up at $97 per annum
Growth for $575 per annum
Scale for $1150 billed per annum
12. Active Campaign
ActiveCampaign is the first viable GoHighLevel alternative on our review list.
Jason Vandeboom is the founder of ActiveCampaign. He first launched it in 2003 as a consulting firm helping users with the best business practices and solutions.
Later on, the company became an on-premise software provider before switching to a software-as-a-service business.
ActiveCampaign is a robust email marketing platform that combines marketing automation, analytics, and CRM tools.
The software is packed with many tools to help you acquire and maintain a solid customer base.
Each of these tools helps you take your interactions with your audience to the next level.
Users can automate a complete sales process where each step is triggered by a specific action on the part of the subscriber.
You can automate a series of emails to cover as many contacts as possible after getting their emails through your forms.
There are many templates to select from when drafting your emails.
But you might want to use your templates as the in-house ones will take much time to customize.
A welcome feature is the A/B split testing to view the performance of different types of emails simultaneously.
As a marketer or sales team, you don't want your conversations with prospects to be scattered across several channels without any way of collecting them in one place.
Thanks to the "conversations" feature, you can view your chats from several channels (webchat, Facebook messenger, emails, etc.) in one unified inbox.
ActiveCampaign has all those attributes and so much more. It's a great tool that combines many other tools.
ActiveCampaign's key features are highlighted below so you can get a little bit more familiar with it.
Before going into that, let's know who the software is meant for first.
Who is it for?
Due to ActiveCampaign's myriad of features, it shares one problem with GoHighLevel.
And that is, it has a steep learning curve.
Thus, it is meant for businesses with a dedicated marketing team, or else it takes quite a week of training to get acquainted with the software.
Nevertheless, there are many resources on the platform to help you master the essentials.
And you can as well hire an expert to help set up your first campaign.
Key Features
When deciding how much bang you get for your buck, the range of features provided can't be ignored.
Granted, not all of ActiveCampaign's features, however helpful, may be necessary for you.
The key features are
Email Marketing Automation
Deliverability
Reports & Analysis
Marketing Automation
CRM (Customer Relationship Management)
Landing Pages.
Integrations
Pricing
ActiveCampaign is one of the cheapest email marketing and CRM platforms available.
This, coupled with its diverse range of features, is why many consider it a good investment.
The pricing is based on the number of subscribers.
The lowest plan starts from $15 for 500 subscribers.
The next plan allows you 1,000 subscribers for $29.
The higher plan is billed at $55 for 2,500 subscribers.
While the highest plan goes for $99 for 5,000 subscribers.
Wrapping Up
Wow, that was a long way to go. But at least we finally have a great deal of insight into the alternatives if GoHighLevel is not our portion.
We have some great platforms that offer much value for the money.
We are talking about Vendasta, Kartra, Builderall, and HubSpot.
Vendasta has a similar feature set to GoHighLevel but is more pricey than the other three.
Kartra and Builderall have similar pricing and offer the best value for money among the rest.
The platform that banks all feature possible is HubSpot. But it is the most expensive of the twelve platforms we've reviewed.
The final decision lies with you based on your interest and needs. But if I were asked for suggestions, I would single out the four best platforms in the concluding part of this review.
Related: