15 Upselling and Cross-Selling Statistics for 2023
In the recent past, we've seen several negative connotations relating to "Upselling" and "cross-selling", such as pushy sales pitches, unethical sales strategies, meandering irrelevant sales tactics, etc.
The truth is, it is the job of the salespeople to know and understand if additional products could benefit their customers and present such to them thereby adding value to their purchase.
Besides, research shows that 32% of both seasoned and prospective customers reorder from the same company in their first year as a customer of that company.
Such is one of the wonders of upselling and cross-selling. Since your customers have trusted you enough to order from you, why not use such trust to exploit additional needs when people actually buy for their own needs?
Without further ado, upselling and cross-selling are strategic keys to bringing in additional revenue from customers. The question now is: How do you effectively increase your revenue using these strategies?
Let's explore then…
What is Upselling?
Upselling could be best described as the practice of encouraging prospective customers to buy a comparable higher-end item together with the primary one in question.
For instance, upselling is where a trouser is suggested when a T-shirt is purchased or a printer suggestion where a scanner is selected. It helps increase sales metrics.
Most importantly, 85% of companies that excel tremendously at upselling are always effective at helping their prospective customers visualize all the values they tend to get by buying or ordering higher-priced items.
Sincerely, upselling can increase your business key sales metric for your team to track as the "average value per transaction (AVT)." This KPI tells them how much revenue you are making as well as the number of people that purchase your products or services.
More so, one important way to urgently raise the AVT is through upselling and stocking products or items your customers desired or express interest in buying.
By and large, upselling usually employs comparison charts in the course of market higher-end items to customers. It shows visitors that other models may even fulfill their needs better.
And that it can increase their AOV and help their prosperous users walk away satisfactorily with their purchased products.
What is Cross-Selling?
Cross-selling is the art of motivating customers to purchase additional items related to their present or already made purchase. It is a strategy of selling more related items to your customer at the point of sale.
Cross-selling occurs the moment you sell your customers other offerings or items that complement and/or supplement the products they've already bought.
For example, if you encourage your prospective buyer who just bought a phone from you to get the same protective case at that spot, what you just did is cross-selling.
Be enlightened that a right and perfect cross-selling strategy can increase sales significantly and at the same time build customer loyalty.
According to McKinsey, he revealed that cross-selling can boost sales by 20% and increase profits by 30%. The sales pitch is nothing but a battle-ready tactic.
Also, Invespo reports that personalized cross-sells make up 7% of e-commerce store visitors and account for over 26% of their revenue.
Similarly, whenever cross-selling is ensured, the most important thing to take notice of is that what you offer is very relevant. Something that will offer them more value.
Latest Upselling and Cross Selling Statistics 2021
#1 Omni-channel servicing risen by 60%
Companies and business enterprises interact with their prosperous customers via multiple channels. It can be through live chat and forms on their portal, social media, etc.
However, providing consistent and adequate experience across all these channels can be tasking and challenging and as such, not satisfying customers' wants.
In 2020, PWC revealed that the number of business enterprises investing in omnichannel serving has increased tremendously from 20% to over 80%.
Additionally, Adobe also found out that companies with the most omnichannel customer engagement tactics enjoy additional 10% Y-O-Y growth, a 10% increase in order value plus a 25% increment in close rates.
#2.  10% to 30% of most e-commerce revenue is generated through Upsells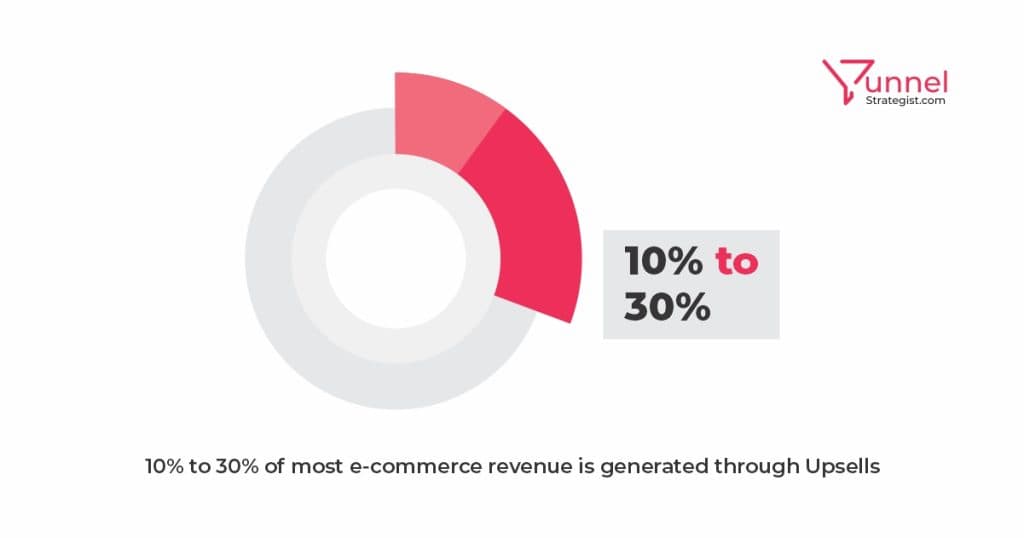 Upsell influences e-commerce stores and it is responsible for 10% — 30% of some of the site revenues. In fact, some store owners make close to 40% of their entire revenue via sales funnels.
Also, upsells vary from industry to industry. Sucharita Kodali, a Forrester Research analyst posited that 10 to 30% of online marketplaces revenue is generated by recommendations made via upsell strategy.
#3. 96% of website visitors are not there to buy something on their first visit
Both upselling and cross-selling techniques don't work on new e-commerce website visitors as 96% of them are not there to make purchases on their first visit.
This, however, doesn't mean they'll not purchase from you in their subsequent visit.
#4. The good customer experience (CX) is the new battlefield with a 44% increment
95% of potential customers don't want to enter into any form of relationship with a company that handles or treats their prospectus poorly.
It is as a result of these extreme orientations that 88% of companies and business enterprises are now prioritizing good customer experience in all their contact centers.
As a matter of fact, over the two-thirds majority of companies now compete basically on the underlying condition of customer experience. That is up from 36% in 2010.
Be that as it may, our own research shows that most companies will increase their investment in the CX initiatives in 2022 by 44%.
#5. 37% of marketers shy away from upselling and cross-selling
In the same vein, statistics show that not all salespeople actually know where to begin from. Well, there is room for them in 2022 to grow.
According to Salesforce, 37% of marketers admitted that the most difficult part of their task is prospecting. And of course, without this crucial first step, building a pipeline will be like hell.
#6. Retaining an old customer is 7x better than getting a new one.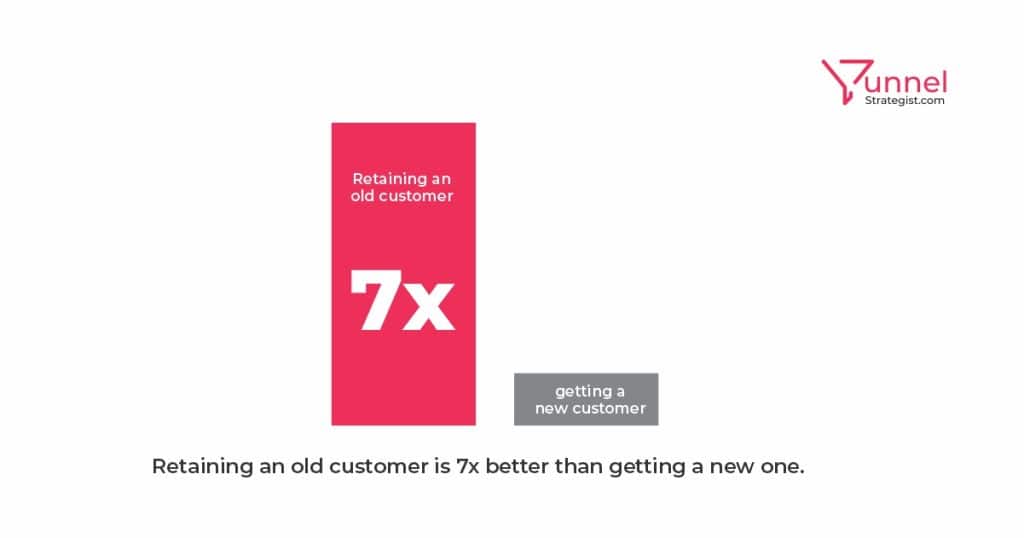 According to SignalMind, the probability of upselling and cross-selling to the customers you are familiar with is 60 – 70% sure compared to getting a new one.
Besides, loyal clients buy and make orders more frequently than new prospects. In fact, the success rate of up-selling to a newly acquired customer is 5 % -20% sure.
Hence, if you intentionally ignore upselling and cross-selling to your seasoned buyers, you missed billions of profit-enhancing opportunities.
Keep current and loyal customers happy!
#7. Free shipping lubricates upselling
Offering free shipping to both your seasoned and new customers is a proven way to increase sales. Around 90% of online shoppers say free shipping encourages them to shop, even more, online.
Findings also revealed that 65% of online shoppers say they usually check for free shipping thresholds on items they intend to buy before adding more of them to their cart (NRF, 2019).
Upselling focuses on getting your target audience to upgrade their initial purchase and an easy way to do that is by giving or offering them some payoff.
Free shipping is, thus, a perfect example that has proven to pay off sellers. Its implementation is fairly simple and one that statistics have shown to be encouraging in a competitive market.
#8. 60% of salesmen use upselling and cross-selling in 2021
Towards the end of 2020, 68% of veteran sales leaders planned to implement a fully remote and hybrid up and cross-sales model in 2021 as a result of the COVID-19 pandemic.
However, 12% of these sales leaders still have no idea which other sales model to use or to complement the existing strategies next year.
What does this mean to you? Well, the uncertainty of the aftermath of COVID-19 shook up sales strategies. Most sales leaders are still in doubt while others are not as they remain tentative about upselling.
#9. Personalizing is the order of the day
According to research, 91% of consumers are interested and likely to purchase, again, from brands or stores that remember them by providing relevant offers. Hence, don't be intimidated and start personalizing.
#10. Cross-selling the 'Thank you'll page improves conversion rates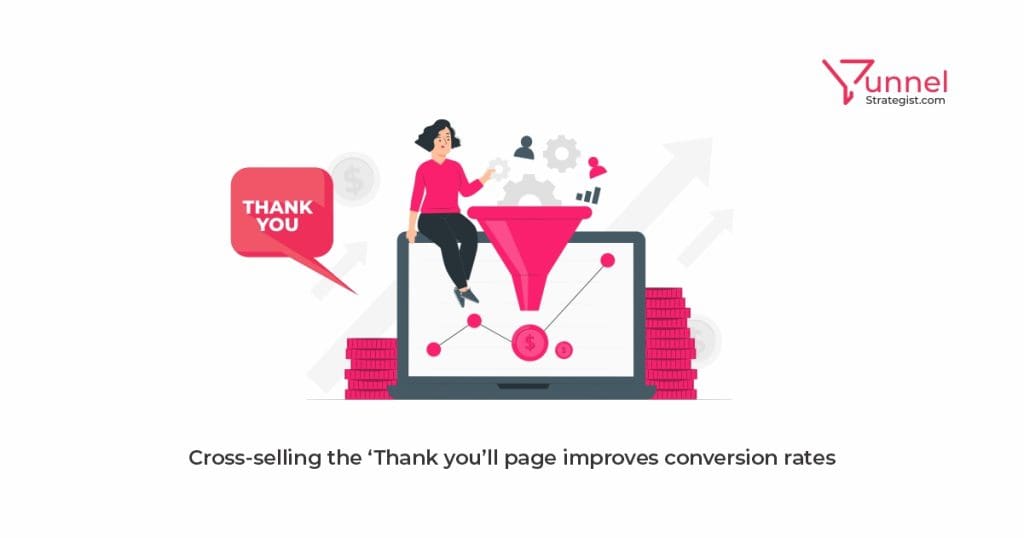 Having a Thank You page on an e-commerce website serves as a propelling force for cross-selling tactics. It helps to improve conversion rates.
Statistically, the popular Bitdefender Endpoint security company was able to boost its conversion rates from the frustrating 4.8% to an encouraging 10%. And along the line, it increased to 14%.
All these were due to the relevant and affordable cross-selling offers placed on its 'Thank-You' page which was used together with one-click features.
#11. Related items for big tickets items tend to sell faster
What's more, it is gathered that a general and proven procedure for cross-selling items placement is that it is a lot easier to pitch fewer products and smaller articles that cost less than 10% of the actual item at checkout.
On the other hand, high-ticket products and larger articles or accessories that cost as much as 15% to 50% of the actual item will sell faster and better if shown on the main item page.
#12. Upsell through re-targeting
Re-targeting has proven to be one of the great techniques used for capturing sales follow-up from customers that have previously ordered from one's store or brand.
On average, businesses that offer retargeting and recurring products via upselling get 70 to 95% of revenue through upselling and renewals. Only 5 to 30% of their income comes from the actual sale.
#13.  85% of successful salespersons ask probing questions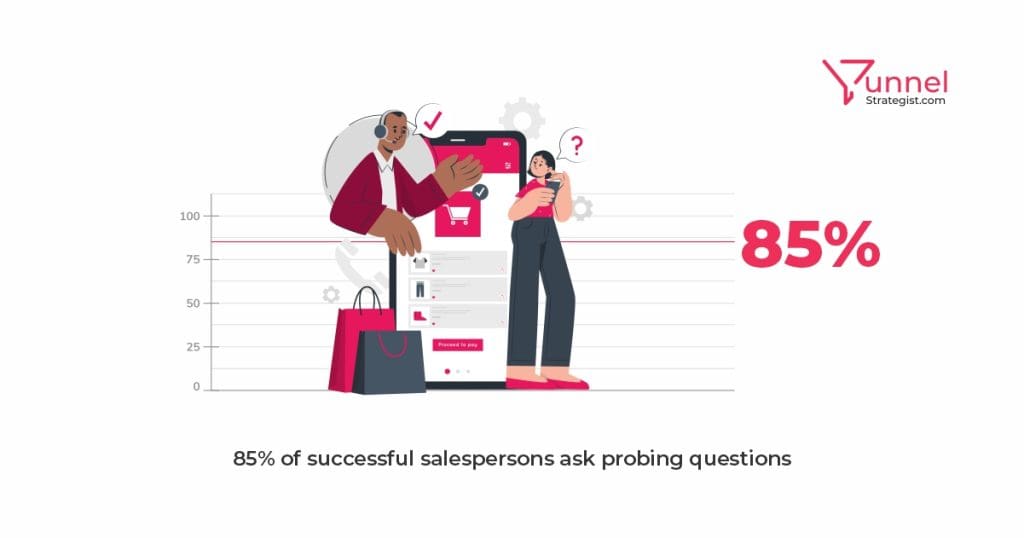 In 2022, one of the skill sets that every sales staff needs to possess is how to make inquiries and ask exploring questions.
This skill set will help them greatly in understanding their customer's needs thereby suggesting the most appropriate item to cross-sell.
While this task looks very simple to do, it's important you note that customers can become sensitive thereby leaving the store altogether if a salesperson is either too aggressive or too passive.
#14. Veterans sales leaders showcase their items prominently in their stores.
In 2021, sales leaders and most leading e-commerce websites showcase their items prominently and openly in their stores as though they're paid promotions.
Hence, 70% of products that are frequently cross-sold are always displayed together or near each other. This will enhance the target audience to patronize the same even when you're not being pushy.
Take, for instance, you could display the shoe section beside your sock section. And you can display blazers together with a matching tie.
So other than the fact that you minimize the hazard of losing your customers in the process of searching around your store for the products they need, you'll also impress them with this sensible strategy.
#15. By 2023, eCommerce market sales will lunge  $6.54 trillion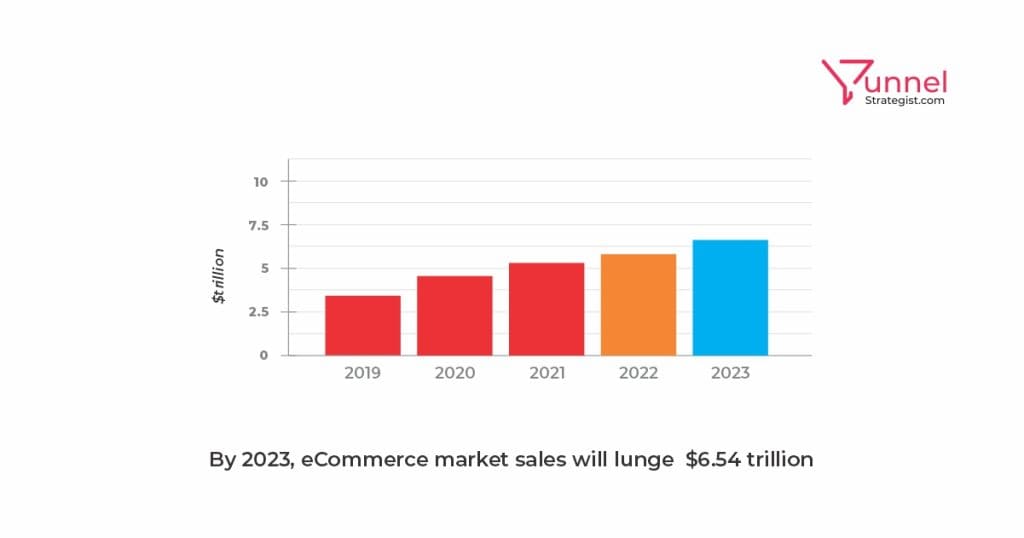 Online shopping has overtaken traditional retail and it doesn't look like it will stop growing anytime soon. E-commerce is booming — even on a global level.
On this note, the incessant growth of online market stores, buyers, as well as cross-selling purchases, kept stimulating the e-commerce market's growth.
Going by statistics, in 2019 retail e-commerce market sales on a global scale was $3.53 trillion according to Statista. The market sales have, therefore, been projected to reach $6.54 trillion by 2023.
Conclusion
There you go – upselling and cross-selling statistics for 2021 and 2022 in a nutshell. Remember to stay current and relevant with smart offers and endeavor not to overdo them.
Plus, some customers are sensitive to exploiting approaches and can easily be confused. Sensible offers with smart advances matter.
Hopefully, the statistic above will guide you on which combination of cross-selling and upselling tactics to follow in your business growth journey.
Growth begins with tempting upselling, appealing cross-selling, and a good sales funnel. As such, if yours is below par or substandard, the time to reshape it is now.
To achieve success in upselling to your customers, be proactive too. Track their journey beforehand and determine what challenges they may be facing.
Lastly, if at this stage your brand is still not online, then you are missing out on big sales. Period. The majority of consumers begin their search on the internet and end it there today.

Related