ShortlyAI Review (2022) – Best AI Tool for Longform Content?
Without any iota of doubt, ShortlyAI is one of the leading AI content writer or writing assistants software available at the moment.
Have you ever gotten stuck for hours while working on a writing gig? If yes, then it is high time you call on the AI writing assistants to help you finish the job.
Basically, AI Writing Software or Assistants are a special kind of artificial intelligence specifically designed to help content writers and the likes write better.
These AI's uses an inbuilt technology known as algorithms to process or rewrite existing content such as articles, ads, or even a whole book.
So today, we will be giving a rave review of an AI writing assistant known as the Shortly AI. You will be exposed to its features, how it works, who needs it, and more.
Hence, as a writer with lots of history or persistent writer's block, you wouldn't want to joke with this superpower AI writing partner.
With just a click, Shortly AI will finish up your writing project for you by helping you to put your thoughts and ideas on paper, and lots more. Interesting, isn't it?
Well, I wouldn't want to bore you with an introduction, but at the end of this publication, this article will cover many areas which include ShortlyAI features, ShortlyAI pricing, and more.
What is Shortly AI?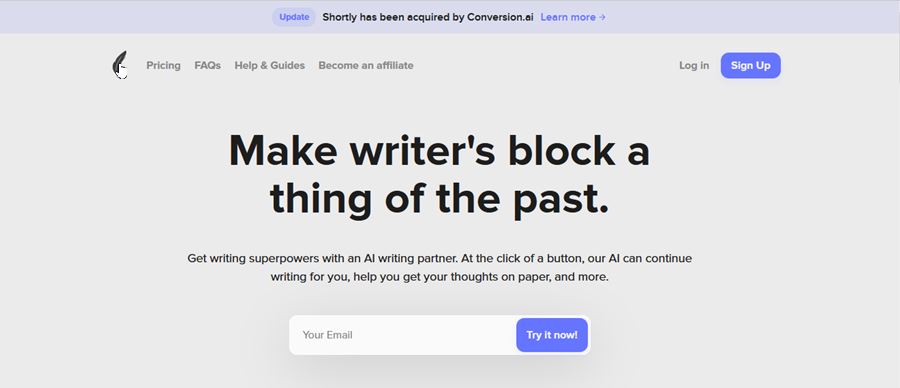 Shortly is an AI writing assistant software built and designed to generate contents and articles on topics its users are interested in.
The writing assistant software is built on a GPT-3 and this is why it can generate and write articles on nearly any subject or topic imaginable.
As a matter of fact, Shortly AI has no limits as to the exact amount of words or content it can curate and this makes the software one of the best article generation AI today!
Who is Shortly AI for?
At this point, you will agree with me that the main objective of ShortlyAI is to help its prospective users write easily. The question now is: Who is Shortly AI for?
This AI content writing assistant has been around and doing well for a while now. It can be used by a different person as it works in many ways.
Business owners have been using Shortly for marketing purposes and it delivered great success to their doorsteps.
So since the need for a post, article or content is greater — even ever than before — because of the low website traffic and the frequent visits to social media platforms, other people now use Shortly.
They include:
1. Content writers
Nobody needs a Shortly content creation tool than a content writer who is often faced with tons of writing gigs and projects that are to be delivered in a short period.
Can you imagine writing an article of over 4,000 words in two days? What about the stress and the boredom of sitting down alone generating ideas?
Well, since the ShortlyAI writing app has a Generative Pre-Trained Transformer -3, you can use it to generate good content copy for your clients in a matter of hours.
2. Bloggers
What makes a blogger successful is his ability to furnish the blog with unique, engaging and we'll optimize blog content.
While generating blog posts via freelance writer may be costly, you can get a Shortly AI writing assistant for yourself to reduce cost.
The amount of money you are going to pay for a ShortlyAI monthly subscription is relatively low compared to what is payable to a freelance content writer.
Thus, it's correct to say that the ShortlyAI is also meant for bloggers that are interested in generating unique blog posts in a short time.
3. Copywriters
What makes a successful copywriter is the ability to write a sales copy that converts as well as brings sales to the business owner's doorstep.
Such is one of the areas in which the Shortly content creation app is specialized. The app is capable of producing sales copies with a very high conversion rate.
The software is capable of providing ads copies that will look as though they were curated by the best copywriter of the moment.
4. Book authors
The ShortlyAI article writing assistant is also meant for authors and fictional writers. The app is designed in such a manner that it can push any form of writer's block though.
Regardless of the stage or chapter you are in the course of your writing project, with the Shortly content assistant, all your ideas or thought Will be put into the paper.
To make use of this app as a fictional writer, open the AI content creation app and select "create a new document" and you'll be redirected to the "write a story" page.
Once you find yourself there, start pouring all your thoughts and ideas down. Once you are stuck, just let Shortly AI do the remaining work for you.
How does it work?
Subscribing to Shortly AI is one thing, knowing how to make the best use of Shortly writing assistant is another. Hence, you must know how this software works.
But before then, be informed that ShortlyAI as a writing assistant software works in two different ways; depending on which one you found solace in.
Start by writing a few words: to get the best out of ShortlyAI, you need to start by writing the first words out of the first sentence. There and then, click on the "write for me" button.
The moment you click on the 'Write for me' button, Shortly consider the few words or opening sentences including the title you have written so far.
And as such, use them as its inspiration to complete the sentence and then take on another sentence, and the next until it reaches your desired word count.
Use the available slash: click on the icon placed on the platform writing page to see the available slash commands to use for your writing.
The slash commands are a set of powerful tools that are meant to interact with the AI. These slash commands can be used to shorten, rewrite, or expand sentences, and more.
Shortly AI Text Commands?
The ShortlyAI text commands are also known as the slash (/) commands. These commands are tools that Shortly users can use to their advantage.
To use any of these commands, you must master your /instruct or the instruct command very well. With this command (/instruct) ShortlyAI will uniquely rewrite, shorten or expand any content or passage for you.
In a simpler term, the Shortly AI text commands are as follows:
The shorten command or /shorten;
The rewrite command or /rewrite; and
The expand command or /expand.
These shorten, rewrite, as well as expand commands are often called the "refine" commands. The tools can be used on an existing text.
Other than the above text commands, there's a special tool or text command on Shortly called the instruct command (/instruct). Let's see how it works:
The instruct or /instruct command
The /instruct command is a special tool that is often referred to by professionals as the universal text command.
The tool works as a command where the user acts as if he is asking the AI writing assistant software for specific content.
Let's take for instance, "/instruct (write a description on how a lost child in need can find his way home) or /instruct (write a fascinating poem on the unsung hero)"
There is nothing you cannot write with the /instruct command. Why don't you experiment it now to find other unique ways of enjoying it?
Shortly AI Long Form Assessment
Obviously, the Shortly AI content writing app allows writers, bloggers, business owners, etc. to focus on generating great content that converts than spending much time formatting.
Hence, there's a feature or tool on Shortly that is known as /instruct or better still, "Long-form". This command can create creative and original long-form text within a short period.
Not only that, the instruct command also helps ShortlyAI users to generate long-form content, text, or passage faster and easier compared to what is obtainable before.
Be that as it may, the Shortly AI long-form is designed in such a way to help users in the first steps of their writing.
The command brings a great and perfect deal of flexibility and it helps in creating briefs and outlines for in-depth articles. With ShortlyAI long-form, possibilities are limitless.
Shortly AI Basic Features
Shortly AI as a content creation tool can be programmed to generate original and unique content in any format. Other than this, there are other features of this article writing app. Among them are:
Long-form and short-form generation
Unlimited content generation
1. Easy to use
Without any doubt, the ShortlyAI article writer app is easy and very simple to use. That is to say, the user experience is magnificently clean.
The /instruct keys are simple and they obediently listen to all types of commands. Anyone can use them to his satisfaction; including a first-timer.
Plus, the app long-form editor, too, is not very clean and fast and it at the same time allows its users to focus their attention on the content the AI is generating.
2. Quality of output
To be candid, ShortlyAI's content output quality is good and fascinating. Just like any leading AI writer, this app uses GPT-3, too, for generating content.
Take notice that the fact that  Shortly AI produces quality content output doesn't mean it's perfect. At times, you will have to tweak your input for a better output.
However, this kind of situation goes for all kinds of AI content writing or article generation software; it's not limited to ShortlyAI.
3. Long-form and short-form generation
The Shortly long-form content editing experience looks great. While it doesn't stop at being great, there's room for short-form editing too.
Once you've mastered the usage of the long-form commands, Shortly will pave way for you to get short-form output within the long-form article editor.
4. Unlimited content generation
What is obtainable with most of the AI writing assistants is that there's a limitation to the number of words that can be generated.
Fortunately enough, ShortlyAI does not limit its users. Instead, they can generate as much content as often as they need.
The AI writing assistant software gives its users what I called unlimited credits for article or content generation.
5. Affordable
For what is worth, ShortlyAI writing assistant software pricing is considered to be cheap and affordable.
If for instance, you desire long-form editing tools in your AI writing app, then Shortly is affordable for such feature.
It's obvious and apparent that Jarvis and Shortly is one of the AI content creation tools with long-form features. Jarvis is, therefore, more expensive in this regard.
Shortly AI Price
This AI writing assistant app is minimalist when it comes to pricing or subscription fee. As a fan of Shortly, you only have two options.
You have the choice of paying monthly and the choice of yearly payment; of course, yearly payment for the software usage will save you two months of subscription.
Having said that, ShortlyAI monthly subscription fee is $79/month and if paid annually you will be billed $65/month — where you get to use all of its features unlimited.
Get Shortly Now
At this juncture, it's very paramount to say that there are lots of things to say about Shortly AI article writer tool. It is fast, clean, and very easy to operate.
Moreover, the AI writing assistant software is more than a writing partner you can incredibly depend on whenever you are stuck with creative ideas.
If you are not getting ShortlyAI for anything, get it for the fact that its output quality is great and suitable for both basic and in-depth content creation.
Go for Shortly AI and it will speed up your article, content, fiction, or ads creation and improve its quality thereby delivering engaging texts and highly relevant copy for your audience.
Whether you are a copywriter, content curator, blogger, or digital marketer this AI writing software should be your priority.
Related Articles