Peeksta vs Dropship Rabbit – which is better?
The prominent similarities between Peeksta and Dropship Rabbit can muddle the subtle but potentially business-changing differences between them.
This review is your best bet at identifying which one does product research better.
I have distilled all that you need to know about Peeksta and Dropship Rabbit into the following:
• What is Peeksta?
• What is Dropship Rabbit?
• Features Contest
• Advantages of One Over the Other
• Pricing
• User Reviews
• Verdict—Which is Better?
Let's jump right in, shall we?
What is Peeksta?

Peeksta is a product research tool and video ad generator. It claims to be the leading tool for revolutionizing your e-commerce strategy.
Peeksta mainly targets small to medium-scale startups that need to develop an effective product research strategy or refine their existing one.
The web-based platform has several tools that enable businesses to spy on their competitors' hot-selling products and identify critical metrics.
Peeksta also gives video ads a lot of attention, thus empowering entrepreneurs to utilize data-driven insights to create engaging ads that ultimately get more people to buy their products.
What is Dropshipping Rabbit?
Dropship Rabbit is a SaaS (software as a service) e-commerce platform that enables you to find the most lucrative products across all dropship stores
A major highlight of the platform is the vast number of stores and products you get access to with the aid of the platform.
Dropship Rabbit monitors over 300,000 stores and 98,000,000+ products. From that massive heap, the platform fishes out the trending products in every niche, including those with reasonable profit margins.
You also get loads of information on each product, such as the cost, suggested selling price, links to retailers offering it, and even the target audience.
Aside from spying on the hottest products, Dropship Rabbit, like Peeksta, provides a wide range of features and tools to enable a beginner drop shipper to get started.
Peeksta vs. Dropship Rabbit Features
As you may have noticed from the overview of Peeksta and Dropship Rabbit, they work similarly.
They first search out the highest-ranking products in a wide variety of dropshipping stores and give a detailed description of the product.
At the same time, they empower a drop shipper with various tools and features to tackle the different aspects of dropshipping.
So the bulk of the differences between both platforms lies in the feature set and how well they execute them.
Let's look at the feature set of Peeksta and Dropship Rabbit:
Peeksta Features
1. Store Tracker
2. AI Content Generator
3. Facebook Ads
4. TikTok Spy
5. Product Explorer
6. Store Explorer
7. Video Ad Generator
8. Thumbnail Maker
9. Facebook Audience Builder
10. Suppliers
11. Winners
12. Best-sellers
Dropship Rabbit Features
1. TikTok Spy
2. Facebook Spy
3. Niches
4. Facebook Audience Builder
5. Premade Video Ad (for every product)
6. Product Spy
7. Google Trends
8. Providers
9. Store Spy
Peeksta and Dropship Rabbit seem to have nearly as many features as each other.
However, if we delve deeper into the quality of the features themselves, we might get a different story. Here's what I found out in my testing of both platforms.
Peeksta's store tracker is a rather unconvincing one. For the record, they only monitor five stores. Trying to refresh the store monitor is of no use as you get the exact same stores. One can begin to wonder if Peeksta owns those stores.
TikTok Spy is another of Peeksta's tools that could use an upgrade or get scrapped altogether. Nearly all of the ads TikTok spy shows can be accessed for free through TikTok directly.
Nevertheless, none of that is to say that Dropship Rabbit is gold. On the contrary, it, too, has its share of masquerade features.
Dropship Rabbit's free Tik Tok Spy is also less than satisfactory. All you get is a bunch of TikTok ads that aren't very useful.
The premium Facebook Spy on Dropship Rabbit comes with tons of filters that seem to misunderstand what you tell them to do. For example, limiting your search results to products with a few thousand likes won't give the desired outcome.
Peeksta vs. Dropship Rabbit—Pros and Cons
For simplicity's sake, I have streamlined the pros and cons of each platform into the advantages of one over the other.
Advantages of Peeksta Over Dropship Rabbit
Video Ad Services
In addition to being a product research software, Peeksta has a video ad service that is a different business altogether from the primary offering on the website.
With this feature, you can hire Peeksta to create a video ad customized to your products and sales formula, and you will get it done in a few days.
The ad will come in HD video quality or even higher, depending on what you want. It will also include your branding and logo or watermark.
Better Presentation
While examining the layout of both web platforms, I discovered that Peeksta's website has a more professional touch, with more striking themes and better organization overall.
Drop ship Rabbit doesn't look bad, but not as appealing either. Things are a bit drab on their website, and don't really impress. Then there are spelling errors scattered here and there.
Advantages of Dropship Rabbit Over Peeksta
Offers A Free Version
Peeksta gives no free tool to try out, nor does it have a free plan. Dropship Rabbit, however, allows you limited usage of one or two tools. There is the free product spy and free ad spy.
More Exhaustive Database
Dropship Rabbit has been around much longer than Peeksta, which means having far more connections than the latter competitor.
Peeksta's store tracker can only handle five stores at most. It can't compare with Dropship Rabbit, which monitors over 300,000 stores daily.
At the same time, Dropship Rabbit adds up to two products to its winning list daily.
Contains Tutorials
Dropship Rabbit poses to be the better option for beginners to dropshipping as it contains plenty of tutorials for them.
The turn-off with the tutorial feature is that only paid subscribers can access it.
Cheaper Billing
Dropship Rabbit pricing is a little cheaper than that of Peeksta from the monthly plan to the yearly billing.
The difference might be slight, but it's impressive that you get much more from Dropship Rabbit's pricing.
Google Trends Support
Google Trends is only available on Dropship Rabbit—that is, using Peeksta as a reference.
Integration with Google Trends is a handy perk that allows you to monitor the level of interest a product has based on its number of Google searches over a period of time.
General Cons
Limited Number of Ad Spy Tools
There are product research and store spy tools that spy on ads from virtually every social media platform.
But Dropship Rabbit and Peeksta only have ad spy tools for Facebook and TikTok.
Peeksta vs. Dropship Rabbit Pricing
Peeksta and Dropship Rabbit are among the cheapest product research tools out there, but even here, there are considerable differences.
To start with, on Peeksta, it's either a monthly plan or a yearly one. The former costs $19.99, while the latter costs $150.

In Dropship Rabbit, the story is a bit different. The platform gives you more features for more money.
The available plans on Dropship Rabbit are Standard, Premium, Standard Plus, and Premium Plus.
The first two plans are billed monthly at $14.99 and $19.99, respectively.
The other plans are billed yearly for $89.94 and $119.94, respectively.
From the pricing structure of both platforms, it is clear that Dropship Rabbit has a lower entry price.
Peeksta vs. Dropship Rabbit—User Reviews
Peeksta and Dropship Rabbit both have mixed reviews online, but it seems the latter fares a bit better.
There are more positive reviews of Dropship Rabbit than bad ones—that I have seen from scouring the internet—and the vast majority of these reviews are from users on Facebook.
All the negative reviews of Dropship Rabbit I found on the Internet from critical sites like Reddit usually bordered on refund issues. On the contrary, Peeksta doesn't have much of an online footprint.
Peeksta user reviews are scarce at the moment, and we are left to rely on the ones posted on its official website.
Below are snapshots of reviews of both platforms from Reddit and Trustpilot
Dropship Rabbit:

Peeksta: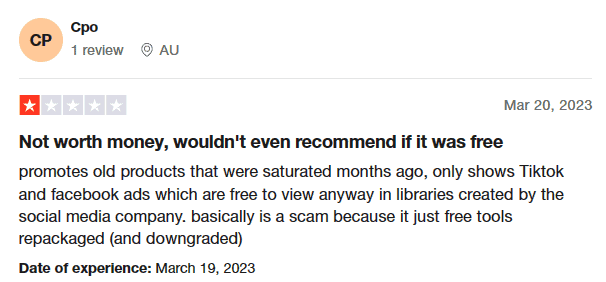 Wrapping Up—Which is Better?
So far, this review has focused on isolating what Peeksta and Dropship Rabbit do differently despite being in the same niche.
It is now time to decide who takes the award for best value.
First off, neither Peeksta nor Dropship Rabbit takes the perfect route to customer satisfaction in terms of business impact.
But one of them seems to have the extra features that will ultimately make your journey as a beginner drop shipper easier.
And that is Dropship Rabbit. Why do I say so?
Forget ad spy, product tracker, store spy, and all that. They both have those things.
Dropship Rabbit gives you more in-depth information on whichever product it spies on for you. You will even get a ready-made ad for every of its recommended products.
Peeksta lets you order a customized ad, but that's an extra cost, right?
Dropship Rabbit also has tutorials on important dropshipping tactics and even creating Facebook ads for dropshipping.
The Google Trends integration is also another of Dropship Rabbit's strong points. Think of it as another way of finding winning products—using Google search volume.
To round up, you get all those extra perks for less money than on Peeksta.